Would you love to have an all-in-one utility tool for cleaning your computer at your disposal? Well reading the Glary Utilities review will help you with a solution that can save your Windows computer from all types of junk files and boost its speed as well as performance.
A lot of time junk files are the prime cause behind system malfunctions, crashes, and screen freezes. So, getting rid of them is one smart way to avoid problems with your PC. 
Glarysoft's Glary Utilities is one frequently recommended system utility tool that has several accolades for itself much to its credit. Therefore, in this Glary Utilities review, we will present the most useful features of this tool combined with other relevant information about it.
Note: This review is of Glary Utilities latest version 5.200 supports Scans and fix your PC issues eight times faster, which was released Jan 16, 2023. Please let us know if there's any new version.
Glary Utilities Review
Glary Utilities is one top-notch cleaning tools for Windows PC. It is freeware that offers over 20 tools and features to boost the system's performance along with fixing a host of errors.
It comes with a simple and minimalist interface, a one-click repair button, and several automated functionalities. The app is frequently updated and comes with a backup and restore feature which can be a lifesaver for you.
It has an extremely fast scanner that detects PC anomalies in a matter of just a few minutes. Further, it can rectify those errors with a click of the Repair button. The app comes in a free and premium version. Although the free version already supports most functionalities of the app, the feature of deep registry cleaning is available only on the pro version. It is also one of the 
Let's take a look at the below segments of this blog to learn about Glary Utilities offerings and other specifications in detail.
It is also all in one computer repair software which will help you fix all your PC issues.
Download Link for Glary Utilities 5: https://www.glarysoft.com/
This review includes the following things in detail.
Features
Tables of Specifications
Merits and Demerits
Pricing
How to use Glary Utilities
Conclusion
FAQs
Features
A detailed look at the features and offerings of Glary Utilities is outlined below for your review and consideration.
A lightweight tool with a simple user interface, Glary Utilities supports a basic skinning option that can offer you the option to customize it mildly as per your choice. You can change the color and background of the app.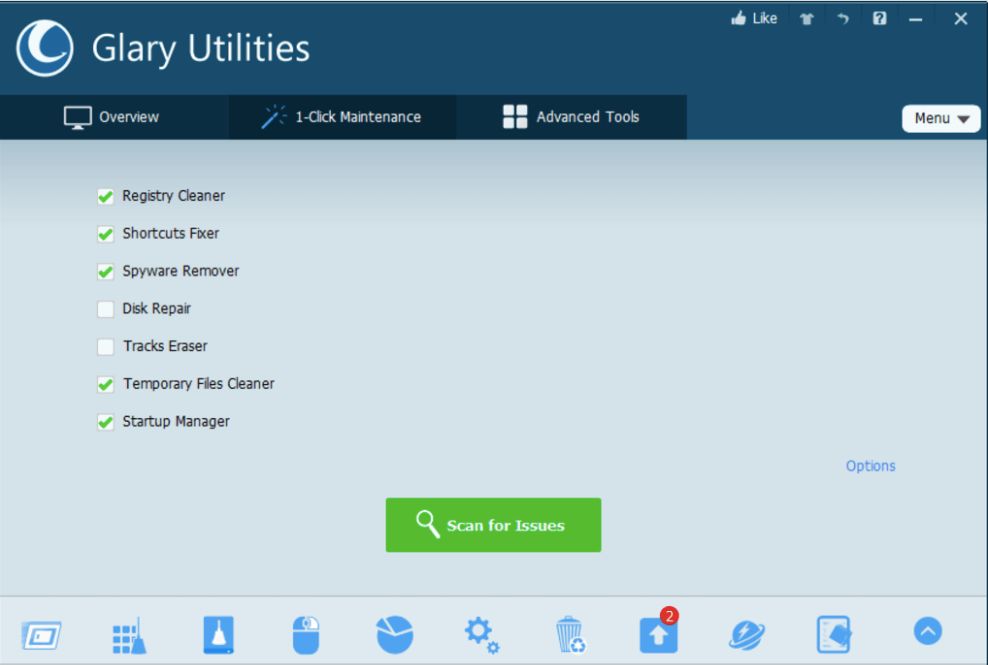 The One-click maintenance is an awesome feature of Glary Utilities that allows you to optimize your PC's performance with a simple click of a button. With this feature, you can fix invalid registry entries, repair broken shortcuts, remove spyware, clean junk files, manage several startup programs, remove traces, fix hard disk errors, and a lot more.
Too many startup items lead to a slow system startup speed. With Glary Utilities, Windows users can have their system files repaired, have the tool manage startup programs, and control scheduled tasks and processes.
Device driver-related issues can often cause terrible system errors such as Blue & Black Screen of Death errors. Therefore, all PC's health crucially depends upon system drivers. If they are outdated, missing, or corrupted, then all hell may break loose. Glary Utilities can automatically update drivers, backup drivers, uninstall, and also restore drivers.
Glary Utilities can help manage disk space by removing unwanted and outdated programs from the system.
In the paid version, users can get access to comprehensive FAQs, a Knowledge Base, and General Feedback Forum. Otherwise, users can email the technical support team for any issues with it and can expect a response in less than a day.
The registry is a database that stores information regarding the software and hardware of the PC. Over time registry entries might get corrupted which may lead to DLL errors which can be fixed by the best DLL fixer and software conflicts. Thus, Glary Utilities can run deep registry scans to identify the errors and clean invalid registry entries. 
This tool can analyze disk space, delete duplicates, recover deleted items, encrypt or decrypt files, and a lot more.
Tables for Specifications
The tech specs of the Glary Utility tool are mentioned below to understand the requirements of the tool quickly.
Parameter
Minimum System Requirements
Recommended Requirements
Developer

Glarysoft

Latest Version

5.181

Operating System

Windows XP, Windows Vista, Windows 7, Windows 8, Windows 8.1, Windows 10, Windows 11

Processor

I

ntel Pentium or AMD K5 with 13 MHz

Pentium 3 or 4 or AMD Athlon with 500 or more MHz

GPU

Graphics mode 800×600 with 16-bit colors

Graphics mode 1024×768 with 32-bit color

RAM

32 MB

1

28 MB

Disk Space

2

0 MB

30

MB

File Size

6

.33 MB

6

.33 MB

Internet Access

Y

es

Y

es

Price

F

ree

$

19.97 annual subscription charges for 3 PCs.
Merits & Demerits of Glary Utilities
Glary Utilities is one tool that certainly is full of multiple advantages and some disadvantages too. Let's take a look at them here.
Pros
Cons

Frequently and automatically updated.

Access to some advanced features requires a subscription. 

Offers more than 20 features and capabilities.

Immensely boosts PC performance.

Auto cleans for privacy and security after each login session.

Facilitates scheduling scans in the premium version.

Offers 24-hour technical assistance.

90-day money-back guarantee
How to Use Glary Utilities 5
In the below section, we have enumerated the steps that can be used to operate the tool.
Step 1: Download Glary Utilities 5 from the above-provided link and install it on your computer.
Step 2: After you are done with the installation, you can then launch the app on your computer screen. You will see three tabs viz; Overview, 1-Click Maintenance, and Advanced Tools.
Step 3: Navigate to the 1-Click Maintenance tab.
Step 4: Further, you can click the "Scan for Issues" button to initiate the process of scanning.
Step 5: As the scanning progresses, one by one each item is checked, and problems are detected by the tool. 
Step 6: Once the analysis is complete, you can then tick the "Automatically repair" box to let the tool continue with the fixes.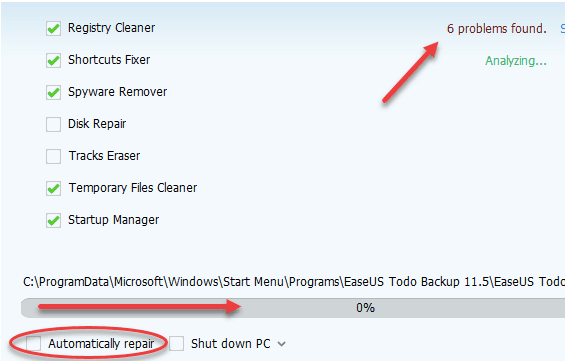 Conclusion
So, this is a complete roundabout on the Glary Utilities, its features, pros & cons, and other specifications. It is quite an effective tool when it comes to finding a free and one-stop cleaning solution for Windows computers. It comes with easy-to-use features and does a variety of jobs, thereby eliminating the need to download individual tools for each requirement.
Frequently Asked Queries
Is Glary Utilities better than CCleaner?
Both Glary Utilities and CCleaner are useful PC cleaner tools. Both of them offer interesting features; however, in terms of speed, Glary Utilities is swifter than CCleaner.
Is Glary Utilities Free Safe?
Yes, this tool is free to use and also absolutely safe. The tool can be downloaded from the official website of Glarysoft or other trusted third-party software download sites.
Is Glary Utilities Pro free?
Yes, the basic version of the tool is free to use. However, a premium version is also available which supports high-end functions like deep registry cleaning, scheduling scans, etc.
Who makes Glary Utilities?
Glary Utilities is developed by Glarysoft. It is one of the many products that they make for the Windows operating system.

Also Read