Apple's MacBooks are quite competent and robust but even they are vulnerable to hard drive malfunctions and crashes. As hard drives are the very heart of your computer, when they end up damaged, data loss is inevitable.
We all dread data loss. Therefore, the best way to save oneself from such an unprecedented situation is to clone the hard drive with a suitable free mac cloning software. It can help you restore the lost data in no time in case of a data loss event due to your MacBook's hard drive failure.
From a plethora of disk cloning apps available in the market, we have researched and picked up seven cloning software for Mac that is enabled with the best features.
What is Disk Cloning Software?
Before we deep dive into the features of the seven cloning apps for Mac, let's understand the meaning of disk cloning software first.
A disk cloning software is enabled to copy a computer's hard disk drives, operating system, software & apps, and even the installed security patches. With the help of cloning software, one can benefit in the following way:
Skip the manual process of reinstalling and reconfiguring the system again and again after a system crash.

Restore the previous OS version.

Replicate system configurations for multiple computers.

Perform a complete system recovery.

Upgrade hard drives.
7 Best Free Disk Cloning Apps for Mac
Here are the features of the seven disk cloning apps for Mac.
1. Acronis Cyber Protect Home Office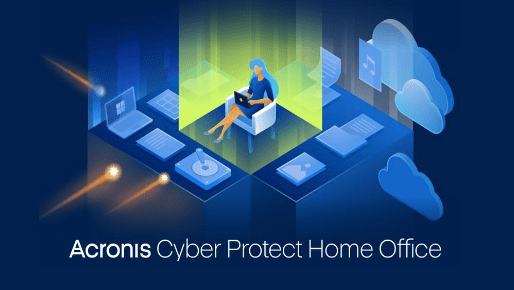 If you want to keep your digital world safe, try Acronis Cyber Protect Home Office, a free macs cloning software. With it, there is a unique data protection integrity and cybersecurity together.
Features:
The software has antivirus and is extremely user-friendly.

Data security is wonderful including their privacy structures

File backup and syncing happen effortlessly
2. EaseUS Todo Backup for Mac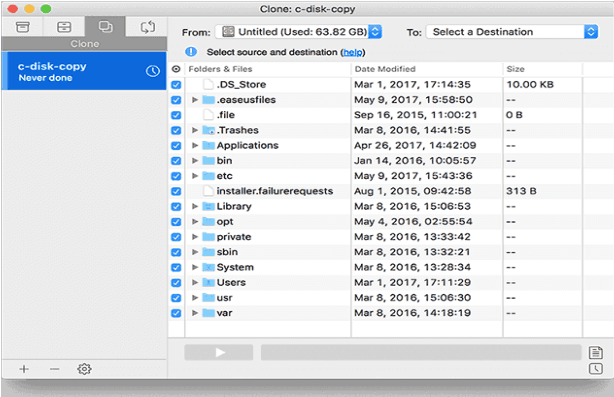 The system reinstallation is not a lengthy process with EaseUS Todo Backup. The tool comes with a detailed user guide and a strong disk partition. It is free and suitable for both home and business use.
Features:
The tool has a stunning interface design.

It can be used for proper documentation.

With the tool, you get a clean and good option placement measures
3. Carbon Copy Cloner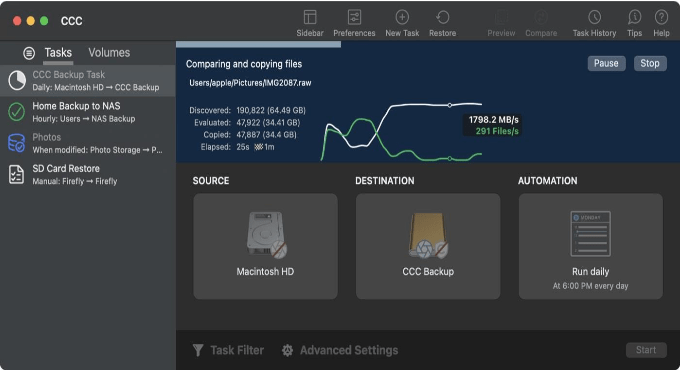 With Bombich, a free hard drive cloning software for mac, you can have data in a bootable format. It can be used within a moment anywhere and every time you encounter a disaster.
Features:
With it, you can try to pause a backup impossible with almost every other software.

It helps in grouping and sorting different tasks.

Bombich can indicate a detailed progress
4. ChronoSync
Try this all-in-one software for bootable backups, Mac cloud storage, and file synchronizations. It is a tool that is being used by varied professional personnel.
Features:
A powerful scheduler accompanies the software for you to work even when you are away.

Upgrades are free and are one of the foremost backup and sync apps for Mac.

Folder and files can be synchronized easily.
5. SuperDuper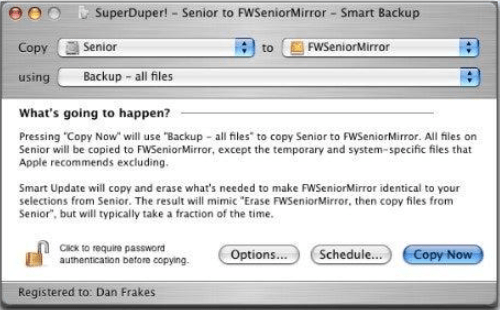 A bootable backup and a perfect time machine combination work together for this software. It also comes with a SmartWake option that comes with the facility of a backup irrespective of your system's state of activity. 
Features:
It is preconfigured software that comes with appropriate and common copying and cloning tasks.

Superduper's cloner is just not powerful but is fast too.

Backup is completely bootable and is a user-friendly process. 
6. Clonezilla
Clonezilla is a disk cloning apps for mac built to deploy systems, metal backups, and recovery. There are three different types of Clonezilla- Live, Lite Server, and Service Edition.
Features:
It supports almost all file systems except a few.

You can use the software to restore one image on multiple devices.

Several types of software can be clubbed together with it for maximum benefit.
7. Get Backup Pro
Get Backup Pro is a powerful backup tool that can clone your disk quickly and effectively with their folders having folder synchronization abilities.
Features:
Backup is easily bootable via a cloner facility.

Syncing and backup are automated

Integration is possible with iPhoto, iTunes, and even Address Book
Conclusion On Disk Cloning Apps for Mac
Although Mac offers its in-built hard drive cloning software called Time Machine, it is not sufficient due to limited capabilities and features. Further, it is not coded to clone the hard drive completely. Therefore, the above-mentioned seven free mac cloning software is built with advanced features to clone the mac hard drive efficiently and conveniently.
FAQs
How do I clone my Mac hard drive for free?
You could either use the in-built app of Mac to clone its hard drive or utilize any third-party tool to do so.
Can you clone a Mac hard drive?
Yes, you can clone a Mac hard drive with the help of third-party cloning apps.
How do I clone my Mac to a new SSD?
You can follow the below steps to clone your Mac into a new SSD:
You can download a tool of your choice.

Launch the app and follow the on-screen instructions.

Then, insert the new SSD into your Mac and then launch the Computer Management application on your computer screen.

Now, initialize the SSD in the Computer Management window and choose the same partition as your source drive.

Finally, click OK and then open your cloning app.

Click on the clone icon and choose your hard disk source.

The target disk chosen should be your SSD.

After this, just follow the on-screen prompts.
Is Carbon Copy Cloner for Mac free?
Carbon Copy Cloner is not free entirely though it comes with a trial period of 30 days where you can try out all its features.
Is there free cloning software?
Yes, there is plenty of software that can be utilized to clone a Mac system's hard drive for free. 
Also Read