Snapchat is an American instant messaging service designed by Snap Inc. Snapchat is also photo filter app compatible with both Android & iOS smartphones. It opens doors to numerous ways of having fun with your images and sharing it across with your friends to have a hearty laugh.
In this guide, we have described four ways in which you can find your friends on Snapchat without their usernames or numbers.
4 Ways to Find someone on Snapchat
Snapchat has made it easier to find people on its platform through the following 4 ways.
1. Locate someone via Snap Code
If you wish to find your friends and childhood buddies on Snapchat, you can do so via the Snap Code. Each user has a unique snap code which when scanned helps you connect with them easily even without their numbers or usernames.
1. You can either ask your friends to send you their snap code or find it from other social media platforms if they posted it there.
2. Now save it in your "camera roll."
3. After this, you have to launch Snapchat and click on the "Add Friends" icon.
4. Now click on the "ghost icon" across the search bar which will open the camera roll to choose the saved snap code to add your friend.
5. Finally, tap the "Add Friend" button.
2. Find someone on Snapchat via the URL
Snapchat supports one more unique way to connect with people without their usernames and phone numbers. Snapchat assigns a URL to each user profile. When you open the URL, the main window opens again where you can add friends.
The below steps will guide you further:
Take your friend's Snapchat URL.

Now tap on the URL and hit the "Add Friend" icon.

This will add the person to your friend list and the person will also get notified to add you to their Snapchat list.
3. Find Snapchat users nearby
If you don't have someone's username, number, or snap code, you can make use of another splendid feature of Snapchat which is the "Find Nearby" feature.
You can use the following steps to enable the "Find Nearby" feature.
Open the Snapchat app on your smartphone and choose the "Quick Add" option.

Tap on the "Add Friends" button.

Next, launch the "Add Nearby" window and click the "OK" button to detect all nearby Snapchat users.

A list of users will pop up on your screen and you can hit the "+" button next to the user's name to add them to your friend list.
4. Use third-party apps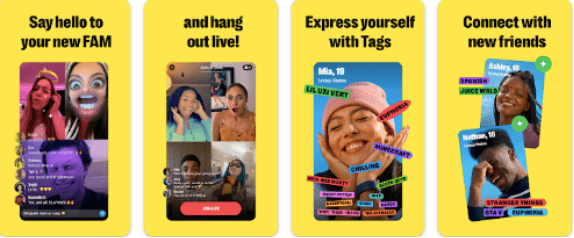 The Yubo app can help you find someone on Snapchat without their contact number or username. You can download it from the Play Store and register on the platform with your phone number. You can enter your details like gender, name, and birthday and further set your profile image.
After this, you can start searching for people you know and profiles will pop up on your screen. If you know someone or like someone, you can swipe right to indicate your interest in connecting with them. If they respond with a similar interest, you can see their Snapchat username.
Now you can go back to Snapchat and search for the contact using their username and add them. Alternatively, you can click on the Snapchat icon present on the app to connect with the users of your choice.
Ending Note
So, now you know how to have fun with your friends on Snapchat whenever you get bored. You needn't worry about asking their numbers and username to connect with them on Snapchat.
You can follow the aforementioned methods to find someone on Snapchat instantly. If you are aware of any ways to find people on Snapchat, do mention them in the comments section.
FAQs
How can you find someone on Snapchat without their username?
There are plenty of ways to locate someone on Snapchat without their username. You can use their contact number or Snap code to locate them. Also, refer to the article to know how to find your friends on Snapchat.
How do I find someone on Snapchat with just a username?
The easiest way to probably locate someone on Snapchat is with their username. All you need to do is search for their username in the search bar. Then the usernames associated with it will start appearing below. After this, you can select the relevant contact and add them by tapping on the "Add" button.
Can't find someone on Snapchat?
If you can't locate someone on Snapchat, refer to the above guide to know the ways to find your contacts on Snapchat.
Can you find someone's Snapchat by phone number?
Yes, if you sync your address book, Snapchat will automatically locate the contacts on Snapchat via their phone numbers.
Also Read