Who doesn't enjoy watching their favorite show on Hulu, right?
But when it shows the error code 2998, it is definitely frustrating, and we understand that.
That is why we are here to assist you with these 6 Ways to Fix Hulu Error Code 2 998.
What is Error Code 2 998 on Hulu?
Billions of people throughout the world are aware of the popularity of Hulu. It is a service that streams various web series, TV shows, and your favorite movies on its platform.
But even the greatest things in the world have their cons. And Hulu is not an exception.
The users know that it sometimes bombards them with different kinds of error codes that entirely ruin their uninterrupted streaming experience.
When you see this error while playing a video, it suggests you restart the video or advises you to watch something else.
But isn't that frustrating when you want to watch something and you can't, and it advises you to watch something else? That's why we are here to explain what Hulu Error Code 2 998 is in reality and how you can solve it.
Why Hulu Error Code 2 998 Occur
There might be several other reasons that might cause it. But we will explain the most prevalent ones that might be the reason for it.
1. Server issue
Sometimes the server might be the real culprit. If the Hulu server is down for that moment, you might face this issue!
In this case, you certainly do not have any option to try out for fixing it since it is not something that you can fix. The initiative must be taken from the service providers' end.
2. Check the Internet Connection
Despite having a strong internet connection, all of us sometimes face different kinds of issues due to poor internet connection.
So if the internet connection is not stable for that moment, you might see the error code.
To fix it, you can restart your Wi-Fi connection or wait for some time until the network connection gets a bit stable.
3. Look For Corrupted Application
Sometimes If you are using an outdated or completely corrupted application, you may see the error code. You can uninstall the application and reinstall it to solve Hulu Error Code 2 998 error.
4. Clear out the App Cache
The Hulu Error Code 2 998 that you might see can be the result of the corrupted application cache data.
1. Open Google Chrome first, then choose More tools.
2. When you click on the three dots in the browser's upper right corner, a menu with the option to clear browsing history will display.
3. Set the Cached Images and Files checkbox to Yes and change the Time range to All time.
4. After clearing the cache, restart Chrome by selecting the Clear data button.
5. Open Hulu once more to see if the problem is still present.
Easy and Quick Fix to Hulu Error Code 2(-998)
Apart from the solutions already explained before, we will share six more ways to help you fix this error.
1. Call Hulu Customer Service
If none of the aforementioned fixes work, you can file a complaint with Hulu's official support team. They will get back to you with potential solutions.
2. Use Simple Troubleshooting Techniques
To resolve problem code 2(-998) on Hulu, try these general troubleshooting techniques. 
1. A momentary issue can be to blame for the problem. Therefore, try reloading the video with which you are having the issue in question and see if the issue is resolved.
2. Restarting the Hulu software on your PC is another option. To do this, use Task Manager to entirely close the app before relaunching it. It would be great if the error gets fixed at that time. 
3. However, if it doesn't repair the issue, restart your computer and then open Hulu to see if the problem has been resolved.
4. If you are using Hulu on a web browser, exit the browser and then you can open it again to see if the issue still exists.
3. Restarting your Computer & Router
Some impacted customers have found that rebooting their PC and networking equipment, such as their router, has resolved the issue. In order to determine whether Hulu Error Code 2 998 has been fixed or not, you may also try doing the same.
Here's how to go about it:
1. Shut down your PC and any streaming devices you are using.
2. Just unplug your computer from the power outlet at this time.
3. Next, unplug your router and any other networking equipment.
4. After that, unplug all of the equipment for at least two minutes.
5. Then, connect each networking device's power cord individually and let them fully boot up.
6. Connect your machine now and restart it.
7. Check to find out if the error has been fixed by opening Hulu.
8. Continue to the next possible fix if the Hulu error keeps occurring.
4. Wipe off the DNS cache
Hulu's playback Hulu Error Code 2 998 could be brought on by an out-of-date or damaged DNS cache. Therefore, if the case applies, you can clear the DNS cache to resolve the issue.
1. To start, you can access the Command Prompt with administrator rights by using the taskbar search option.
2. Now enter the command "ipconfig /flushdns" in the CMD window.
3. After that, hit Enter to carry out the previous command.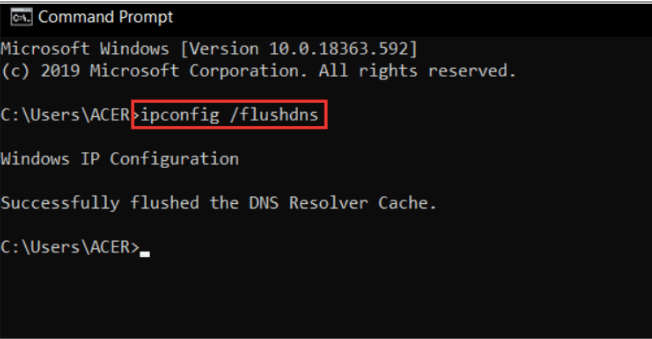 4. Restart your computer after seeing the message "Successfully flushed the DNS Resolver Cache," and then open Hulu to see if the issue has been resolved.
5. Continue to the following potential fix if you continue to get the same Hulu Error Code 2 998.
5. Fix the Severe Issue
Many free server-status detection tools are available that can provide you with precise information about Hulu's server status. Find out the status of the Hulu servers by using them.
6. Check Out the Subscription Plan
Check to make sure your subscription plan has not expired as well. If so, you will need to renew your subscription in order to keep using Hulu to stream videos.
So, these are the six methods that you can try out to solve this issue. 
Depending on the problems that you are facing while streaming the application, one of these methods will surely work out, and you can again enjoy the interrupted streaming experience.
Also Read