Watching the same icons regularly on Windows PC is quite boring. Although the Windows icon are really good, but when we use the same PC regularly it is quite unpleasant for our eyes. We all love to customize our PC to make it look different. It gives us freshness and offers a great view to your screen. 
Windows 7 offers basic Customization options and basic icons. While newer Windows versions come with better icons. Although you can change these icons by using icon packs. These icon packs change all the system icons including apps, recycle bin, calendar, and other folder icons. 
We are going to share some of the best icon packs for your Windows 7 that make it possible to change your icons and enhance the look of your computer screen. You don't require any technical knowledge to change these icons. 
9 Best Icon Packs for Windows 7
These icon packs contain different types of themes that would be loved by all types of users. So, let's know the 9 best icon packs for Windows 7. 
1. Papirus
The list of best icon packs for Windows 7 starts with Papirus. It offers more than 10 color profiles from which you can choose the one as per your likeness. All the icons come in a square shape that somehow looks like the older Mac OS designs. These icon packs look more beautiful if you use a dark theme on your Windows 7PC.
Features
It is a free and open-source SVG icon theme 

It includes six different colors simultaneously; dark grey, light grey, blue, green, brown, and dark blue

Offers round and square shape icons
2. Space Shrooms
Space Shrooms are one of the icon packs which offer a huge catalog of colorful icons which you can apply to your Windows 7. All the icons are eye-catching and available in rounded edges with square shapes.
These icons can be applied to your Windows system and folder icons. It is a free icon pack and can be easily downloaded from the VSthemes website but you need 7TSP to patch the icon pack on your Windows 7.
Features
It is a custom icon pack for Windows

The icons are very bright and colorful

It consists magnetic blue and Mars orange color scheme
3. Minium2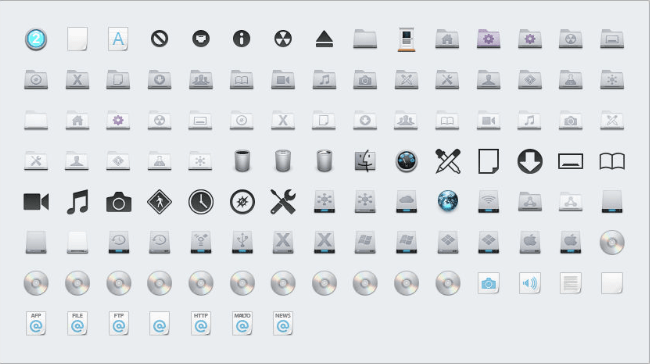 Like its name, minium2 is a minimal icon pack For Windows 7. It is a free Icon pack that is available on DeviantArt. The icon comes in a predominantly black and grey scheme. The folder icons are slightly toned down border colors while some of the icons her ticket outline to make them pop out.
The only thing you need to do is manually replace each icon on the desktop or in Explorer as you cannot download minium2  using 7TSP or iPack installer.
Features
Download High-quality free icon sets 

Download the icons in SVG and PNG format

It has a great collection of icons to give a new look to your PC
4. WinRemix
Next, we have Winremix which uses the iPack installer to apply different icons to your Windows 7. If you are fed up with watching the yellow color icons on your Windows 7 then you can use win remix which offers a slightly different look to your PC. It uses a green color scheme for the icons to enhance the look of your PC.
The drawback of this icon pack is that it contains only folder icons so it is a folder icon pack for Windows 7 and does not let you change anything else. You can download Winremix from deviant art for free.
Features
Adds green color to your folder icons 

You can update it for more icons 

Offers minimalist interface 
5. Turquoise
The turquoise icon pack is available on Windows 7 and Windows 10, both 32-bit and 64-bit. The icon pack is very minimal and much similar to Windows 11 icons. It can change your old icons as well as system icons. It changes system icons with a blend of grey and color blue colors while keeping the folder icons in yellow color.
Turquoise is available on deviant art. It is a popular gaming icon pack for Windows 7. You need to use the iPack installer to patch the icons on your Windows system PC.
Features
It offers yellow as a primary color 

It flawlessly works on newer and older PCs

Offers icons in gradient, flat, colored outline, rounded, and many other shapes
6. Nord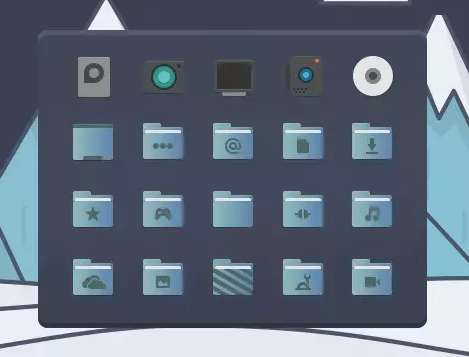 Nord is another popular icon pack available for Windows 7. It is a teal-colored icon pack that is loaded with square icons. It contains varieties of icons that you can apply two most of the Windows applications end system icons.
These icon packs look better with the dark theme. You can easily download Nord from the Vsthemes website for free. It requires iPack to patch your PC thus you don't need to change every icon manually.
Features
It uses a gradient color scheme for folders

It offers various system icons and folder icons 

The icons color changes smoothly from green to blue
7. Fluent
Fluent is one of the popular Icon packs available for Windows 7. It offers a combination of grey and blue folder icons. The blue folder icons look good with both light and dark backgrounds while the grey icon pack will look good on white backgrounds. 
It can change the icons for music, photos, and calendar in all my applications like Adobe and many others. It can modify folder icons as well as system icons. This icon pack is available on the VSThemes website and needs 7TSP to patch them to your Windows PC.
Features
It contains some 2k and 4k wallpapers

It has a collection of more than 4000 filled and outlined icons

It is available in two themes; regular and filled 
8. Reversal
Reversal is one of the best icon packs available for Windows 7. The icon packs are much similar to fluent in color scheme.
It offers blue and black-grey folder icons which you can apply to your Windows 7. It is a free icon pack that requires 7TSP to patch. This icon contains stylish icon packs with use and sharp edges.
Features
Offers colorful rectangle designs icons 

Need to use 7TSP GUI to install these icons

The icons are useful for both commercial and personal use 
9. Big Sur
The list of best icon packs for Windows 7 cannot be completed without naming Bigfoot. It offers some of these stylish icons for Windows 7 available for free download these icons look exactly like they do on Mac OS Big Sur.
Well, if you like Mac OS theme then this is the perfect icon pack for your PC as it modifies the icons as well as Windows 7 theme. It requires UXThemePatcher and 7TSP to download these icons properly.
Features
It offers 3 colors icons that are light, dark, and blue accents

These icons are free to download

The icons resemble the interfaces from apple
Also Read