IDM also known as Internet download manager is a software that works as a download manager. It helps you download files from the Internet with the fastest speed and supports functions like play, pause, and restart. The main aim of this software is to download files in a well-organized way.
Undoubtedly IDM is the most popular download manager available in the market currently. But then also people are looking for its alternative it is because the software works only on Windows PC and to access some other functions you need to have a subscription. 
Much other software like IDM is available in the market which is free to use and works on other operating systems as well. We have brought this article for you in which we have mentioned the best alternatives to IDM along with their features so you can better understand the qualities of each software. In this article, we are going to list the best iDM alternatives for Android, iOS, Windows, and Mac devices. We are going to mention all the necessary information related to the alternative.
10 Best Free IDM Alternatives
1. Free Download Manager
The free download manager also known as FDM is considered one of the best IDM alternatives. It is free and open-source software that is completely secure as well. It is loaded with various features which makes it stand at the top of the article. The application has a built-in torrent client support system.
It has a preview feature that helps you preview files before downloading them. It has a simple user interface which makes it easily adaptable for the users. 
Features
It also has a Chrome plugin

It lets you schedule the download for a later purpose

It supports various languages including Korean former RBC, English, Serbian, and many others

It is compatible with multiple platforms
Platforms: (Windows, macOS, Linux, Android)
2. uGet Download Manager
Next in the list comes is uGet download manager. The software has occupied its position in the list of best IDM alternatives as it includes all the exclusive features. The software allows you to download videos from YouTube and other video-streaming websites.
It is integrated with Google Chrome, Firefox, Opera, and other Chromium browsers. It supports 30 languages which makes it easily accessible to users around the world.
Features
It is a free and open-source software 

It allows scheduled downloads

It supports torrent downloads

It provides FTP support
Platforms: (Windows, macOS, Linux)
3. Flash Get
Flash Get is one of the most popular and feature-rich alternatives to IDM. Previously it was known as a jet car. It downloads files from the Internet at a 10 times faster speed. One of its vital features is that it automatically launches antivirus software after downloading files to provide security to your device. 
It is integrated with multiple browsers like Google Chrome Firefox end Opera. The only drawback of this software is that it only works on Windows devices.
Features
It has integrated antivirus software to provide safety from threats, viruses, etc. 

It supports downloading multiple files in batch

It supports multiple protocols without affecting the processor
Platforms: (Windows)
4. Motrix
Motrix is another IDM alternative that is far better than IDM. It is easy to use and an effective download managing tool. With this software, you will be able to download a normal file, torrent file, and magnet.
It offers a clear user interface which makes it easy to access for every type of user. It lets you download selective files in a torrent and zip. The exceptional feature which you will not get in every software is that it offers a graphic representation of the download status.
Features
It provides you with a real-time notification Ben a download is complete

The interface is available in 15 different languages

It is capable to map UPnP & NAT-PMP Port
Platforms: (macOS)
5. Ninja Download Manager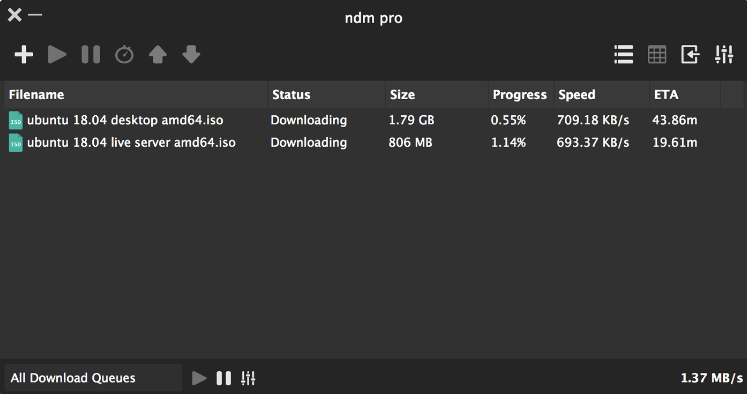 Ninja download manager is another effective IDM alternative that you can use on Windows and Mac OS. It works as a browser extension. It offers both free and pro versions. With its free version, you will get some basic features and with the pro version, you will get some advanced features like a password manager, clipboard monitor, and proxy support.  
It lets you integrate NDM with your web browser which can increase the download speed by 20 times using multiple connexions as well.
Features
It lets you  speed limits

You can resume and accelerate downloads

 It supports drag-and-drop functionality
Platforms: (Windows, macOS)
6. Turbo Download Manager
Turbo download manager becomes the popular download manager for Windows, Linux, Mac OS, Android, etc. in a very short time. It is considered to be the best free IDM alternative for your device.
This tool includes various features like it divides downloading files into different sections and letting them download one by one. It lets you preview the files before downloading them and also resumes downloads effective stops in between for any reason.
Features
It supports multithreading downloads

It offers an automatic video-capturing feature

It offers a minimal user interface
Platforms: (Windows, macOS, Linux, Android)
7. Internet Download Accelerator
Internet download accelerator is another option if you don't want to use IDM on your device. It offers various similarities to IDM and has features like scheduled downloading, theme support, and various others. 
It is available for free but consists of lots of advertisements and if you purchase a pro edition then you won't get advertisements and also access to additional features like managing download speeds, FTP, and others. The only drawback is that it does not support Linux and Mac OS.
Features
It lets you preview files even  in zip folders
It lets you modify and apply different skins for your IDA
It has a user-friendly interface which is good for beginners as well as professionals
It lets you download high-quality videos from YouTube and other video streaming platforms
Platforms: (Windows)
8. JDownloader
JDownloader is another free and open-source software that you can use instead of IDM. It includes all those features which make it the best IDM alternative. It allows you to set the limit of bandwidth amount used.
This tool has multi-stream compatibility which lets you download multiple files from different sources. It is equipped with a built-in captcha reader as well. It also offers features for batch-downloading files. 
Features
It offers different format options if you download files from YouTube and other related websites

This is a cross-platform software

It supports multiple languages
Platforms: (Windows, macOS, Linux)
9. Xtreme Download Manager
If you don't want to use ITM then you can also consider extreme download manager instead of it. It offers an intuitive interface and lots of beneficial features. It offers the fastest downloading speed in comparison to IDM you can also download any video through this tool. 
This tool is also capable of downloading broken or failed downloads from the point where it is stopped. It supports various browsers including Google Chrome, opera, and various others.
Features
You can schedule or manage a batch of downloads effectively
It is loaded with a built-in video converter
It lets you limit the speed of the downloads 
Platforms: (Windows, macOS, Linux)
Also Read