Are you frustrated with your system's slow performance? As your system gathers more junk, unwanted files, internet cookies, and installs new software, your PC's performance start degrading.
Many of the new installs take up RAM and CPU by running in the background. In this case, your system needs a powerful PC optimizer that helps you boost your PC's performance and clean all the junk.
In this article, we will review one such powerful application iolo System Mechanic. This tool optimizes pc and acts as powerful antivirus to protect your system from malicious software and cybercrime.
What is Iolo System Mechanic?
iolo System Mechanic is a PC tune-up utility tool that may be used to improve your system's performance by resolving faults. It performs tasks such as disk defragging, optimizing CPU and RAM consumption in real-time, eliminating unwanted files, and so on, all with the purpose of improving the efficiency of your system.
Even though this tool is a little more expensive than others, it is a personal favorite of many users owing to its superb user interface and ability to keep up-to-date and relevant with frequent updates.
It is not only an outstanding computer tune-up system, but it also offers excellent security and privacy. You can enjoy safe browsing while ensuring optimal PC performance with System Mechanic.
Why Choose Iolo System Mechanic?
Iolo system mechanic is leagues ahead of many other utility products, thanks mainly to its user-friendly interface, lack of technical language when addressing difficulties, and nearly automated approach to improving PC performance across the board.
It not only speeds up your PC but also protects your privacy. It has a specific module called "Privacy Guardian" that helps users keep their data private. This software enables users to avoid unwanted surveillance of their computer use or surfing patterns and immediately delete cookie trackers and web-browsing traces left on the machine.
Features and functionalities
Interface: One of the reasons to utilize this application is the software's interface. The user interface is clean, uncomplicated, and simple to use with icons. The software's three versions, System Mechanic Basic, System Mechanic Professional, and System Mechanic Ultimate Defense, all have a visually pleasing interface that is simple to access and use.
There are various options available, all of which are displayed in the left pane. Each of these choices has a subcategory that defines the function you want to utilize.
If you don't want to test each function and just want to get going with a quick boost, this is also where you'll find the 'one-click tune-up' option.
However, one of the common recommendations is to upgrade to premium editions, which is a little aggravating. The trial version was easy to download from Iolo's website, and installation took only a few minutes.
Scanning
You have two scanning choices with this tool: rapid scan and thorough scan. Quick scan is a quick scan that cleans up unwanted files, registry problems, and internet connection issues on the surface.
On the other hand, the deep scan takes longer and scans the entire system for any faults. As soon as the scan is finished, all of the issues will be presented, and you may investigate each one by simply picking it. To resolve all concerns, click the Repair Now button in the center.
Cleanup: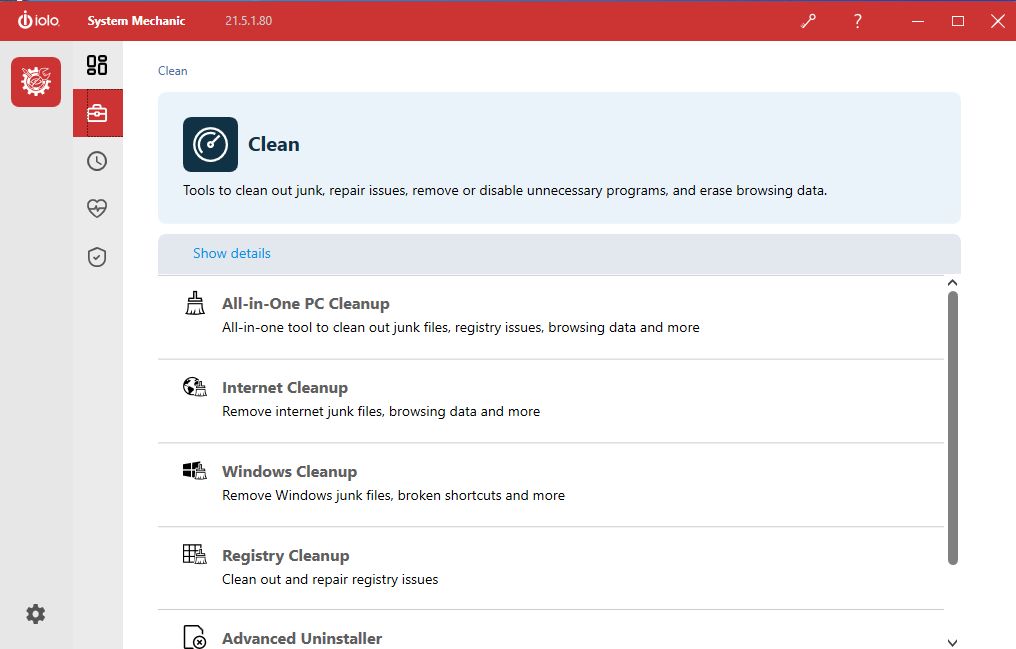 When it comes to cleaning, System Mechanic is a fantastic application. The utility can clear up over 50 different types of trash files and conduct defragmentation, optimization, and registry cleaning to improve speed while also removing unwanted files and clutter from the computer. Once installed, the application takes care of your machine automatically, especially when it is idle.
When you need your PC to run at a higher level, you can use the LiveBoost feature to free up more RAM and CPU.
PC boosting: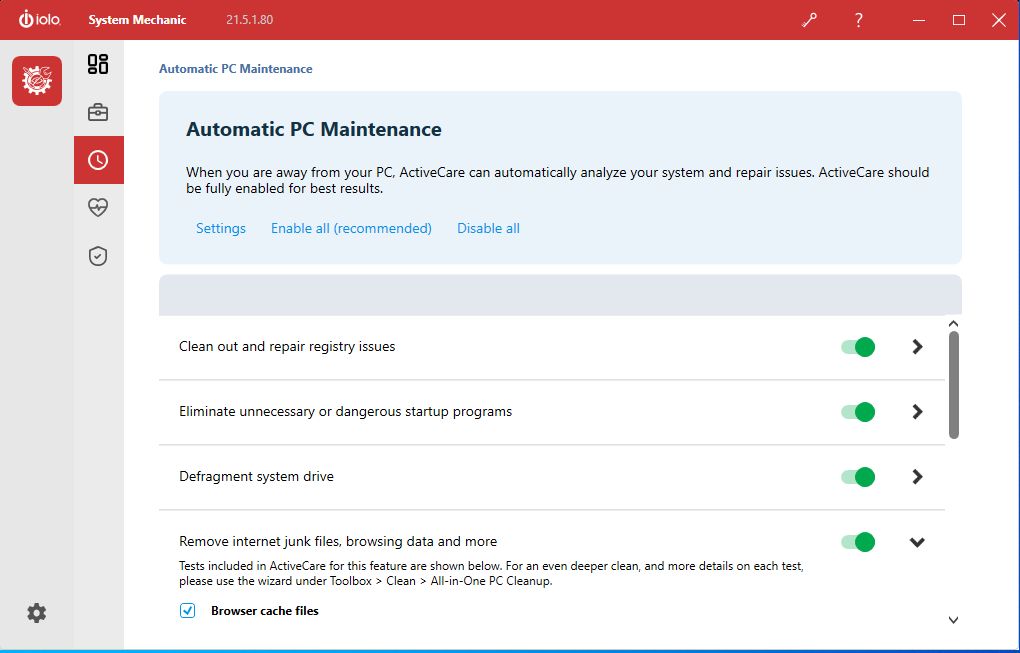 To give your PC a boost, an on-demand boost momentarily disables all background processes that require system resources, including all startup applications. It displays all unwanted background services and allows you to turn them off with a single click.
In Active care, on-demand boost can be enabled automatically.
ActiveCare is a feature that guarantees that your computer runs smoothly and efficiently. This is a collection of processes that run when your computer is idle. It declutters and stabilizes the computer to provide optimum overall system health. When you return to work, the action ceases.
PC protection: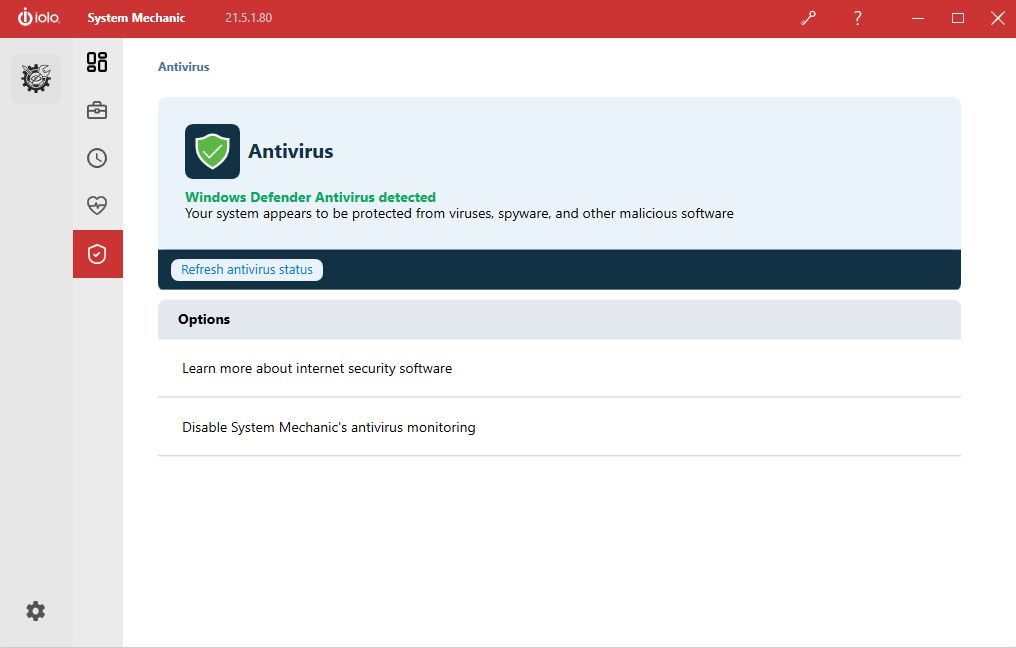 Although it's not antivirus software, this software is pretty competent as antivirus software. The System Guard function safeguards your computer against the installation of unwanted or dangerous software. You can set up automatic system defense using this capability.
Hidden files have the ability to redirect your browser's search page or homepage to their website. On the other hand, System Guard safeguards you by preventing illegal alterations to your PC without your authorization.
The Privacy Shield feature disables Microsoft's data-collecting services. This prevents information about your web browsing behavior, websites visited, and programs used from being gathered.
iolo System Mechanic Pricing
iolo System Mechanic has a free version with restricted features such as basic system fixes, cleanliness, and speed optimization. For a month, a full-featured free trial edition of the software is offered.
The annual cost of the System Mechanic plan is $39.96.
The System Mechanic Pro plan costs $55.96 per year and includes additional capabilities such as System Shield for antivirus and malware protection, as well as Search and Recover for recovering mistakenly deleted data.
The Ultimate Defense plan from System Mechanic costs $63.96 per year. Privacy Guardian protects your privacy online, and ByePass secures password management, as well as the Malware Killer.
The best feature about all three editions is that you get an unlimited license to use it, which means you can install it on as many computers as you like. Be sure to check out Iolo system mechanic's official website for amazing discounts.
Pros:
Licenses are unrestricted.

Improves the performance of your computer.

Tools for protecting your privacy.

Excellent explanations on computer issues.

Back up the registry in Windows 10.

A Comprehensive and Detailed Explanation of PC Issues
Cons:
In testing, NetBooster provided a minor improvement in internet connection performance.

Only a yearly subscription is available.

The standard edition has no antivirus or anti-malware protection.

For some, the price is a little too much.

Some users may become confused if there are too many features.
Tech Specifications:
Make sure your machine satisfies the following requirements before installing this PC Cleaner & Optimizer on your Windows system:
Compatible with Windows 11,10, 8, 8.1, and 7 (Both 32-bit or 64-bit)

Minimum 512 MB RAM (optimal 2 GB)

Windows Administrator user account

30 MB free hard drive space

Internet Explorer 9 or later

Strong Internet connection
FAQs On iolo System Mechanic Review
Q: Is System Mechanic a virus?
ANS: No, System Mechanic acts as a PC optimizer. It performs tasks such as defragging the hard drive, optimizing CPU and RAM consumption in real-time, eliminating unwanted files, and so on, all with the purpose of improving the efficiency of your system.
Q: Is iolo System Mechanic malware?
ANS: No. System Mechanic does not contain malware. This software helps keep your PC's performance at its best by optimizing and cleaning your PC's internal issues.
Q: Is System Mechanic Free any good?
ANS: Although the accessible version of the software comes with a limitation. It does perform all the basic functionality such as basic system fixes, cleanliness, and speed optimization. System Mechanic offers a one-month free trial version with full functionality.
Q: Is iolo System Mechanic Free?
ANS: Yes, iolo System Mechanic offers a free version with functionality such as basic system fixes, cleanliness, and speed optimization.
Q: Which is Better System Mechanic or CCleaner?
ANS: While CCleaner is a well-known and dependable utility for cleaning Windows garbage, System Mechanic digs deeper into the operating system to fine-tune hundreds of secret Windows settings that can help your PC perform faster and survive longer.
Also Read