iPhones do not come with default app cloners that allow users to operate at least two accounts from one platform. You'll need a free clone app for iPhone from the App Store if you ever plan to use this feature.
The best iOS app cloners ensure users run duplicate accounts on their iPhones without issues. That's why you need a top choice to clone apps on iPhone releases that offer several essential features to run social and gaming accounts with ease.
In this article, we'll get to see 5 of the best app cloner to duplicate apps on iPhone devices you'd love to install. Check out the major features and other essential details each app has to offer before you make your choice.
5 Best iOS App Cloners to Duplicate Apps On iPhone
1. Parallel Space for Dual Apps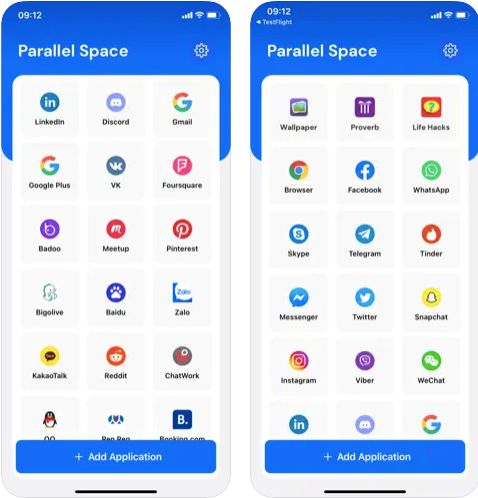 Parallel Space for Dual Apps is the best iOS App Cloner to duplicate apps on iPhone devices. The app offers users various tools to create, manage, and use different gaming and social media accounts from one device. It also provides support to secure your cloned accounts from unauthorized access.
Main Features
App hiding tool allows users to keep one instance of the cloned app away from public view

Quick cloning tool helps users create and manage apps from different social media and gaming accounts

The free version offers significant cloning support to iOS users; paid version offers advanced tools to duplicate and use multiple apps on one device

Secure lock support provides protection against unauthorized access or use of cloned apps
2. Parallel Space: Multi Accounts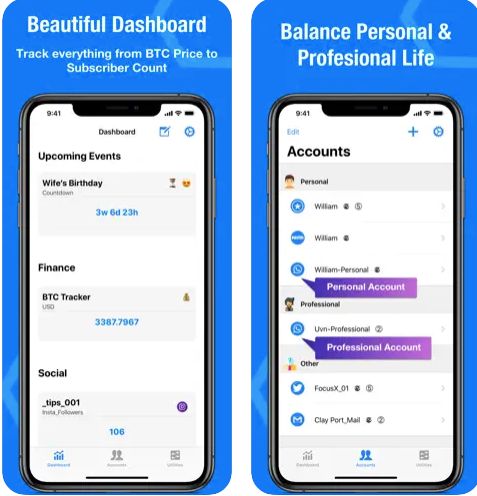 The Parallel Space app acts as a cloner and performs several essential features you need to use multiple apps on one iOS device. It comes with a beginner-friendly interface designed to allow first-time users easy access to use multiple accounts in one place with ease.
Main Features
The secure locking tool allows users to enable a passcode to protect against unauthorized access

Built-in utility apps like QR scanners, calculators, currency converters, etc. for ease of use

Supports WhatsApp for Business so users can host two business chat accounts on one device

Allows users to see all content in different formats from their favorite apps and accounts
3. Dual Accounts Multi Space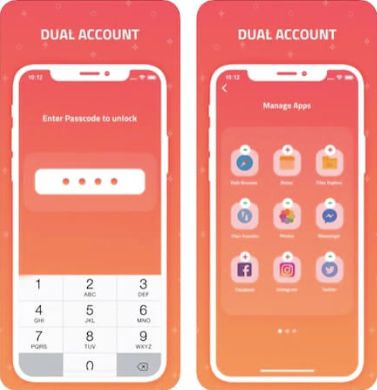 The Dual Accounts Multi Space application works as a reliable app cloner for iOS 9.0 devices or later. Users can take advantage of this app to log in to different instances of one app on the same device. The app also offers users a private browser, passcode support, and other essential features. 
Main Features
Private Browser within the app allows users quick access to the internet at great speeds

Passcode support allows users to maintain the privacy of their cloned accounts with ease

Comes with a built-in photo viewer and video player to grant users access to various content

Supports all major social media apps like Twitter, Facebook, and Instagram; clones popular gaming apps to allow access to multiple apps in one place
4. Dual Space: Social Manager 
The Dual Space app operates as a cloning app for iOS devices and helps users manage multiple accounts from one place. iOS users with multiple social and gaming accounts can take advantage of the app to use multiple accounts across platforms. 
Main Features
Time management tool helps users set limits to use social media apps; check time spent per app daily and monthly

Passcode lock helps users set codes on your cloned apps so no other person can see or access them 

Account manager allows users login to different accounts with a single app screen; helps users log into different platforms from one place

Add button helps users create new clones on one app screen with ease
5. Multi Social: Multiple Account
The Multi Social: Multiple Account is a popular iOS app cloner that allows users to create and use different social media apps on one device. The app supports several great features and is one of the very best options to log in to popular social media sites like Twitter, Facebook, Instagram, etc.
Main Features
Works on iOS 9.0 or later and is available in English at a 12+ rating

The Family Sharing tool allows users to share the app's paid features among six iOS devices

App adder allows users to include social media or gaming apps not included with default accounts

Supports all major social media apps like Facebook, Twitter, and Instagram; security locking also available to protect all cloned accounts
Also Read