IPTV apps for Samsung Smart TVs give users more entertainment options with access to better channels and live shows. 
But it's not easy to choose an IPTV with 40+ different apps available. In this article, we have listed the best Samsung IPTV apps that are easy to set up and guarantee premium entertainment. Check out these top options to see top-rated content on your Samsung TV.
7 Best IPTV Apps for Samsung TV
1. OTT Navigator
OTT Navigator is the best IPTV app for Samsung TV users that need advanced filters for premium entertainment. You can rely on this app to filter content by genre, season, ratings, country, and many other categories. The app also supports the customization of categories and features an advanced search tool. 
Major OTT Navigator Features
Comes with an advanced query tool that allows users to search content across categories

Has a deep filter system that allows users to seek content based on preferences

Category customization allows users to access Favorites and most visited channels with ease

Playlist management allows its users to select top content for repeat viewing or easy access
2. Tivimate
The Tivimate app offers a multi-platform feature that allows it to run on most smart TVs. Users can import custom channel icons and rearrange them in whatever order they want. The app also provides a search feature that allows users to seek out current shows and channels with ease. 
Major Tivimate Features
Offers a first-time free trial for 5 days to check out all its important functions before the subscription

Playlist rearrangement allows users to place their favorite channels and see live shows in one place

Supports more than one playlist and can display content from different categories at the same time

Has a search feature to help users quickly seek out running shows and top channels 
3. Smarters Player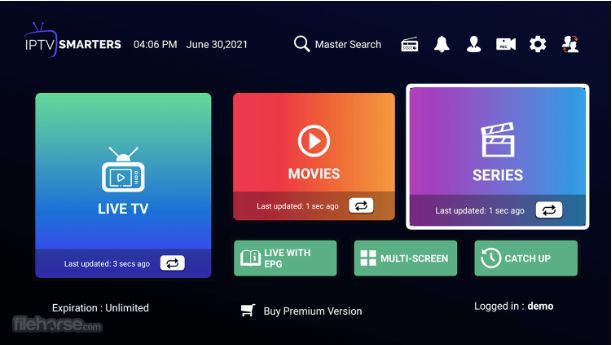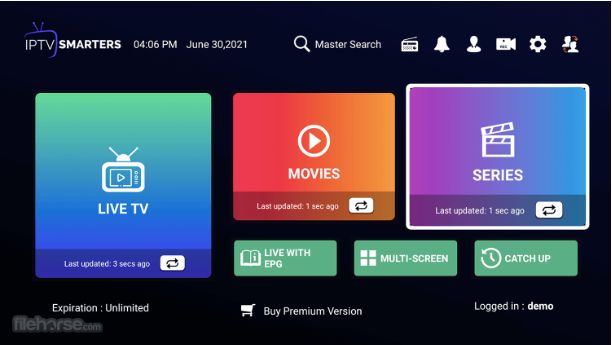 The Smarters Player integrates with popular video players and also allows multiple logins so everyone can see the content they want on smart TVs. It also supports many catch-up channels so viewers get to see their favorite shows without hassle. 
Major Smarters TV Features
Works with an M3U URL from any provider to access content on most smart TVs

Accepts multiple logins that allow more users to see its content 

Supports catch-up channels and TV shows 

Integrates with popular media players like VLC, Daum PotPlayer, Perfect Player, etc. 
4. Perfect Player IPTV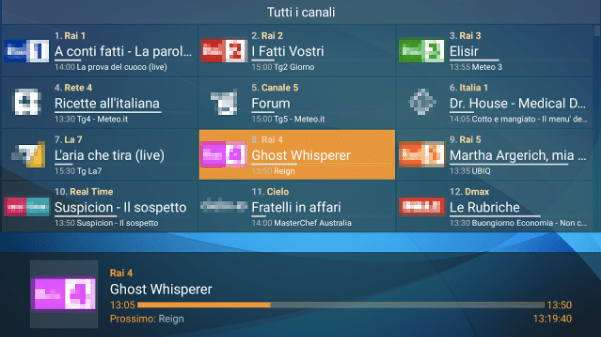 The Perfect Player IPTV is another IPTV app for Samsung tv which runs an impressive format that allows users to operate playlists in M3U and XSPF formats. This app also provides several decoder options, sharing, and much more so users can access more content without hassle.
Major Perfect Player IPTV Features
Supports playlists in XSPF and M3U formats

Can support 4+ decoder options for access to more channels and entertainment

Allows users to watch saved content and sync to shared devices to entertain more people

Comes with UDP-to-HTTP proxy support to guarantee a better streaming experience 
5. GSE Smart IPTV
The GSE Smart IPTV guarantees compatibility with several Android TVs and provides access to Chromecast for more viewing support. Users can control access to content and ensure no viewer can see movies above their rating. 
Major GSE Smart IPTV Features
Compatible with Chromecast to support most smart TVs with better content

Supports native parental controls to prevent viewers from unsuitable movies or videos

Plays live streams through MMS, M3U8, HTTP, RTMP, HSL, and many more formats

Can run on Android mobile devices and TVs
6. IPTV Pro
IPTV Pro is another free IPTV app for Samsung tv that needs the Resume feature. The app comes with several standard options to see content on Samsung TVs and also allows users to continue movies from saved points. 
Major IPTV Pro Features
Supports an electronic program guide that can run XZ, GZ, and ZIP formats

Runs a simple theme that allows viewers to access content on their favorite channels with ease

Supports XSPF and M3U playlists

Has a 'Resume Watching' feature so you can start your favorite movies from where you left off
7. Lazy IPTV
The Lazy IPTV app provides users with enough support to view content from their local file directory with ease. This app also runs playlists in different formats to ensure all users gain access to more content with ease. 
Major Lazy IPTV Features
Allows users to access content directly from their local storage

Supports URL pasting to see content from the Web

Can run UDP and HTTP streams so users can play YouTube videos directly from their smart TVs

Runs M3U playlists compiled in ZIP, GZ, and open-view formats 
Also Read