iTubeGo is considered to be one of the best YouTube playlist downloaders when it comes to downloading videos in HD quality with fast downloading speed. But when we purchase anything we first want to know all its details and benefits that is why searching for a review article is common. If you are looking for an iTubeGo YouTube downloader review then you have come to the right page.
Thanks to YouTube video downloader which helps you to download videos with just a single click in different formats and even in HD quality. By using this tool you can only download a single video at once so if you desire to download the entire playlist or channels then you should choose YouTube playlist downloader. But you will get a handful of options for YouTube playlist downloaders in the market. 
This iTubeGo YouTube Downloader review contains all the necessary details regarding the software along with its features, pros, cons, and pricing so that you can decide whether the tool is worth it or not.
iTubeGo Review
iTubeGo is a YouTube Video downloader software that helps users to download their favorite audio and video files for offline viewing purposes. It is quite faster than other downloaders and relatively easy to use. It not only supports YouTube but also 10000+ websites to download videos. 
You can also convert video files into multiple formats including MP3, M4A, and WAV. The best thing about the tool is it offers applications for Windows, Android, and Mac devices. 
It also supports the most popular websites to download videos including Facebook, TikTok, Instagram, and Vimeo. You can easily download video playlists a lightning speed. It supports downloading videos in HD quality.
iTubeGo is a home of various advanced features which you will not get in other YouTube downloader software. So, let's have a look at some of its amazing features. 
Features offered by iTubeGo YouTube Downloader 
iTubeGo YouTube downloader is a powerful software that can download videos, playlists, and audio from YouTube at 10x faster speed.
Apart from YouTube it also supports 10000+ websites including Netflix, Twitter, Vimeo, TikTok, Dailymotion, Twitter, and many others. It is loaded with various interesting features. Let's have a look at them one by one. 
1. Download Videos, Audio, and Playlists in bulk – iTubeGo is an all-in-one tool that allows users to download audio, videos, channels, and playlists. It also allows you to download audio from Spotify and convert them to MP3 format.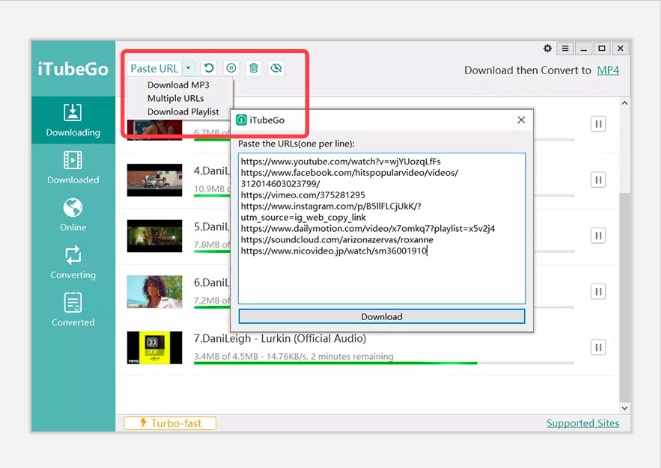 2. Download videos in HD quality – Using this tool you can download videos in the most HD quality. It supports multiple formats like 360p, 480p, 720p, 1080p, 2k, 4k and 8k. You can choose the format according to your device's suitability. 
3. Allows cutting down the portion of the audio or video file – This feature lets you cut the specific part or desired portion of an audio or video file and download it. 
4. It allows downloading private videos – You can also download private videos through Facebook and Instagram. 
5. In-built browser – It has a built-in web browser that you can use to download videos directly. 
6. Supports 20+ Output Formats – It supports 20+ output formats for downloading audio and video files. For video files, it supports AVI, FLV, 3GV, MP4, MOV, WMV, MKV, HEVC MP4, and HEVC MKV. And for audio files, it supports formats like MP3, M4A, MKA, AAC, WAV, FLAC, OGG, and AIFF. 
7. Offers Turbo Fast mode – This is quite an attractive feature as it allows you to choose the speed at which you want to download the audio or video. It also lets you pause the downloading process and resumes it afterward. 
8. 100% Secured – It has enabled SSL encryption which ensures the safety and protection of your data and information. It has a private mode which you can enable by setting a password. It will hide all the downloaded videos. 
9. Supports multiple Languages – If you have an issue with language then don't worry along with English it also supports other languages including Spanish, Chinese, French, Italian and various others. 
Pricing 
iTubeGo YouTube downloader offers a free trial but it has a limitation of downloading only three videos. After that, you need to purchase the premium plans. It offers different plans and all are affordable.
If you don't like the features and are not happy with the plan you can ask for a refund as it offers a 30-day money-back guarantee. Its pricing plans are mentioned below in brief:
Monthly Plan – $9.95

Yearly Plan – $24.95

Lifetime Plan – $29.95

Family Plan – $39.95
The pricing plans differ according to the device you are using. The price varies for Mac and Android devices. Choosing the Lifetime plan would be an ideal choice for you. It accepts payments via different modes like PayPal and credit cards. 
Conclusion On iTubeGo Review
iTubeGo YouTube playlist downloader is a great and powerful option to choose for downloading videos and audio in bulk from YouTube. Apart from YouTube, it can download videos from 10000 other websites.
It offers great customer support and offers a variety of pricing plans.
You can choose one as per your preferences. After reading the review article you would get to know the software better. 
I hope the iTubeGo YouTube downloader review helps you identify its features, specialty, and other aspects and clear all your doubts regarding the tool. So, use its trial version first to know how it works and examine its features.
FAQs
How much does iTubeGo cost?
Initially, it is free to use and allows users to download up to three videos for free. Later on, for further use, you need to get a subscription plan. It offers four kinds of pricing plans monthly, yearly, lifetime, and family plans for $9.95, $24.95, $29.95, and 39.95 respectively. 
Is iTubeGo free to use?
Yes, iTubeGo is free to use but it provides restrictions of downloading only three videos. Afterward, you need to purchase its premium plans for downloading more videos and enjoy its advanced features.
Which is the safest site to download YouTube videos?
iTubeGo is the safest site to download YouTube videos, channels, and playlists. It offers great security features and offers a private mode where you can protect your downloaded videos by setting a password. Also, it has enabled SSL encryption.