Instagram and Facebook are both owned by Meta, its parent company, which was launched in October 2021 at Connect 2021 by its CEO Mark Zuckerberg. The purpose to launch Meta was to integrate all the apps and technologies under its umbrella and to pave the way for Metaverse.
Instagram and Facebook are both popular social media platforms. In the last quarter of 2021, Facebook had almost 2.91 billion active users. On the other hand, Instagram has about 1 billion users with the younger population using it more actively.
One brilliant aspect of using both Instagram and Facebook simultaneously is that both accounts can be linked to each other. Therefore, join us to unravel the steps to link Instagram account to Facebook and benefit in multiple ways. The benefits you get when you connect Instagram to Facebook are also mentioned below.
How to link Instagram account to Facebook
The below steps will guide you to link your Instagram account to your Facebook page easily. Please note that this can be done from your Instagram app on your Android or iOS device.
Launch the Instagram app on your smartphone and navigate to the Account Profile icon in the bottom right corner.
Next, tap the Menu (three bars) icon.
After this, choose the "Settings" option.
Further, scroll down and place your finger on "Account Centre."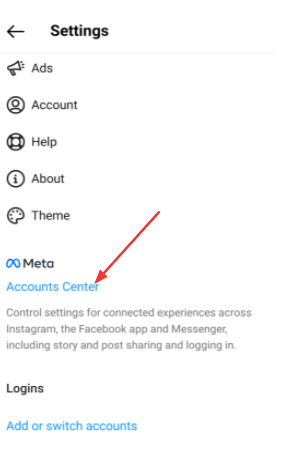 This will pop open a new page where you can tap "Set up Accounts Centre."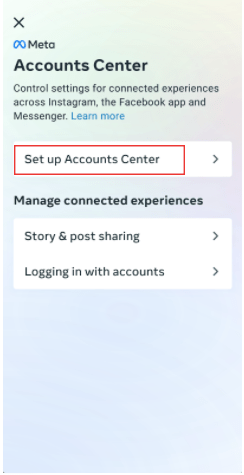 Then, press the option called "Add Facebook account". This will require you to log in with your Facebook username and Password page that you wish to connect.
Finally, complete the setup by tapping "Yes."
How to unlink your Facebook page from Instagram?
You can take the help of the below steps to remove your Facebook page from the Instagram Accounts Centre.
Go to the Profile icon at the bottom of the Instagram page and then tap the Menu icon.
Further, navigate to the account settings by choosing the "Settings" icon.
Scroll to the bottom of the page to choose the Accounts Centre option and then tap on "Accounts & profiles."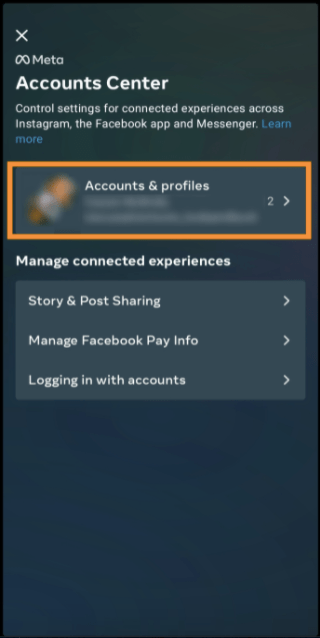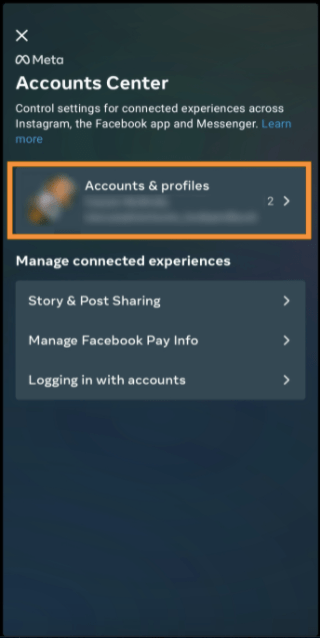 To remove the connected Facebook page, tap on the linked account and then choose the option called "Remove from Accounts Centre."
Again tap "Continue" and then press "Remove [username]."
How to link Instagram account from Facebook
You can connect your Instagram account from Facebook also. This can be done from a browser. 
Log into your Facebook account and then select "Settings and Privacy" from the top right corner.
A menu will pop open where you again need to choose the Settings option.
After this, in the next screen, you will find the Linked accounts section on the left side pane.
Here you can select Instagram and then click the "Connect Account" button.
To link your Instagram account, you will have to log in to your IG account.
How to remove Instagram from Facebook page?
Go to your Facebook account and from the left menu click on "Pages."
Now from the linked page navigate to "Settings."
You need to scroll down to choose the option of "Instagram" from the left side column.
To remove the linked page, hit the "Disconnect" button.
Again, repeat the process of adding a new FB page as described above.
Advantages of connecting Instagram and Facebook
When you connect your professional Instagram account to a Facebook Page, you can enjoy the following benefits. 
Whenever you post something on one platform, you can simultaneously cross-post it at the other platform. This saves the time of users.

It also lets you boost your Instagram posts and stories.
You can run Instagram and Facebook ads easily.
If you wish to set up a shop on IG, you will need to link your FB page.
You can also sync your profile photos.
If your FB page is linked to your Instagram account, you can easily use Facebook's payment method on Instagram.
Linking both platforms also lets you sync business contact information.

You can manage messages and notifications from a single unified inbox.

Furthermore, you can gain access to plenty of analytic tools and other tools like appointment booking buttons, camera effects, etc.

Offers better insights regarding post performance and audience engagement.
Wrapping Up
So, this is a complete roundabout on how to link Instagram account to Facebook. You have also discovered the numerous benefits of connecting both platforms. The most beneficial aspect of linking IG to FB lies in the fact that using both platforms become less time-saving and more user-friendly.
Stay tuned for more updates on emerging app-based technologies and subscribe to our blog to receive them instantly.
Also Read