McAfee Vs Avast  – A virus is a hidden and unwanted element or in technical terms, they refer to a malicious program which can cause potential dangers to your machine. A virus can slow down the speed of the computer and can prevent your computer from booting up. Also, the presence of viruses in your computer can make you vulnerable to security threats. You may click on a link containing a virus or you may download a file that can infect the virus in your system. A virus can modify the way a system operates and this can often be used by fraudulent persons to steal important information and send out unintended messages on your behalf and carry out another mischievous antivirus for malicious purposes.
Hence it is extremely important to install good antivirus software to your system. Antivirus software acts as a gatekeeper for your computer's operating system and prevents the entry of any harmful components. In this article, we will discuss Macfee and Avast and also will do a comparative analysis of the two antivirus software.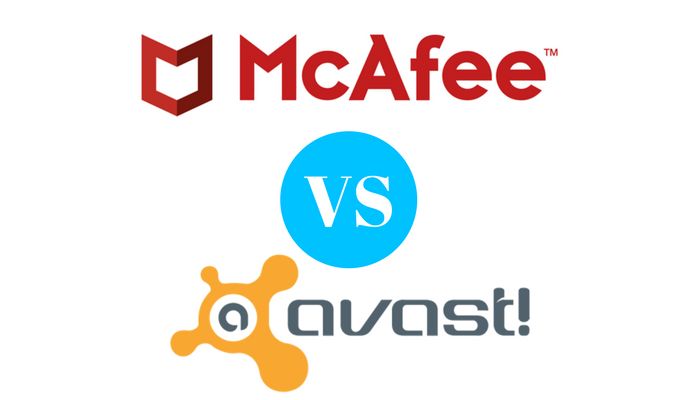 McAfee vs Avast – Which One is Better
Let's do a comparison of Specifications and features of McAfee vs Avast:
Topics
Specification and features of  McAfee
Specification and features of  Avast
Data Protection

McAfee offers  enterprise-grade drive encryption

McAfee  protects data on removable media and cloud

It protects data from theft

Endpoint encryption is managed with a single console    Smart firewall protects your computer against unauthorised access.

It prevents hacking.

Verdict: MacAfee is Better

Smart firewall protects your computer against unauthorised access. It prevents hacking.

Avast comes with an email filter that prevents junk email from cluttering your inbox

The WIFI inspector tool protects your network

The Sandbox and Real Suite utility protects your computer and network and prevents hacking attempts. DNS routing is prevented

Avast Premier comes with a webcam protector which protects your data from the prying eyes.

Data shredder utility helps to erase the sensitive files so that it cannot be recovered again.

Avast Premier comes with the Clean-up utility which eliminates junk file and improves the system's performance. 

Malware Protection

A comparison of McAfee  vs. Avast shows that McAfee offers better Malware protection

Verdict: MacAfee is Better

Avast is good for malware protection 

Impact and system performance

A comparison of McAfee vs Aast shows that both do not slow the system

Verdict: MacAfee is Better

Works same like McAfee

User-Friendliness and appearance

McAfee has a simple, bright interface. The horizontal menu at the top allows the users to access the features with just few clicks.

Verdict: MacAfee is Better

Avast has a dark and modern interface. It is easy and intuitive.

Price 

McAfee Total Protection is available with different pricing, $24.99 per year for 1 device, $39.99 per year for 5 devices, and $44.99 per year for 10 devices.

Verdict: MacAfee is Better

Avast has a free version. Avast internet security costs $59.99 yearly for 1 PC. Avast premier is available with $69.99 per year for 1 PC

Customer Satisfaction

McAfee offers great customer satisfaction

Avast free antivirus vs. McAfee internet security shows that the latter is better.

Verdict: MacAfee is Better

Avast also offers a great customer satisfaction

Advanced features

McAfee comes with managed Detection and Response (MDR) which provides alert monitoring, advanced investigations etc.

McAfee provides better management of virtual environments

McAfee protects enterprise data and the users across all cloud services including SaaS, Paas and Iaas

It provides advanced protection for Windows Defender

It offers security to email servers and also protects the information in SharePoint servers.

Verdict: MacAfee is Better

It is available with Sandbox utility

It encrypts the internet connection

It removes files,caches.thumbnails etc. and ameliorates your system performance

It offers antispam and Wi-Fi inspector

The cyber capture analyses suspicious files and eliminates them

Compatibility

McAfee is compatible with Windows, macOS, Android, and iOS 

Verdict: MacAfee is Better

Avast is compatible with Microsoft Windows, macOS, Linux, Android, ios
Avast Pros and Cons
Pros
Cons

It offers an easy user interface and a stylish look

It is overall a great protection software

It is not heavy on CPU and memory resources.

It is a great value for money

Pricing is less as compared to the competitors

Does not slow down your system

Prevents data loss and data theft

Protects your client information and your confidential information like financial information

It protects your system from intruders and comes with data protection, antivirus scans, data disk rescue and many other advanced features

With the aid of this software, you can easily transfer information, files and other important documents

This software is easy to set up

It does not require any additional hardware to operate   

The virus scanning is time-consuming

The constant pop-ups are bothering

It does not update as frequently as other software does.

Problem resolution is time-consuming

Sometimes reboots without prior warning

Management Console information is delayed

The design is not so easy to comprehend

Sometimes it displays false alarm for files which are not infected

Sometimes legitimate software are also shown as virus and you need to have them in your exclusion list

Sometimes the installation EXE file is auto removed
McAfee Pros and Cons
Pros
Cons

The McAfee antivirus software offers a 30-day money-back guarantee and a 24/7 support

Can be easily installed and configured

It offers a 100 per cent virus removal. Traces of any virus are also removed effectively 

This software is reliable and is above average

It secures the payment gateways

It offers high speed and high privacy

It offers multi-device protection for your family

It is more costly as compared to the competitors

It requires more system resources to work

It does not provide adware prevention

It does not have smartphone optimizer

Updates and installation is time-consuming
FAQS
Let's look into the frequently asked questions:
Q1. Is Avast better than McAfee ?
No McAfee is better than Avast as it provides a better anti-malware security. A comparison of McAfee vs. Avast shows that the former is more popular  
Q2. Which is better Avast or Macfee
?
 McAfee is better as it has more features. It does not impact the system speed. A comparison of McAfee vs. Avast helps you with your purchasing decisions.
Q3. Can I use McAfee and Avast together?
It is not a good idea to use both the software together as it will slow down your computer's speed. You are recommended to uninstall software and then install the other one,
Q4. What is better than McAfee?
AVG can be better than McAfee as it comes with built-in antispyware. It is quite famous amongst users.
Q5. Is McAfee a good Antivirus program?
Macfee is a popular name in the antivirus industry. It does not impact the system's speed and allows an unlimited number of device connections. It consists of advanced features like advanced firewall, Security Management Console, better Wi-Fi security etc.
Q6. Which is better Avira or McAfee?
McAfee is better than Avira as it offers better malware protection and has more features. In short, it is a better deal.
Final Thoughts
McAfee vs Avast – McAfee is the Winner
Identity and data theft are common issues these days and people steal personal and confidential data for fraudulent business and personal purposes. Phishing websites, key loggers etc. are extremely common and it is needful to install good antivirus software to get rid of the potential threats and system performance issues. When it comes to security you need to be extra cautious and should not take anything for granted. Hence the above article helped you to gain an in-depth understanding of the two common antivirus software that is available in the market. A detailed analysis of McAfee vs. Avast helps you to understand which software will be better for you. The mentioned software can help you to get rid of the malware that can pose a threat to your computer. Hence get your antivirus software now and protect your computer.
Also Read: 
12 Best CCleaner Alternatives in 2020 (Free And Paid)