We are here with a detailed Norton Utilities Premium Review that helps you in knowing about its features, pros, cons, pricing, specifications, and other stuff related to the software.
After consistent use of the system, it starts lagging and also faces several issues in running. The reason behind this is excess junk files, outdated or broken registries, and several other stuff. To fix this issue you need PC optimization software. This software allows you to optimize the disk and memory of your system. 
Now, you must be wondering which is the best system optimization software. Many tools can clean your PC and also optimize it but I suggest you choose Norton Utilities Premium. 
It is quite difficult to select any software without knowing about its specialties, features, and many other aspects. Let's know about Norton Utilities Premium. 
What is Norton Utilities Premium
Norton Utilities Premium is one of the best and most effective tools to clean your PC. It securely removes documents, takes registry backups, removes unwanted junk files, and boosts system performance. This software optimizes the system's hard drive and memory. It helps you in getting rid of system issues and improves computer performance.
When we continuously use our PC several types of junk files keep on storing, broken registry increases, and also creates hard drive fragments. It generates several issues in operating the system smoothly and manually dealing with the issue is not possible. Norton Utilities Premium is a tool for disk cleaning and also deals with system issues.
Norton Utilities Premium Review
This review includes the following things in detail.
Features
Specifications
Pros and Cons
Pricing
How to use Norton Utilities Premium
Customer Support
FAQs
Conclusion
Norton Utilities Premium interface is categorized into four parts – Dashboard, Toolbox, Automatic care, and Real-time boost. The software helps you to maintain your PC and boosts its life durability. It can solve all the problems that are slowing down your PC. It also helps you to maintain your digital privacy by allowing you to delete browser file downloads and permanently eliminate personal documents. 
When it comes to the reliability of Norton utility premium no one can ignore the fact that the company Offers One of the best antivirus software. Norton also gives the best results in terms of disk cleaning and improving your system's performance. It also offers great customer support if you have encountered any type of query related to the software.
You can either live chat With the Norton customer care team which is available 24*7 or you can also join the community to get better answers To your queries. This is all about Norton utility premium but it is not finished yet. In this Norton utilities premium review article you will also get to know about its extraordinary features which make it the most effective and best tool for disk optimization.
Features
Norton Utilities Premium is one of the robust and feature-rich tools that help in optimizing your hard drive play and improve system performance.
Its dashboard helps five tools that are: All these major tools comprise sub-tools. Let's read briefly about please tools and sub-tools.
Dashboard

Performance

Recovery

Privacy

Settings
Dashboard
The dashboard comprises sub-tools that let's scan and solve the common issues which make your system slower. Let's discuss every feature one by one.
1. Available Memory 
The tool helps you in scanning and knowing about the exact available memory of your system. It lets you know how much space is occupied by junk files So that you can easily clean up the hard drive.
2. Internet Junk Files 
The work of this tool is to remove all the junk files that have been stored on your PC while browsing. It helps in cleaning the temporary and cached files.
3. Hard Disk Defragmentation 
The feature lets you know the available free space on a particular disk. It also has a smart defrag option to utilize the space well. It also allows you to optimize and defrag individual files too.
4. Broken Internet Connection 
If you are getting any issues related to the internet connection then this feature is for you. You can run a scan to detect the problem and if there is any issue found you can also get rid of it by clicking on the repair. 
5. Optimising Windows and Windows Startup Items
The feature lets you tweak to optimize Windows so that you can get the best and improved performance Of your system. Using this tool you can also manage the application and those applications which you want to load at the time of system booting.
Automatic Care 
The feature allows you to analyze your PC automatically but you must enable the feature to let it do its work. It will also repair the found issue if you are not present at that place. Can also customize its settings using several options like defragment system drive, and eliminate unnecessary or dangerous startup programs.
Apart from this, you can also remove internet junk files, and private browsing data, remove windows junk files, broken shortcuts, and more. 
Toolbox
There are many chances that your privacy can be exploited in many ways. Your private data doesn't need to be harmed while you surf the Internet. This tool helps keep your private data from going to the wrong hands.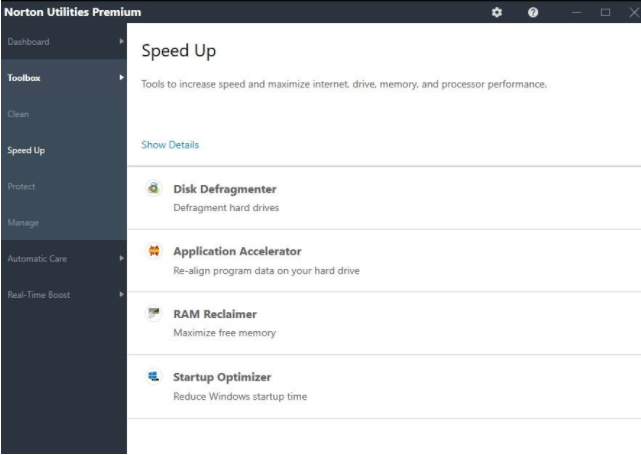 1. Clean Browsing History 
It lets you clean all the browsing history like document history, temp files, clipboard contents, recycle, and every information secured by Windows. 
2. Shred Files
Whenever you delete any file or folder it might be deleted but its remnants still remain in your PC. Using this feature each file you delete will be removed completely from your system and you won't be able to recover it. 
3. Bleach Disks 
Using the Bleach disk feature all the files and folders will be completely removed from your system and clean your disk space. It also removes all the traces of deleted applications and folders. 
4. Clear Third-party software traces 
When you download any third-party software it will retain some of your information. Even after removing the software if it contains the information. This tool lets you remove the plugins and all the third-party software traces. 
Recovery 
The recovery tool not only allows you to recover lost files but also helps you in restoring registry backups and repair drives. 
1. Uninstall the unwanted software 
Your system has several software on your PC but all are not in use and thus consume a huge amount of disk space. This tool allows you to scan for such software and helps you uninstall unwanted software. 
2. Restore Registry Backups 
When you repair any issue the feature takes a backup of the registry. It is useful because if you want to undo the action you can easily restore older backups. 
3. Repair Drives 
The feature fixes several drives to work them speedily and effectively. You can also perform various disk operations like repairing drives, performing surface scans, and checking the drive's issues. 
4. Search for Duplicate files 
Your system is full of duplicate files and that is why it is not able to work quickly and well. Manually selecting duplicate files can't possible. This feature lets you search for duplicate files stored on your PC and let them be cleaned to boost your system performance.
5. Recover lost files 
If you have mistakenly deleted your important file or folder or it is lost, this feature will let you recover all the lost files including music files, images, video graphics, etc. 
Specifications 
Every software needs to have some specifications and system requirements to properly work on your system. Norton utilities premium is also required to fulfill the specification to run on your PC. Below are the specifications for which your system needs to use Norton Utilities Premium on your system. Let us have a look at them:
System Requirements – Windows 7, 8, 8.1 and 10
Memory – 1GB for 32-bit, 2GB for 64-bit
CPU – 1 GHz
Latest Version – 17.0.8
Other Hardware Requirements – 
SVGA (1024×768) video

100 MB of hard disk space

Required internet connection
Pricing 
You can purchase Norton utilities premium at $39.99 per year. It is a fair price and worth the money. It is rich in features and loaded with several tools that make your system smooth. The price is quite competitive and cheaper than other optimizing tools available in the market.
And if you are unsatisfied with the tools and features and won't get the exact experience you want, don't worry it also offers a 60-day money-back guarantee so it will also refund your money securely. 
Pros and Cons
Pros
Cons

It offers real-time system monitoring 

No desktop widgets

User-friendly interface

It supports only Windows OS

It doesn't charge any subscription fee

License limitations 

You also get features like file recovery and file shredding 

It doesn't contain any community-based features 

It improves system performance 

Lack of Windows 10-specific features

It has great tools like a CPU, power optimizer, and RAM cleaner

It offers a file shredder option
How to use Norton Utilities Premium?
Firstly, purchase Norton utilities premium now it is time to install it on your PC. If you have any prior version of Norton utility premium then remove it from your PC. Make sure that you have an Internet connection and you must log in to your Norton account. After downloading Norton utilities premium follow the steps that are mentioned below:
Firstly, log in to your Norton account by typing your email address and password. 
Now, on my Norton website, click on download. 
In the

get started

area, click on

agree on and download

option. 
When you have successfully downloaded the software, Run the installer from the browser and then press

Ctrl+J

to open your downloaded windows and double-click on the first downloaded
 When the user account Control windows pop up, click on continue. Now follow the on-screen instructions to complete the installation process.
If the prompt window for activation appears, enter the product key which is given on the subscription page. Don't type hyphens as they will be automatically typed. 
If you are looking for tools to repair for Windows PC then check out this blog.
FAQs
Is Norton Utilities worth the money?
Yes, Norton Utilities is worth the money. It is powerful and features a rich tool that helps you to fix all the system issues. It also makes your system clutter-free and increases its performance.  
Does Norton Utilities do anything?
Yes, Norton utilities do anything to make our PC smoother and faster. It fixes all the common issues which are making our system slower. It also performs disk cleaning, optimizing disk, memory and hard drive. This software helps in freeing up disk space so that you can get faster access to the programs. It also boosts the performance of your system.
Is Norton Utilities being discounted?
Norton Utilities is one of the biggest names for offering great disk optimization tools. But the support for Norton utilities has ended on September 30, 2020. It has not received any update since the date but you can still use it.
What is the latest version of Norton Utilities?
The latest version of Norton Utilities is Norton utilities 16 4 windows XP, Vista, 7 and 8 Which was released on 26 October 2012.
What are some of the alternatives to Norton Premium Utilities?
Listed are some of the options
Conclusion On Norton Utilities Premium Review
Norton Utilities Premium is one of the best disk cleaning and optimizing software. With reference to this Norton Utilities Premium Review now you must have created a clear picture in your mind about its features and specialties which make it stand out from its competitors.
You can choose this tool to defrag the disk, optimize the disk, fix registries, and other common issues. It helps you remove all the errors that are making your system slower and boost its performance.
Also Read