Many translators are available online which has made our work easier and can translate into any language we want. But what if we don't have an internet connection, or are in a poor network area where we can't access the internet and have an urgency to translate the language. At that time free offline translation software for windows 10 PC can only help. 
Yes, a number of offline translation software for PC are available that can help us in communicating in other languages. We are here with some of the best offline translation software that can help you in a situation where you don't have internet.
7 Best Offline Translation Software for Windows 10, 8 & 7 PC
So, without any delay, let us learn about the popular offline translation software for Windows 10, 8 and 7 PC.
1. Q Translate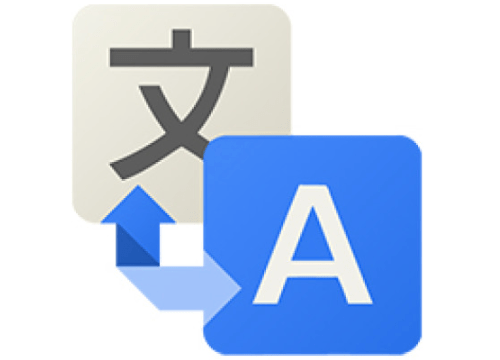 Q Translate is the best and most widely used free offline translator for PC. The software is loaded with many features which are required for professional work. It supports almost all the languages spoken around the globe. 
It is the easiest translator to use that comes with a box where you need to type the phrase you want to translate and within a few seconds the results will be displayed. This tool offers you high accuracy and comes with an integrated spell checker tool. 
Features 
It is a free tool 

Built-in text to speech engine 

Word suggestion

Stores translation history
2. Just Translate 
Just Translate is another powerful feature-packed offline translation software for Windows 10 including automatic language recognition. It is free software that offers you quick translation in about 50 languages. You will get a text to speech feature that makes it easier for you to learn a specific language or send voice notes and create presentations. 
The software is loaded with built-in proxy support and a grammar checker tool to avoid grammatical mistakes. Using this software you can speak to generate a text document and it will translate the text in a matter of seconds. 
Features 
Supports translation in 50 languages 

It has a built in grammar checker tool

Allows you to save translated files in PDF format

Language recognition 
3. PROMPT Master 
PROMPT Master is the most professional offline translation software for Windows 10 / 11 pc. It is the best software for users who are working in a business a have to deal with foreign clients online. It is quite easy to use software and also lets you modify its features. This tool supports multiple and wide ranges of formats including PDF, XML, DOC, DOCX, PPTX and HTML. 
The speciality of the software is that it can translate the whole document from any Microsoft suite app. This software allows you to translate the prepared documents and presentations prepared in PowerPoint, Excel, Word, etc. with just a single click. 
Features 
Supports translation of more than 25 languages

Lets you create and edit users' dictionary 

Quick translation in Word, Skype, Adobe Reader and other programs 

Offers confidential policy
4. Babylon 10 Premium Pro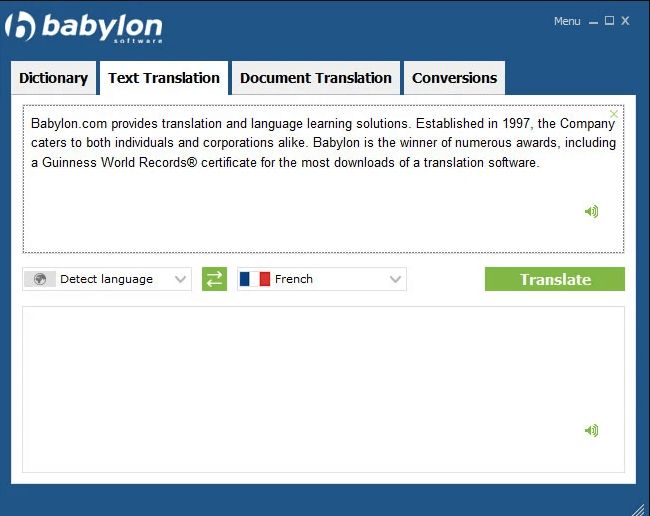 Babylon 10 Premium Pro is the reliable offline translation software for Windows 10 PC which is packed with marvellous features. It can translate up to 77 languages and also offers you a feature to designate specific languages to your contacts. This is the best utility as you can write the email in your language and the recipient will receive it in their language. And you will receive the email in your language whether the sender has written in other languages. It saves your efforts and time. 
You will get grammar and spell checker tools in this software. It also consists of an integrated dictionary. It is available in the free version but you need to purchase its pro version in order to use it offline. 
Features 
Human voice pronunciation 

Document translation

OCR Technology 

Text translation in 17 languages 
5. Virtaal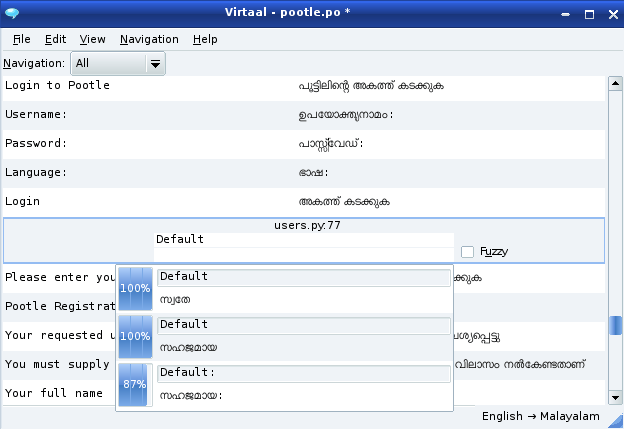 You can use Virtaal for translating languages on your PC. It is a free offline translator that offers multiple tools which makes it easy to use. It is best for beginners as it offers an integrated tutorial that will teach you how to use this software for translation. 
This is the most suitable offline translation software for Windows PC for both beginners and professionals by offering the features like spell checker, colour highlighting, auto-complete and many others. It also supports multiple formats like PO, XLIFF, and many others. 
Features 
It has a simple UI

Offers spell-checking feature 

Translation memory 

Supports more than 50 languishes 

Offers multiple plugins 
6. Microsoft Translator App for Windows 10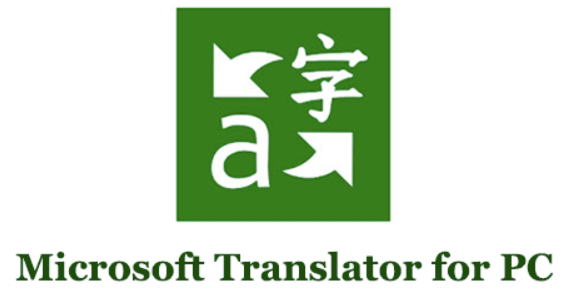 Next, on the list, we have Microsoft Translator App for Windows 10 that offers accurate translation. It is a robust translation tool that offers various features which make it the most suitable software for you. For now, it is able to translate into 60 languages and the number of languages are increasing day by day. 
One of its features is a camera translation that lets you translate from the newspapers, magazines, signs, etc. by just pointing the camera at a specific area. Also, it offers you a text translate feature. You can also listen to the pronunciation of the translated phrase in the specific language. Despite being free it offers several best tools to use. 
Features 
It has a highly accurate text to speech feature 

Best for live chatting translations 

You can add the translated phrase to the favourites

Word of the day feature 
7. Dual Clip Translator 
Last but not the least we have Dual Clip Translator in the list of best offline translator for PC. It is considered to be the best as it quickly translates on the sources text window. The tool is preferred by those who want a quick translator of messages or web page content. It is capable of detecting the source language automatically and quickly can translate into targeted languages. 
It offers various hotkeys that cater for the users to rapidly translates clipboard contents, change the primary text and copy specified text. Using this it has made easier for you to translate text and contents that are listed in foreign languages. 
Features 
The translation engine is powered by Google and Microsoft

OCR support

It can translate clipboard text 

Free to use 
Conclusion On Offline Translation Software For Windows 10
For better communication and understanding of different languages, we have to rely on translation software but as we have told you earlier that due to some problems with the internet connection we have to get an offline tool.
Choosing the best offline translation software for Windows can be a tricky task but we have made it easier for you by presenting a list of the most satisfactory and powerful translation software for PC. I hope the tools mentioned here can help you with your work.
FAQs
How do I download an offline translator?
If you want to download an offline translator then the process is very simple just head to the official website of that offline translator and download it from there. Some of them are free to download and some offers a  premium version which costs your some amount. After downloading finishes, install that application in your system to use it. 
Is there an offline translator app for PC?
Yes, Just Translate is an offline translator app for PC that allows quick translation of desired content. It supports multiple languages and offers many others features also. Also, it doesn't require any installation you can run it from the exe file. 
What is the best offline translator device?
Some of the best offline translator devices are: 
Jarvisen Language Translator device 

Timekettle WT2 Plus Language Translator

Birgus Language Translator device 

Ili instant offline language translator device 

Shimshon language translator device
Does Windows 10 have a translator?
You can use Microsoft Translator App in Windows 10 for translation purposes. It has used the latest generation AI machine translation technologies for offering better accuracy. It is packed with multiple features and you can use it for free. 
Is there an offline translator app?
Yes, Microsoft Translator App for Windows 10 is the application that allows users to quickly translate into 60 languages. It is a free application which is packed with multiple features. It offers a high accuracy rate and comes with features like camera translation.
Also Read