Everyone wishes to have a game that runs faster and smoother on their system. That is why players use Minecraft OpenGL. Minecraft OpenGL is mainly the setting inside the game; it makes the game faster and smoother on your computer by reducing the load of rendering. It always instructs the GPU not to render anything which is not of the player's use. If, in any case, the GPU is on, then the performance of the system can be better, but they commonly one issue, and that is "OpenGL Error 1281".
Many believe that "OpenGL Error 1281" occurs because of third-party variables. If you see "OpenGL Error 1281", you don't need to worry as it doesn't harm your system. Mainly it can be caused by graphics settings, mods, or graphics card drivers.

There are a few fixes that you can try to overcome the "OpenGL Error 1281". 
Fix: Minecraft OpenGL Error 1281
1. Try Disabling Mods
Everyone wants their gaming to be smooth and fast. To get better experiences, players commonly Mod Minecraft. In some cases, Mod may be the cause behind the "OpenGL Error 1281". As reports say, Mod causes problems to your Minecraft. If this is the case, you need to disable mods as soon as possible to fix your Minecraft. When you disable the Mod it will improve the "OpenGL Error 1281". 
Mods used to enhance the gaming experience of Minecraft. After disabling it, maybe your game will not be that good, but "OpenGL Error 1281" will stop popping up. After disabling mods, you need to find what mods were trying to ruin your game. It would help if you troubleshot by which you will get that Mod, which was creating a problem. When you find out the culprit mods, you need to disable it one by one. 
Not permanently, but you need to disable mods for a brief time to resolve the error. Try disabling all modes by removing HD texture packs etc. 
At first, you need to disable all the mods; after that, you can enable one Mod to see if "OpenGL Error 1281" still occurs or not. If it doesn't create any problem, you can re-enable Mod one by one to test which Mod was causing -error. 
If disabling mods are not removing the error, you can re-enable your mods as they are not the reason behind the cause of your problem.
2. Try Disabling Show GL Errors
In Minecraft gaming, there is always an option of disabling Show GL errors. It provides you to disable the constant pop-ups of OpenGL 1281 error. These pop-ups are not any warning, and it is not to harm your system. You can disable it after going to Minecraft settings. May be, after disabling Show OpenGL errors, it will resolve the problem.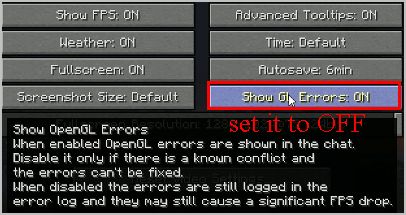 Let us tell you the steps of disabling Show OpenGL Errors.
First, you need to open Minecraft. After opening Minecraft, you need to click on Options.

In options, you will see the Video settings button you need to click on that.

In the Video settings option, you find the Others button. You need to click on that.

In Others, you will find the Show GL Errors option. You can turn it off.

After that, save the setting and restart Minecraft.

After restarting, you need to see if the "OpenGL Error 1281" still exists or not.
If it still exists, you need to try another solution.
3. Try Updating Java in your operating system.
As you all know, Minecraft is Java-based. It develops from Java. Whenever you download Minecraft on your PC, it is evident that it includes Java files as well. Sometimes missing or outdated Java files can cause "OpenGL Error 1281" in your system. If you find out your java version is obsolete, you need to install the latest Java version on your computer immediately. To install the latest version of Java, you need to uninstall Minecraft first. After uninstalling Minecraft, you need to reinstall Minecraft so that you can get the newest version of Java on your computer.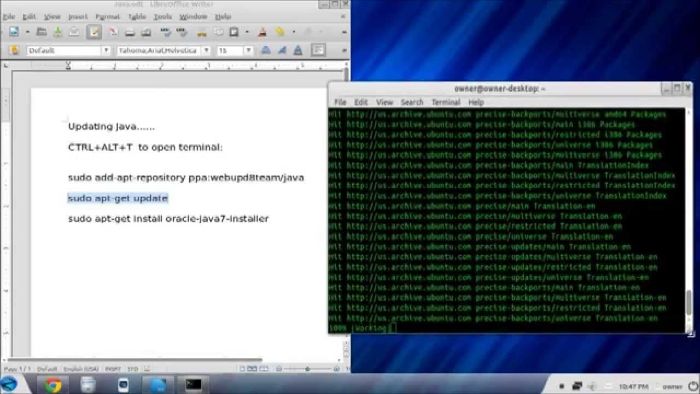 If you want to install Java manually, you can go to the following link to download the latest Java version. 
If installing the latest Java version doesn't work, let's see what solution you can do next.
4. Try Updating Graphics drivers and Open GL.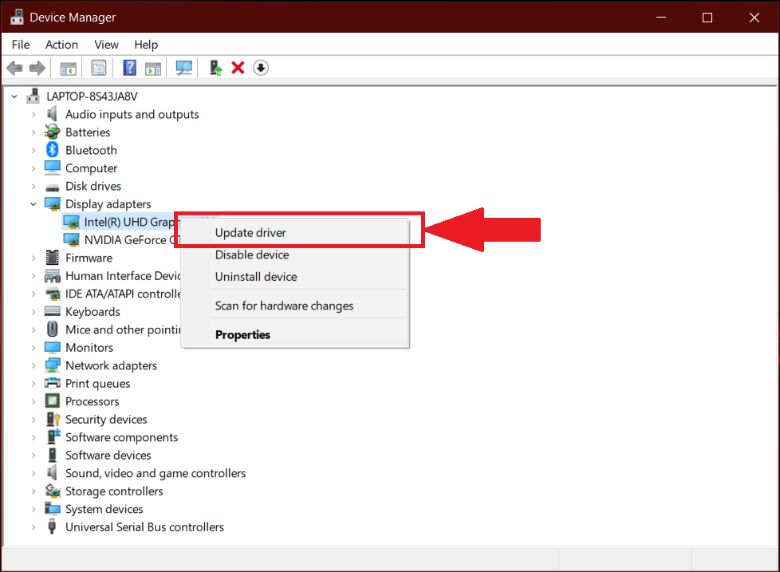 The outdated and crashed Graphic driver may cause the "OpenGL Error 1281" in Minecraft. Sometimes all graphic cards don't support GL, so for that, you can try updating the latest version of Graphic card drivers.
Besides that, there is an OpenGL API as well. Most of the players use the Open GL API to make their gaming experience smooth. As "OpenGL Error 1281" is related to OpenGL, and then you can try to update OpenGL as well.
For your information, there are two ways to update your graphic drivers' update. One is manually, and another is automatic.
If you want to update your drivers manually, you can go to your video card manufacturer's website. Right there, it would be best if you searched for the latest correct driver of your device. After searching for the proper driver, you need to download and install it into your operating system. The manual process requires your time and sharp computer skills as well.
If you don't have time and superior computer skills, then you can try Automatic driver update. You can automatically update your drive with the use of Driver easy.
Driver Easy can automatically recognize your computer and finds you the correct driver for it if you don't want to take a risk if you don't know what driver your computer needs, you should only use Driver Easy to install the correct driver in your system.
5. Try Updating OptiFine on Minecraft
Optifine is used to reduce lag and increase FPS in Minecraft to give you a better gaming experience. It is one of the mods for Minecraft and has excellent features to make your gaming experience useful. But there is a chance that its outdated version is causing an "OpenGL Error 1281" on your computer. OptiFine gives you shaders for Minecraft as well. As many users said, after updating OptiFine, their problem gets resolved, and then maybe you should try this one. Update OptiFine and see if OpenGLError 1281 is gone or not.
Also, Read