Are you fed up with poor PC performance and facing frequent system crashes and freezes? If yes, then it is time to update your system drivers. That is why third-party tools are created for them to automatically update system drivers. One such driver updater tool is Outbyte Driver Updater. It is a powerful tool packed with various features that help in keeping the system drivers up to date.
Note: This review is of Outbyte Driver Updater latest version supports a 7-day free trial, which was released recently. Please let us know if there's any new version.
We have brought this Outbyte Driver Updater Review covering all the major points related to the software like its features, details, pricing, pros, and cons. 
Outbyte Driver Updater Review
Outbyte Driver Updater is a completely free driver updater tool that is specially designed to automatically scan and update the drivers to the latest version. The software has the capability of scanning all the missing, outdated, and broken device drivers and if the latest version is available then automatically updates them all. Using this tool you will get basic system optimization features. 
With the free version, you can only scan the drivers if you want to update them and fix other issues then you should purchase the premium plan. Within a few seconds, it will display the list comprising which drivers need to be updated. It requires only a single click to update the drivers and fix the issues. 
Outbyte Driver Updater is a reliable tool offered by Outbyte Computing Ltd. Company. It is safe to use and provides a fast scanning speed and automatically installs the latest drivers for glitch-free performance. 
Features 
This tool offers automatic scanning and one-click installation of the latest drivers. Apart from this, it offers various other features which make it trustworthy and the best tool. So, let's have a look at all the features one by one. 
The software has a user-friendly interface and provides a clean dashboard. All its features are nearly organized on the main page. You can easily navigate to each function. It has a big scan button in the middle of the dashboard. 
The software allows you to take a backup of the current driver version for future purposes. If you face any problems after updating the driver to the latest version you can restore the previous version. 
This feature lets you exclude the driver from scanning. If you want to ignore any driver from being scanned then add it to the ignore list. So, whenever the scanning process starts it will skip that driver. 
Scan and update drivers automatically 
Outbyte Driver updater allows you to scan outdated and missing drivers of your PC and update them to the latest version. When we click on the scan option it automatically scans the whole PC and brings out the list of outdated drivers and automatically updates them with just a single click. 
It prevents you from downloading the wrong drivers and installs the correct version and the most compatible driver. 
The software can scan your PC deeply to search for missing and outdated drivers. You need not update each driver one by one as it can automatically scan and update them. Click on Update All to automatically update all the drivers at once. Moreover, it can fix all the driver-related problems you have been facing for so long. 
This driver update offers a special feature that allows you to search for potential tweaks to optimize your PC and boost its performance. 
Outbyte Driver Updater Pricing 
This tool offers a free trial for 7 days in which it can use all its functionalities to make a decision. If it satisfies your need then purchase it to update your old drivers and smooth the running of your PC. 
You can purchase its premium plan for $29.95. It also provides you with a 30-day money-back guarantee so in case you don't like the updater you can ask for a refund. 
Specifications 
| | |
| --- | --- |
| Latest Version | 2.1.1.60362 |
| License  | Free Demo, Paid  |
| Compatible  | Windows Vista, 7, 8, 10 and 11 |
| Processor  | Pentium IV or higher  |
| RAM  | 1 GB |
| Free Hard Disk Space | 200 MB or more  |
How To Use Outbyte Driver Updater
1. Download & install the Outbyte Driver Updater from its official website.
2. On the main page, you will see three tabs: Diagnostics, Settings, and Tools. 
3. The diagnostics tab provides you with the details related to your PC and the current status of your system drivers.
4. Tools tabs let you take backups of old drivers and perform the restoration process.
5. When you open Outbyte Driver Updater it will allow you to scan your PC.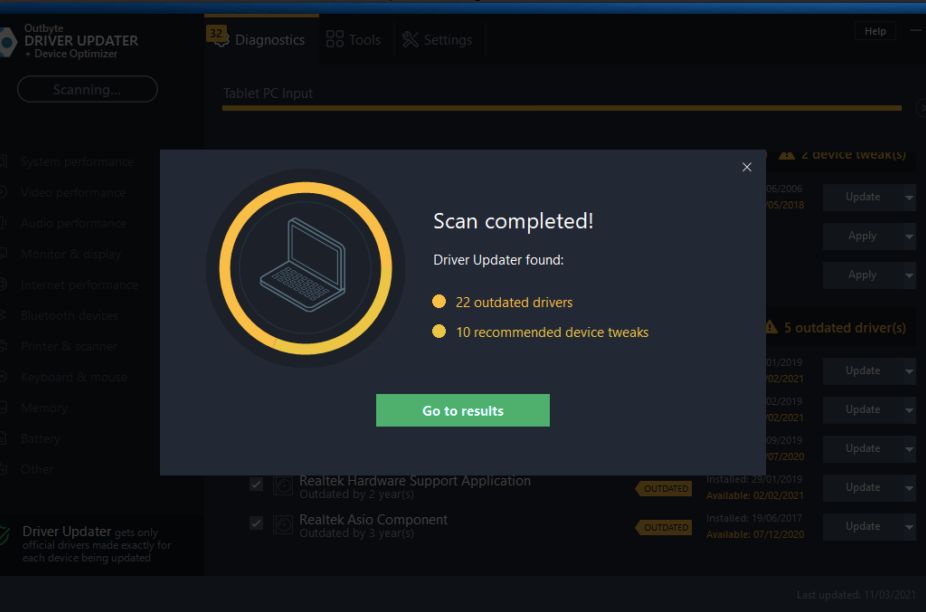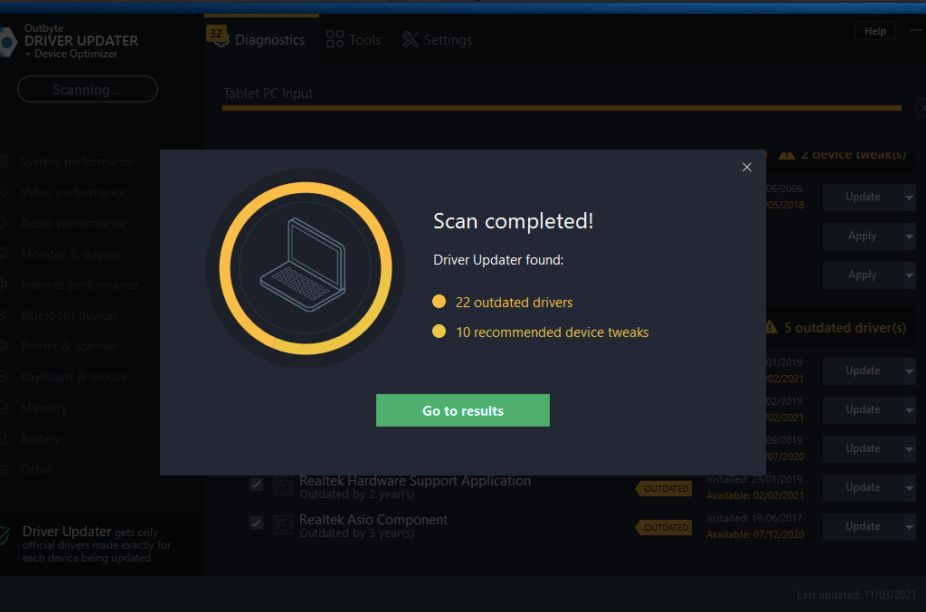 6. Now Update all the drivers in one click.
Pros & Cons
So, let's have a look at its pros and cons.
| | |
| --- | --- |
| Pros  | Cons |
| Quickly updates system drivers to the latest version  | The free version allows only the scanning of drivers |
| It offers a backup and restore feature  | |
| It provides detailed system diagnostics  | |
| Scan your system for missing, outdated, and broken drivers  | |
| It optimizes PC performance  | |
Conclusion – Is OutByte Driver Updater Safe To Use
This driver updater is a powerful tool and offers all those features that are needed to update your system drivers. It not only updates the old drivers but also optimizes your PC. It ensures flawless system running and offers a great gaming experience. The only drawback is that with its free version, you can only scan for outdated drivers but are not able to update them. 
I suggest you use Outbyte Driver Updater as it saves your time and effort to update the system drivers. The other basic details related to the software we have mentioned in this Outbyte Driver Updater review. I hope the article will help you in choosing the right driver updater tool for your PC.
FAQs
Is Outbyte Driver Updater Free?
Outbyte Driver Updater is free for 7 days only as it offers a 7-day free trial. You can use its features to know its functionalities. You need to purchase its premium plan to scan and update the old drivers and boost PC performance. 
What does Outbyte Driver Updater do?
This driver updater tool is designed to scan outdated and missing system drivers and update them to provide better PC performance and speed. If you have outdated drivers the speed of your PC slows down and offers various errors while operating the system. 
Is Outbyte Driver Updater legitimate?
Yes, it is legitimate and safely updates your system drivers. It helps in fixing system bugs due to outdated drivers and boosts your system performance. It is a safe and reliable tool to update drivers and one must have a driver updater tool on their PC for smooth operations. 
How do I uninstall Outbyte Driver Updater?
Follow the below steps to uninstall Outbyte Driver Updater: 
Go to the start icon and type the

control panel

in the search box. 

Open the control panel window and look for programs. Either click on it or uninstall a program. 

Now, search for the Outbyte PC repair app in the list and click on the uninstall option from the above bar. 
Also Read