It's really annoying when the PC you bought after investing much of your hard-earned money starts underperforming than its required capacity. You need not be a tech genius to figure out the problem associated with your PC. This might be due to some software-related issue or your system might be affected by malware.
Now you might be thinking of immediately rushing to the nearest service center in order to get this problem sorted out, but hold on what if I told you that this problem can be solved by sitting at your homes. You can do it all by yourself with the help of proper tools. Here are few PC repair tools for windows PC that can help you improve the performance of your PC and make it perform like it was bought yesterday.
Best PC Repair Tools For Windows 10
1. IOBit Advanced Systemcare
IOBit advanced system care software is by far the smartest and top-ranked PC repairing with intelligent scanning, enhanced security, and online privacy. Read the complete Advanced Systemcare Review
Features
Intelligently and correctly scans the modules that most likely to slow down your PC.

Automatically erases online browsing history and blocks untrusted access to protect your privacy.

Dramatically optimizes browser settings to accelerate online surfing up and Intelligently manages startup items and automatically cleans ARM to boost PC.

Clean up junk files and data to prevent the occupation of extra storage.
Price
Free

Pro version:

1 PC plan for $16.99

3 PC plan for $19.99
2. System Mechanic Ultimate Defence
System Mechanic Ultimate Defense is one of the best PC repair tools which can perform multiple actions from removing malware to repairing your windows issues. It can recover the deleted files. It will This software also prevents Windows Slowdown and helps to increase system performance.  It also secures web browsing, manages passwords and credit cards
Features
Speeds up the processor, memory, broadband, and hard drives making gaming and other functions smooth.

Fixes over 30,000 different issues with intelligent updates, removes and blocks the latest types of malware.

Shields browsing habits and thwarts data collection.

Secures passwords and credit cards online along with the removal of junk files that slow you down.
Price
System Mechanic Ultimate Defense price is  $ 79.95.
3. Ashampoo Win Optimizer
Ashampoo Win Optimizer accelerates, cleans, and fixes your Windows system. It's not only a cleaner but also provides system maintenance, performance, or customization utilities. Improve your security and protect your privacy. The program also analyzes your OS and hardware, wipes or encrypts data, and helps with file recovery.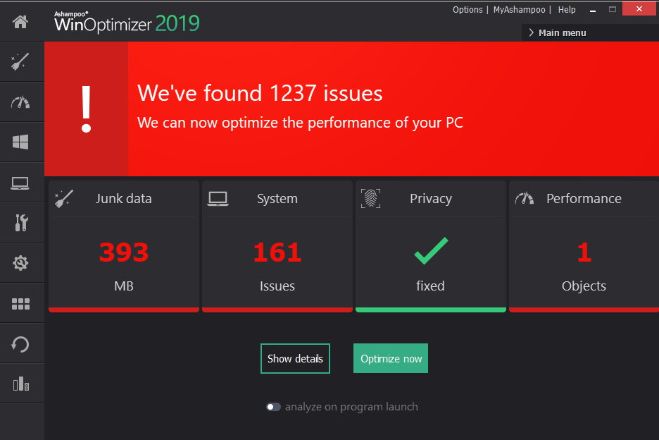 Features
helps you free up memory and speed up startup times.

Enhanced privacy protection to keep your private data safe.

wipes or encrypts data and helps with file recovery.

Continual program updates.
Price
4. AVG Tuneup
AVG TuneUp is another good windows repair software that basically scans your complete pc and performs all the fixes. It also safely remove unnecessary files from your system.
It also scans for malware and unwanted programs and automatically updates programs to keep your PC up to date.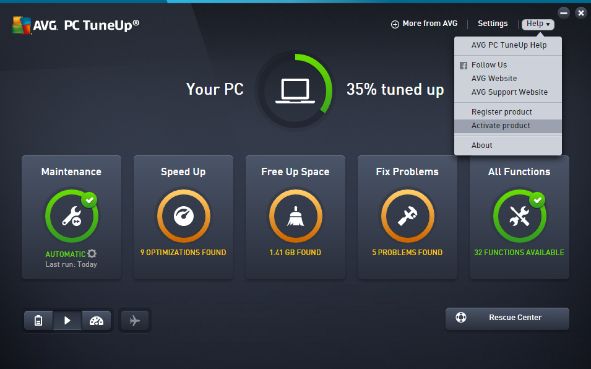 Features
Automatically fixes and maintains your PC

.

Removes unwanted bloatware and junk programs.

Enhances the overall performance of your PC. Has an inbuilt sleep mode to reduce the burden on PC's resources.

Removes tracking cookies, cache files, old files from removed applications, and fixes issues.
Price
Free version available

Pro version for $39.99
5. Restoro
Restoro protects and restores your PC to its original state, enhances the functionality of your PC. It also protects your PC from the latest malware, replaces the missing windows files with new ones.
Features
Protects your PC from a variety of latest malware enhancing the overall functionality of your PC.

Replaces the missing and damaged window files with healthy new ones.

Detects threatening apps before they damage your PC in real-time.

Frees up disc spaces occupied by unwanted programs that slow down your PC.
Price
It's the price for a One-time repair license: $29.95.

License with unlimited use for a single year: $39.95
Get It Here
6. Outbyte PC Repair
Outbyte PC Repair is a comprehensive computer repair tool designed to address a range of different system issues, clean up your drive, optimize performance, and improve your privacy and security. It is compatible with Windows 10,8 and 7 including mac system.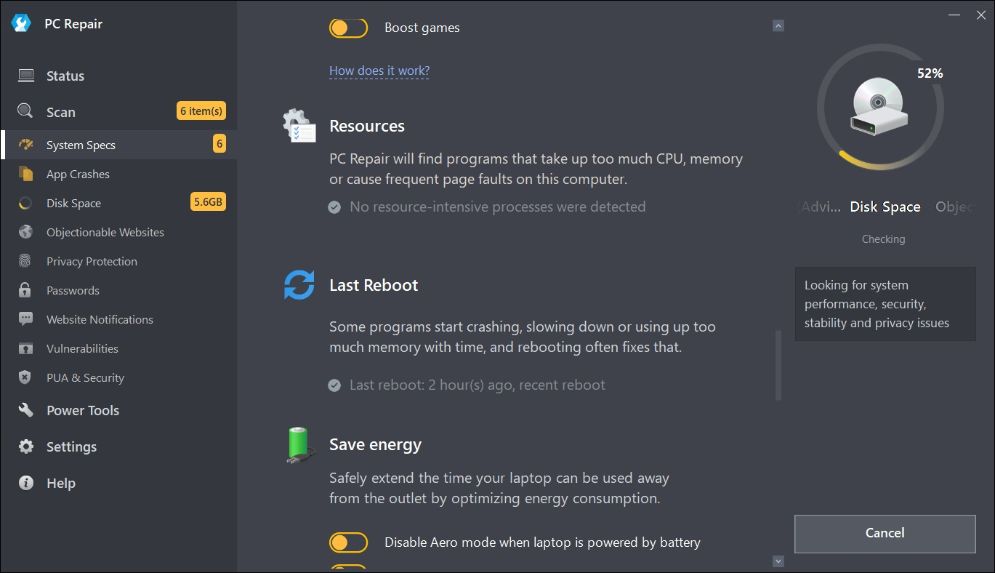 Features
Scans and Repairs over more than a hundred most common PC problems keeping your system's performance at a peak.

Helps you identify and remove unwanted files to free up space.

Thwarts data collection by shielding your browsing habits.

Protects PC from a variety of latest malware providing a real-time boost to the system.
Price
Outbyte PC Repair will cost you $29.95 with a 7 day free trial.
7. Windows Repair by Tweaking
Windows repair tool by tweaking specifically focuses on your common PC problems making it easier to access and use its functionality. It can serve a variety of purposes including malware protection, file permissions, windows update issues, and software installation issues. 
Features
Automatic updates and performance enhancement.

Run

speed

tweaks

after

repairs.

Windows drive cleaner, memory drive cleaner.

Quick

Link

Menu

Run

Your

Custom

Scripts

After

Repairs

,
Price
Free

Pro version:

1 PC Yearly License: $24.95

3 PCs Yearly License :$44.95

Individual Yearly Tech License: $64.95
8. CCleaner Technician Edition
CCleaner Technician Edition is the portable tool your techs need to keep PCs running without Interruption. Its patented cleaner cleans out unnecessary files, recovers hard drive space, prevents crashes, speeds up Windows, and helps to protect privacy and security. It's compatible with windows 10, 8,7, and XP.
Features
Removes unnecessary files, data and settings in seconds.

Enhances the functionality of your system extending it's lifecycle.

Removes

tracking

cookies

,

while

keeping

the

cookies

your

customers

need

to

access

web

–

based

applications

.

CCleaner Technician Edition is designed to be installed on a USB drive for techs in the field, or used on a remote session. 
Price
CCleaner Technician Edition is a $24.95 one-time fee.
9. CPU-Z
CPU-Z is a freeware system that analyses, monitors, and profiles all the major components of both windows and android.
It detects RAM, CPU, motherboard chipset, and all the other hardware of modern windows as well as android and shows the details on a single screen. It is compatible with most processors and chipsets.
Features
The software provides an in-depth report of the specifications and performance of your computer's hardware.

Detects information about your computer processor, motherboard, memory, and graphics card. 

Displays data in an easy-to-read format.

Readily available for both android and PC.
Price
10. Microsoft Fix it Tool
Microsoft Fix It tool is an application that scans your Windows PC for problems and fixes those it can. It will download the latest solutions from Microsoft and covers all aspects of your system, from crashes to performance, audio to hardware and devices. It is readily available with windows 10.
Features
Easy to use.

Built in the troubleshooter.

Scans and detects the source of issue and solves it through latest solutions updates from Microsoft.

Readily available.
Price
FAQS – Windows PC Repair Tools and Software
What is a PC repairing tool?
PC repairing tools are the software program that aid one in solving the issue associated with your Operating system and enhance its overall performance. It also protects your system from malware.
Is the PC repair tool free?
Yes, there are both paid and unpaid variants of these repairing software and few of this software offer a free trial before purchase. 
What is the best PC repair software?
Here is the list of the few best PC repair Softwares-
System Mechanic Ultimate Defense

Restoro

Outbyte PC Repair

Windows Repair by Tweaking

CCleaner Technician Edition

CPU-Z

Microsoft Fix it Tool

IOBit Driver Booster

AVG Tuneup

Ashampoo Win Optimizer
Is PC repair safe?
PC repair is completely safe if the software used by you is trusted and renounced. But you need to maintain caution while using cheap and unpaid variants of this software as this may comprise your system and make it vulnerable.