Are you looking for the Best PC Repair tools then you have landed on the right page. From repairing all types of Windows issues to fixing different computer problems, these tools can help you meet your goals.
It's really annoying when the PC you bought after investing much of your hard-earned money starts underperforming more than its required capacity. You need not be a tech genius to figure out the problem associated with your PC.
This might be due to some software-related issue or your system might be affected by malware. You can do it all by yourself with the help of proper Windows repair tools. 
Pro – Tip: Before you choose any PC repair tools to fix your computer issue you must check that you have all the latest Windows updates installed on your PC.
Here is the list of the Best PC Repair Software to try this year.
System Mechanic Ultimate Defense

Advanced SystemCare

Ashampoo WinOptimizer

AVG TuneUp

Restoro

Outbyte PC Repair

Windows repair tool by tweaking

CCleaner Technician Edition

CPU-Z

Microsoft Fix It tool
FACT – Windows Market Share has the largest market share in the operating system industry. Check the below image which shows different OS like Windows, Mac, Linux, ChromeOS, and others –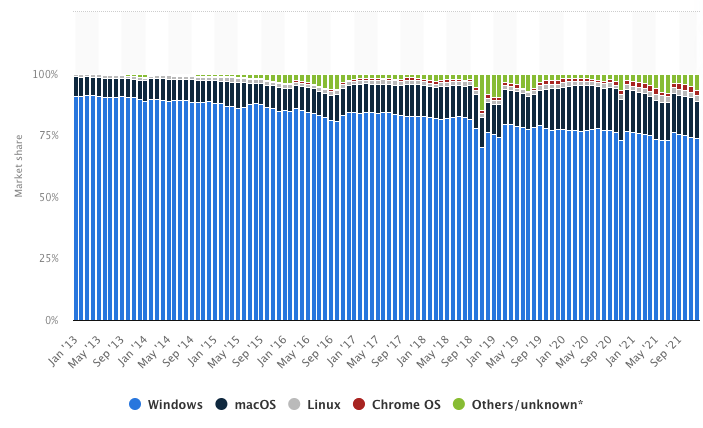 16 Best PC Repair Tools For Windows 11, 10 PC
Here are a few PC repair tools for windows PC that can help you improve the performance of your PC and make it perform like it was bought yesterday.
1. System Mechanic – (Best For Beginners)
System Mechanic is another best PC repair tool that can perform multiple actions from removing malware to repairing your windows issues. It can also recover permanently deleted files and also prevents windows performance to degrade. It also secures web browsing, manages passwords and credit card details.
Features
It speeds up the processor, memory, and hard drives which makes games function smoothly.

Fixes over 30,000 different issues.

It removes and blocks the latest types of malware.

Shields browsing and threat removal tool. 

It also secures passwords and credit card details.

It removes junk files to free up disk space.
Price
System Mechanic Ultimate Defense price is  $79.95.
Read here – iolo System Mechanic Review
2. Advanced Systemcare – (Best Overall)
IObit Advanced SystemCare is the smartest and top-ranked PC Repair tool with intelligent scanning, enhanced security, and online privacy. This tool cleans the unnecessary clutter and junk from your system.
It can automatically scan and fix all your Windows PC issues in a single click.
Features
It scans and fixes the modules that can slow down your PC.

Automatically erases online browsing history and untrusted blocks access to protect your privacy.

It optimizes browser settings to speed up internet surfing.

It also manages startup items and automatically cleans boost ram.

Clean up junk files and data to prevent excessive storage.
Price
Free

Pro version:

1 PC plan for $16.99

3 PC plan for $19.99
Read the complete Advanced Systemcare Review
3. Ashampoo WinOptimizer –(Best For Windows 10 User)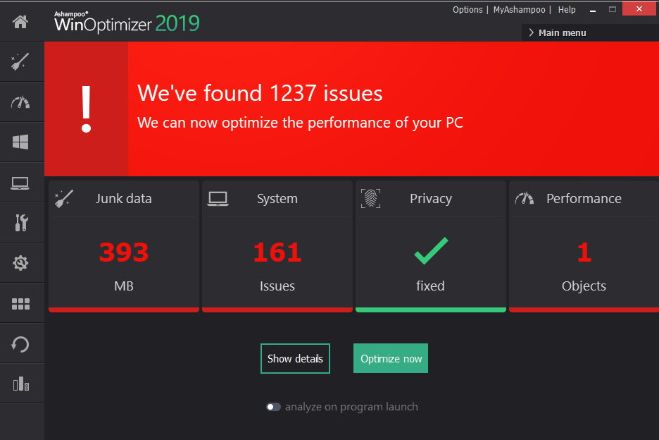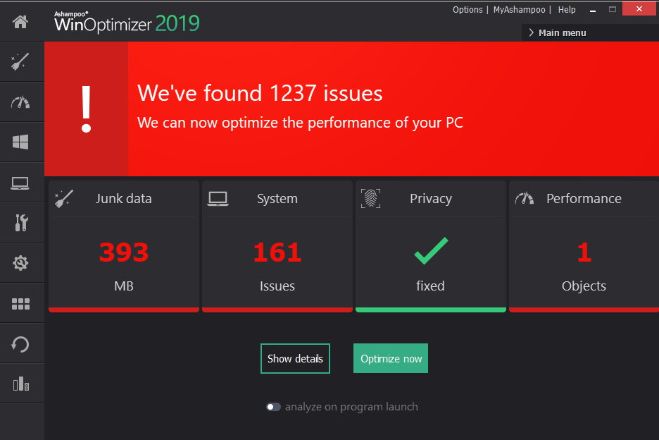 Ashampoo WinOptimizer is another great tool that cleans and fixes your Windows system issues. This tool not only works as a cleaner but also provides system maintenance, performance, or customization options.
It improves the security and protection of your system. This program also analyzes your OS and hardware.
Features
It encrypts data to keep it safe.

It helps you free up memory and speed up startup items.

Enhanced privacy protection to keep your private data safe.

It provides continuous software updates.
Price
Cost of 10 devices – $14.99
4. AVG PC Tuneup –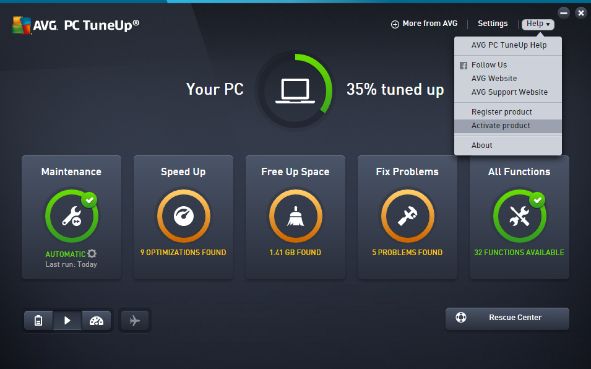 AVG TuneUp is another Windows PC repair tool that basically scans your complete pc and performs all the fixes. It also safely removes unnecessary files from your system.
It also scans for malware and unwanted programs and automatically updates programs to keep your PC up to date.
Features
Automatically fixes and maintains your PC

.

Removes unwanted bloatware and junk programs.

Enhances the overall performance of your PC.

It has an inbuilt sleep mode to reduce the burden on PC's resources.

It removes tracking cookies, cache, and old files from removed applications.
Price
Free version available

Pro version for $39.99
Read here – AVG TuneUp Review: Is It The Best Mechanic for Your PC
5. Restoro
Restoro protects and restores your PC to its original state and enhances the functionality of your PC. It also protects your PC from the latest malware and replaces the missing Windows files with new ones.
Features
Protects your PC from a variety of malware.

Replaces the missing and damaged window files with new ones.

Detects threatening apps before they damage your PC in real-time.

Free up disk spaces occupied by unwanted programs.
Price
One-time repair license: $29.95.

License with unlimited use for a single year: $39.95
Read Review: Restoro PC Repair Tool Review
6. Outbyte PC Repair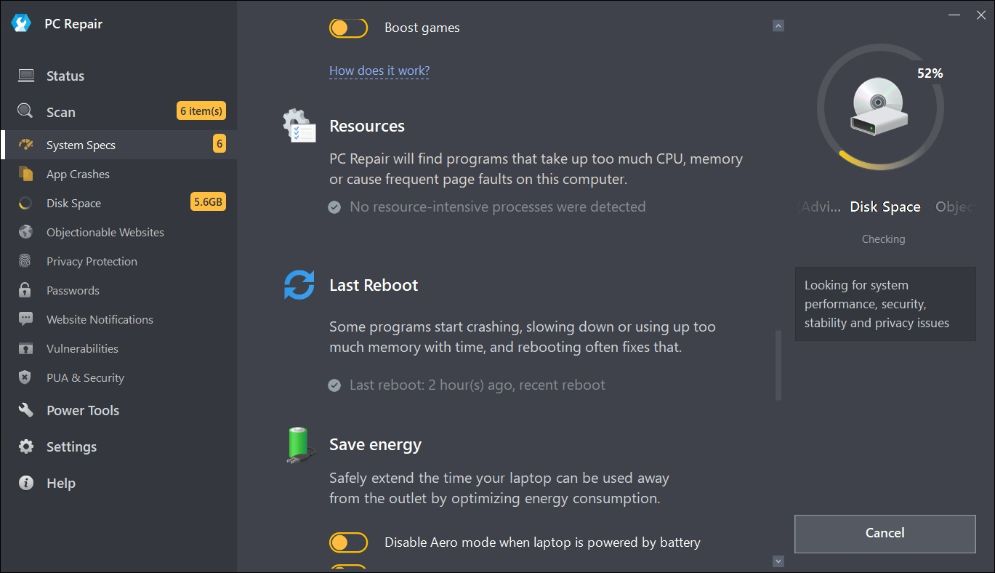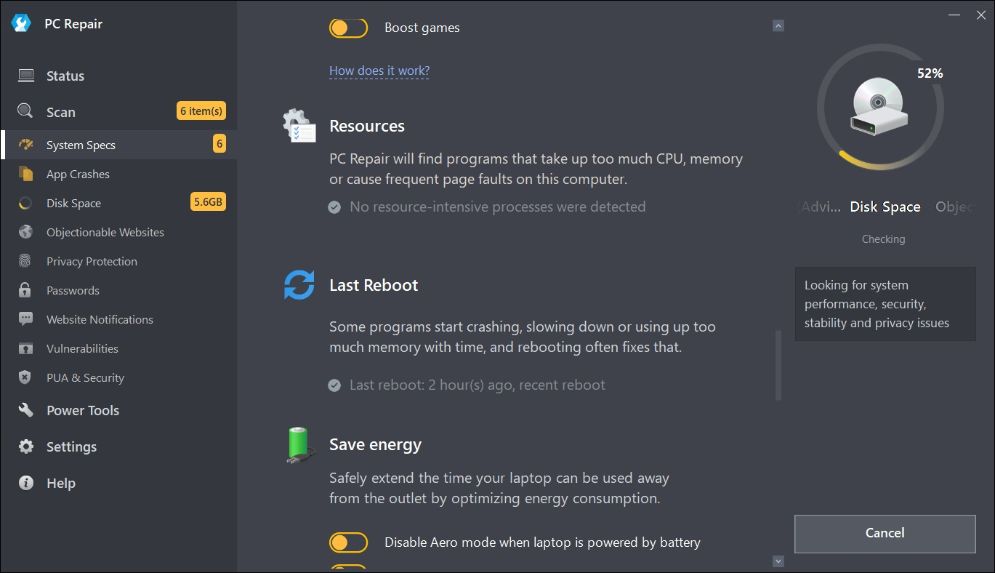 Outbyte PC Repair is another pc repair tool designed to address a range of different system issues, clean up your drive, optimize performance, and improve your privacy and security. It is compatible with Windows 10, 8, and 7 including the Mac system.
Features
Scans and Repairs over more than a hundred most common PC problems.

Helps you identify and remove unwanted files.

Thwarts data collection by shielding your browsing.

Protects PC from the latest malware providing a real-time boost to the system.
Price
Outbyte PC Repair

will cost you $29.95 with a 7-day free trial.
7. Windows Repair by Tweaking
Windows repair tool by tweaking specifically focuses on your common PC problems making it easier to access and use its functionality. It can serve a variety of purposes including malware protection, file permissions, windows update issues, and software installation issues.
Features
Automatic updates and performance enhancement.

Run

speed

tweaks

after

repairs.

Windows drive cleaner, memory drives cleaner.

Quick

Link

Menu

Run

Your

Custom

Scripts

After

Repairs

,
Price
Free

Pro version:

1 PC Yearly License: $24.95

3 PCs Yearly License:$44.95

Individual Yearly Tech License: $64.95
8. CCleaner 
CCleaner is another repairing tool that keeps PCs running without any Interruption. Its patented cleaner cleans out unnecessary files, recovers hard drive space, prevents crashes, speeds up Windows, and helps to protect privacy and security. It's compatible with windows 10, 8, 7, and XP.
Features
Removes unnecessary files, data, and settings in seconds.

Enhances the functionality of your system extending its lifecycle.

Removes tracking cookies,

while

keeping

the

cookies

your

customers

need

to

access

web

–

based

applications

.

CCleaner is designed to be installed on a USB drive, or used on a remote session. 
Price
CCleaner is a $24.95 one-time fee.
Also Read: Piriform CCleaner Review
9. CPU-Z
CPU-Z is a freeware system that analyses, monitors, and profiles all the major components of both Windows and Android.
It detects RAM, CPU, motherboard chipset, and all the other hardware of modern windows as well as Android and shows the details on a single screen. It is compatible with most processors and chipsets.
Features
It provides a report of the specifications and performance of your computer's hardware.

Detects information about your computer processor, motherboard, memory, and graphics card. 

It has an Outdated User interface

It is available for both Android and PC.
Price
10. Microsoft Fix it Tool
Microsoft Fix It tool is an application that scans your Windows PC for problems and fixes it. It will get the latest solutions from Windows and covers all aspects of your system, from crashes to performance, audio to hardware, and devices. 
Features
Built-in the troubleshooter.

Scans and detects the source of the issue and solves it through the latest solutions updates from Microsoft.
Price
11. FixWin 10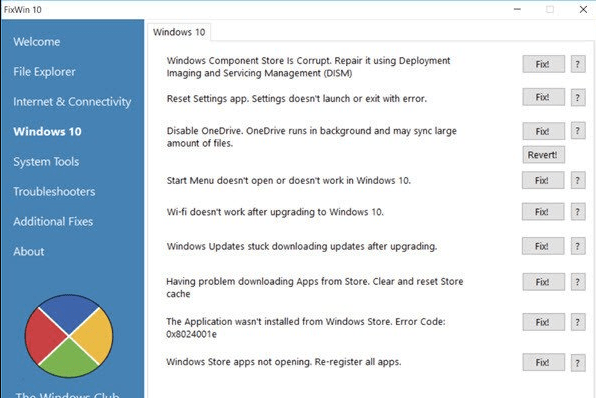 FixWin 10 is another best system repair tool that can quickly fix and repair all the issues in Windows PC. All the tools are displayed on the main screen so that you can easily navigate to its tools and fix all the issues with just a click. It can fix all types of issues from basic to advanced. Like it can fix automatic updates, restore the registry editor, fix corrupt recycle bins, etc.
Features 
It can fix file explorer issues 

Having built-in 18 Windows Troubleshooter 

Capable of fixing internet and connectivity issues 

It can disable OneDrive File Synchronization 

Doesn't require installation to use 
Pricing 
12. Snappy Driver Installer 
Snappy Driver Installer is a dedicated PC scan and repair tool for Windows PC. The tools can scan for outdated drivers and notify you to install the latest one. It is a free and open-source tool that is specially designed to keep all your system drivers up to date.
One of the special features of this software is that it lets the users install or update the latest drivers on different devices simultaneously.
Features 
Update drivers in offline mode 

It is a portable software 

It can display duplicate and invalid drivers 

Doesn't contain any ads 

Can update or install drivers in bulk 
Pricing 
13. Ultimate Windows Tweaker 5
The Ultimate Windows Tweaker 5 for Windows 11 is capable of tweaking the newly launched OS of Windows. Thus, it can help to customize your Windows PC and make it perform faster and in a more private and secure manner. This tool consists of more than 200 tweaks. 
Features:
Offers accessible buttons for creating system restore points and restoring default values. 

Includes a search bar.

Offers context menu and additional system tweaks.

Users can also tweak the Microsoft Edge browser with this app.
Price
14. Total AV
Total AV emphasizes your privacy and security which is why it is loaded with various advanced tools. It supports multiple platforms and works on Windows, Mac, Android and iOS devices. It is an award-winning software that helps you keep away harmful threats from your system. This tool has a user-friendly interface which makes it easy to use and even a beginner can use it without any guidance. 
Features 
It continues to update its malware protection and antivirus scanner to deal with the latest threats

It offers a basic free version 

Offers real-time protection 

Password manager 

The inbuilt system optimization tool enables your device to run smoothly 
Price
$29.00/ for the first year, 3 device 

$119 per year after the first 12 months 
15. iOBit Driver Booster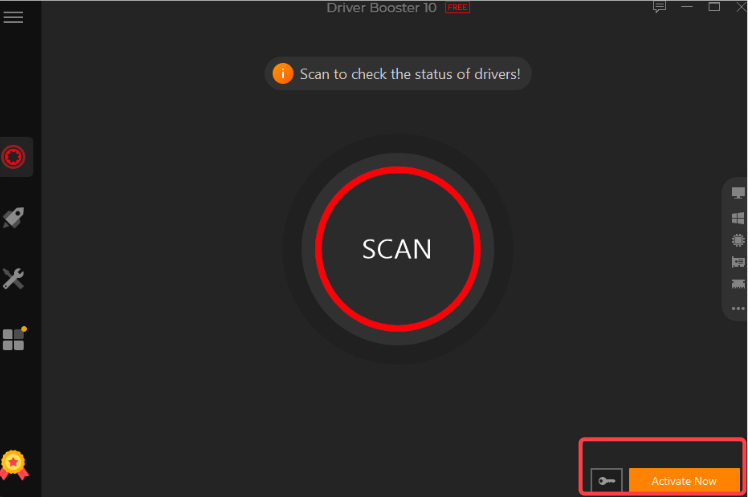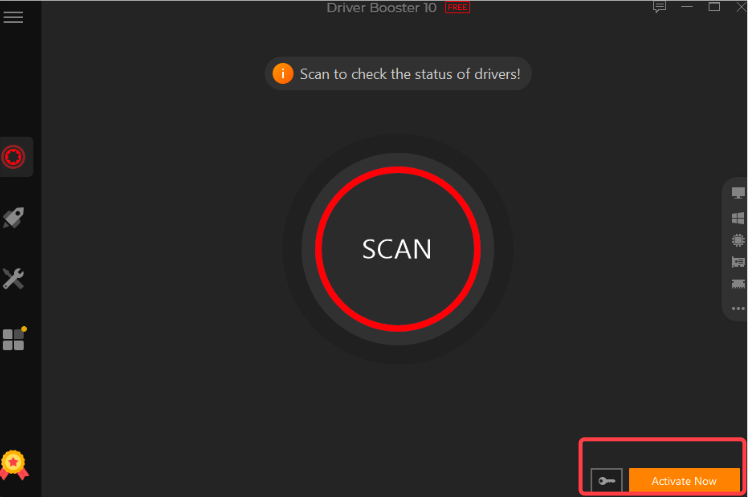 IOBit Driver Booster is a dedicated tool that helps in improving system stability and boosts your system performance. When you use this software you will experience less system freezing and peak gaming performance and it also fixes all the issues which are making your system slower.
It can quickly detect and update all the missing, outdated, broken, faulty, and corrupted drivers and update them to the latest version. 
Features 
It helps in reducing driver issues 

Game booster and optimizer 

Enhance system performance 

Update and install drivers offline 

Offers 24/7 customer support 
Price 
Driver Booster is available at $22.95/ per year for 3 PCs
Also Read: Driver Booster Review
16. Advanced System Repair
Advanced System Repair is one of the most powerful tools available to maintain and repair your PC. It can quickly detect system errors and fix them in no time. It also cleans all the junk and temporary files to free up disk space. This tool protects your PC against harmful malware such as Trojans, adware, spyware, bots, worms, and other malicious activities. 
The software also helps in protecting your privacy by removing all your tracks. It tunes up your PC and increases its longevity. 
Features 
It helps in boosting your PC speed 

Fix all the issues that occur while running the system

Multi scan feature quickly scans and analyzes your PC

One-click maintenance 

It has a built-in application optimizer feature
Price 
Advanced System Repair is available at $19.97
Conclusion On PC Repair Tools For Windows
A slower PC is quite frustrating and when your system starts working slower, frequently crashes, freezes, and faces other issues it means the time has come to use the PC repair tool. The market is full of PC repair tools but it is quite difficult to choose the best one.
The above article includes the best PC repair tools which not only repair computer issues and remove malware but also boost its performance. It will optimize your system and run like a newly purchased one. 
FAQS
What is a PC repairing tool?
PC repairing tools are software programs that aid one in solving the issue associated with your Operating system and enhance its overall performance. It also protects your system from malware.
Is the PC repair tool free?
Yes, there are both paid and unpaid variants of these repairing software and few of these software offer a free trial before purchase.
What is the best program to fix my computer?
Here is the list of the few best PC repair Software-
System Mechanic Ultimate Defense
Restoro
Outbyte PC Repair
Windows Repair by Tweaking
CCleaner Technician Edition
CPU-Z
Microsoft Fix it Tool
IOBit Driver Booster
AVG Tuneup
Ashampoo Win Optimizer
Does Windows 10 have a repair tool?
Yes, Windows 10 have an in-built repair tool to resolve the issues you are facing while using your PC. Windows 10 has a troubleshooter to deal with problems. 
What is better than Restoro? 
Restoro is a good option to repair your PC but if you are looking for its best alternative then CCleaner is the most effective software to deeply scan your PC and optimize it. It helps in boosting system performance and also offers various security features. You can use the CCleaner for free as it offers a 14-day free trial. 
Is PC repair tool safe?
Generally, reputable PC repair tools are safe to use. However, it is important to choose reliable tools from trusted sources to avoid potentially harmful or malicious software.
Is the Windows 10 repair tool free?
Windows 10 includes several built-in repair tools that are available for free. These tools include System File Checker (SFC) for repairing corrupted system files, Disk Cleanup for freeing up disk space, and Windows Memory Diagnostic for testing RAM.
These built-in tools can help resolve common issues without requiring additional software. However, there are also third-party repair tools available for Windows 10 that may offer more advanced features, and these may come with a cost depending on the tool and its features.
Also Read