Are you feeling that you are experiencing some issues when trying to connect peripheral components with your PC or laptop? If so, then you can investigate further on this matter to identify if there is an issue with the peripheral components or with the PCI Serial Port driver software. 
In this blog, we will educate you about what is a PCI slot and how to solve its driver-related issues easily. 
What is a PCI slot & PCI Serial Port driver
Coming to what is a computer peripheral first, it is described as a device that is externally connected to a computer and is not a part of the core computer structure. The core components include the Power Supply Unit, the Central Processing Unit, the Motherboard, and the Computer Case containing the core components. Some people also look at peripheral devices as those components which depend on the computer core system to function. 
Peripherals can be categorized into three sections:
Storage components

: Flash drive, hard drive

Output components

: Monitors, printers, headphones & speakers

Input components

: Keyboards, mouse
The PCI stands for Peripheral Components Interconnect. So, a PCI slot is nothing but an old computer bus. It also is a part of the PCI bus standard. The PCI slot is an embedded slot of your Windows machine that allows you to connect hardware devices such as network cards, sound cards, disk controllers, monitors, printers & scanners to your PC or laptop.
A serial port recognizes hardware compliant with the RS-232 standard that can interface with a modem or other communication devices.
What is the PCI driver?
A PCI device driver is software that permits any PCI device to function smoothly when connected to the computer. It forms a programming interface that permits the operating system to interact with the connected device. 
How to identify an issue with the driver of the PCI Serial Port
Now that you have understood what is a PCI slot and driver, so let's take a look at how to identify issues with it.
Open Device Manager by pressing Windows + X keys.
Scroll below to locate the "Other devices" segment. Click on it to expand it.
If you notice a yellow exclamation mark in front of the PCI Serial Port, then it indicates that the driver is experiencing some issues.
How to fix PCI Serial Port driver issues In Windows 10, 8 and 7 PC
Whether the PCI driver is corrupted, outdated, or missing, there are two simple ways to fix it that we have mentioned below.
1. Manual update of PCI driver
Device Manager presents a graphical view of the hardware devices installed or connected with your Windows computer. This app on your system allows you to view and manage hardware devices and the driver software associated with those devices.
So, even in this instance, the Device Manager can come handy to update or fix the PCI driver by following the below steps:
Search for Device Manager in the Windows search box and click to launch its window on your computer screen.
Click the "Other devices" segment to view the PCI Serial Port driver.
Right-click on it to open the context menu and from it choose the option "Update driver software."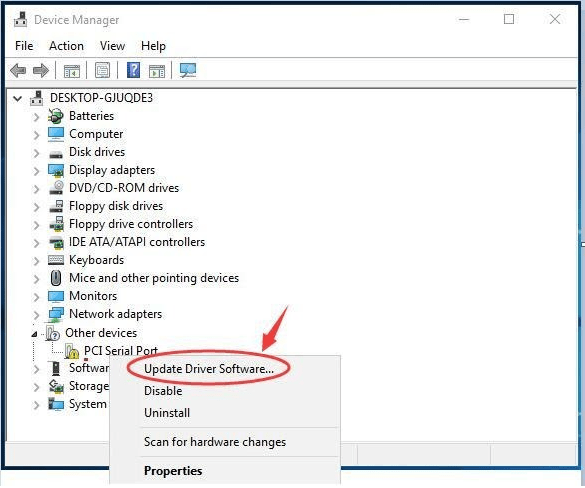 On the next prompt, select the option "Search automatically for updated driver software."
After this, Windows will perform a search to install the latest drivers on your computer.
2. Automatic update of PCI driver
If you don't want to go through the hassles of manually updating your PCI device driver via the Device Manager, then you can take the help of any third-party driver update software to do this job for you.
DriverFix is a fast, simple, secure tool with a one-click update feature to automatically detect faulty drivers and update them to improve the system performance.
Built with an easy-to-use interface, this tool comes in three extremely affordable plans and is available for unlimited use for a year. It provides access to a huge database of 18 million driver files. It can also create backups before installing new drivers.
Hailed as the one-stop solution for system drivers, this tool can be used in the following way:
It can be downloaded and installed from the official website. 
Upon installation, it can scan your computer to find missing and outdated driver software. 
Post this, it can update all your drivers automatically. You can either choose to update only the troublesome PCI Serial Port driver or you can update all outdated drivers by clicking a single button.
It also fetches a report of updated and outdated drivers for your reference.
Conclusion On How To Fix PCI Serial Port driver issues On Windows PC
If the PCI Serial Port is not functioning accurately, then you will experience issues connecting your peripherals such as the monitor, keyboard, mouse, printer, or scanner with your Windows computer.
When connecting hardware devices to your computer seems problematic, then the main cause behind them is the PCI Serial Port driver. So, now you learned from this blog how to identify issues with the driver and how to resolve it yourself.
FAQs
What is the use of the PCI Serial Port driver?
The Peripheral Component Interconnect serial port driver is used to connect peripheral devices with your Windows computer. The driver software serves as a connecting interface between the hardware devices and the CPU.
How do I install a PCI Serial Port driver?
You can refer to the above blog to learn how you can install a PCI driver on your Windows computer.
How do I fix PCI Serial Port?
You can either reinstall the driver for the PCI Serial Port manually or with the help of a third-party tool.
What is PCI Serial Port in the computer?
The PCI Serial Port facilitates connecting peripheral devices such as monitor, printer, mouse, keyboard, and scanner with the Windows PC. 
Also Read