Are you looking for Quick Photo Finder review that consists of all the major points which you are required to know about it? From removing duplicate pictures to managing images. In this article, we will be going to discuss its pros and cons, its detailed specifications, and its features so that you can make a choice whether quick photo Finder is suitable for you or not.
Quick Photo Finder Review
Duplicate and similar pictures can fill your PC's storage space and cause you to run out of disk space. Due to this, you may find trouble running your PC smoothly. For this, you can use Quick Photo Finder software to get rid of duplicate pictures and free up disk space. But it is difficult for you to choose any software without knowing its features, advantages disadvantages, and specifications. Before choosing any software you must go through a review article so that you can get an idea about that software. 
Note: This review is of Quick Photo Finder latest version Supports External Devices, which was released recently. Please let us know if there's any new version.
What is a Quick Photo Finder?
Quick Photo Finder is a software that uses smart algorithms to scan your PC to discover similar pictures and helps you in removing them. We all love clicking photos, when we go anywhere or there is a party or occasion or anything we click photos.
To get the perfect picture we keep on clicking photos until we get the best one. In this process, we clicked multiple photos of the same scene and this cause several duplicate photos in our system and hog up a huge amount of disk space. 
The duplicate photos consume a lot of storage space and make your system slow. It is quite a difficult task to identify similar photos one by one manually and delete them and also a time-consuming process. The manual method is quite impossible so if you want to save time in finding all the similar-looking photos then you can choose a reliable duplicate photo Finder software. 
Quick Photo Finder is one of the best and safest software that can quickly scan unwanted identical and similar photos and helps in freeing up disk space. It is the most reliable software you can use to delete twin pictures from your PC. To use the software you need to download the full version of quick photo Finder on your PC.
As if we have known about the quick photo Finder now it is time to know about its features, pros, cons, specifications, and other details. Now let us take a look at some of its features.
Features 
A quick photo Finder is a great software consisting of several amazing features. Some of its features are –
Detect duplicate photos –

It is quite easy and quick to detect duplicate photos using a quick photo Finder. After the scanning process completes you can also Automark the photos and it is easy to delete them quickly with a single click. 

Filtered photo gallery –

The software helps you in maintaining the photos library. You can organize your photo library in a clutter-free manner.
It offers group-based scan results –

Detecting duplicate photos quickly is possible with the group-based scan results. Using this feature you can easily make a decision to delete a group of photos.
Money-back guarantee-

One of its best features is that it offers a money-back guarantee which you will not get in any other software. Although the situation will not rise as it offers great features and accuracy of scanning duplicate photos. But in case you do not like its features and want a refund then you can claim it within 60 days of purchase.
Drag and drop option –

It offers a drag and drops option so that you can easily add the folder to the scan area.
Offers scan filters –

You can scan the duplicate files using the scan filter like time interval, GPS, image size dimensions, bitmap size, etc.
Smart algorithms –

The software uses the most intelligent algorithm to detect similar and identical images.
Boost the storage space –

By deleting all the unwanted duplicate files it helps in increasing the storage space. Using the software helps you in cleaning each and every single duplicate photo stored in your system and hogging the storage space.
All these are the features offered by Quick photo finder. Now, let's have a look at the specifications.
Specifications
Below are some of the requirements of the software to get downloaded to your PC.
Operating system –

Windows 11,10, 8, 8.1, 7

Requirement of ram –

At least 512 MB

Processor requirement –

1 GHz 

Developer –

Digital protection services S.R.L
Pricing –
Quick photo finder is available at $49.95. 
Pros
Quick photo Finder is the best duplicate photo Finder software so it has various advantages. We have listed some of the best advantages below: 
It has a simple and clean UI that makes it easier for beginners to use.

It offers accurate scan results.

Using this software you will get an organized and clutter-free photo gallery.

It helps in freeing up disk space and makes your device run faster and smoother.

It quickly identifies and deletes duplicate photos.

It offers group-based scan results enabling to raise of duplicate pictures.

Uses a smart algorithm to scan similar images.

It offers a lot of video tutorials that help you in using the software.
Cons
Everything has two sides nothing is perfect. Quick photo Finder as many pros and it also has a con. Let's have a look at its cons.
Windows XP and Vista are not supported by quick photo Finder
How to Use Quick Photo Finder
Quick photo Finder is easy to use software. You can follow the below-given steps to use this software:
Firstly download the quick photo Finder and launch it.

Now, add the folder You want to scan. You can either use the drag-and-drop option for more ease.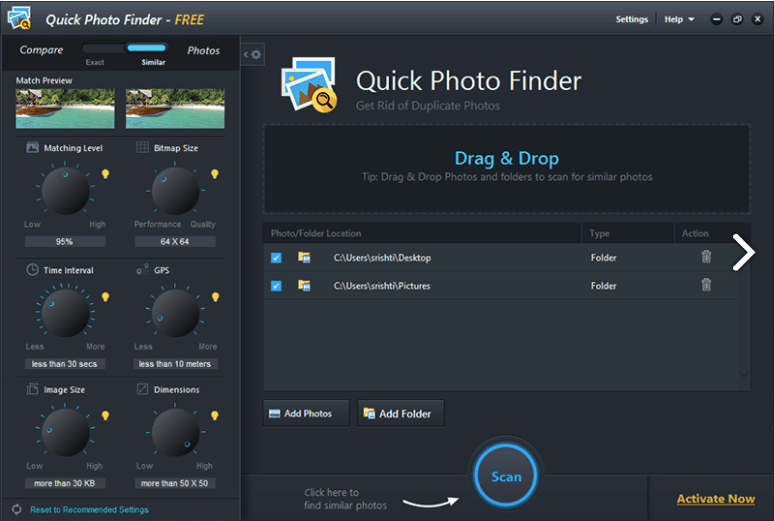 Now you need to set the matching criteria according to your requirement.

Now to start the scanning process click on the scan option.

When the scanning process is complete you can review the scan results and erase the unwanted copies of the photos.
These steps are enough to delete the unwanted duplicate files. It will remove all the duplicate photos so that you can recover the lost disk space. 
Conclusion 
After reading the above quick photo Finder review you have understood its features, disadvantages and advantages and specifications. I hope the software can help you in removing the duplicate photos that exist in your system and boost the system's performance. I hope you can create your photo library clutter-free with this software.
FAQs
What is a quick photo Finder?
Quick photo Finder is one of the best and most reliable software that can help you in finding duplicate photos that exist on your device. It uses a smart algorithm to Scan your computer deeply to identify duplicate or twin images.
Is Quick Photo Finder safe and good?
Yes, Quick photo Finder is the safest duplicate Finder software that scans the system to search for duplicate and similar-looking files that are consuming a lot of your disk space without any reason. 
Also Read