But at times, we might delete or deactivate our Facebook account due to numerous reasons. Sometimes, if users violate the rules and community guidelines of Facebook, then also Facebook can block those accounts for a fixed period.
So, if you have accidentally deleted your personal or business Facebook account, you can recover the deleted Facebook account by referring to our guide.
How to Recover Deleted Facebook Account
You must know that Facebook stores user data for up to a month or 30 days duration. So, after deleting a Facebook account, you have just a month to go back on your decision and retrieve a deleted Facebook account.
Earlier the grace period offered by Facebook to recover a deleted Facebook account was only 14 days or two weeks. But this time span was later increased to grant users more time should they change their minds. This makes things easier for users and also for Meta.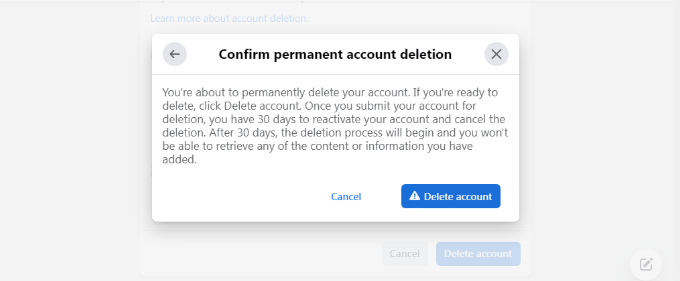 Here's how you can restore your deleted Facebook account with the help of the following steps:
Open

Facebook

in your browser and log into it with your previous credentials.

Hit the "Log in" button.
Once you do this within 30 days of deleting your FB account, you will be presented with two options viz; "Confirm Deletion" or "Cancel Deletion."

You can click on the "Cancel Deletion" option to recover your deleted FB account.

This will not only revoke the earlier deletion action, but it will also reactivate your FB account and retrieve all your data. 

You can begin using your account as before.

In certain instances, you might need to verify yourself by answering the security questions set by you at the time of account creation.
Difference between Facebook account deactivation and deletion
Did you know that instead of deleting your FB account and later struggling to reactivate it, you can instead go for the account deactivation option? Deactivating the FB account makes account recovery far easier than in the case of deletion.
You can learn about the differences between both below.
| | |
| --- | --- |
| FB Account Deletion | FB Account Deactivation |
| Permanent action | Temporary suspension of account |
| Data is erased after a month or 30 days | Data is retained in the database but becomes invisible to others. |
| Data backup is available for up to 90 days. | Data is restored whenever the account is reactivated. |
| Account recovery is impossible after the aforementioned period. | Account recovery is possible anytime. |
| If you choose to keep Messenger active while the FB account deletion, then you will have access to messages. | Access to the messenger is retained. |
How to deactivate a Facebook account?
As we mentioned earlier that if you are unsure about operating your FB account, it is prudent to go for the account deactivation option instead of the account deletion option. This comes in handy when you want to recover a deactivated or deleted Facebook account. Here are the steps to deactivate your FB account:
1. Log into your FB account with your username and password.
2. Click on your image icon in the top right corner and then choose "Settings & privacy."
3. Click on "Settings" again from the new context menu.
4. Select "Your Facebook information" from the left pane.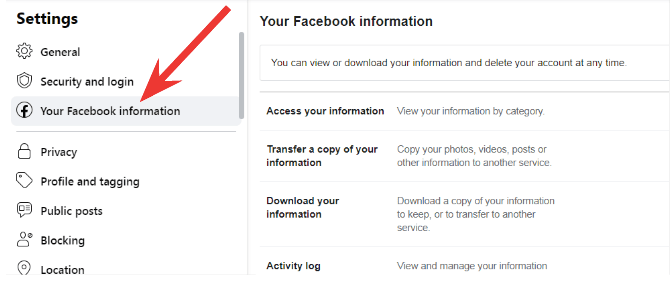 Scroll down and click on "Deactivation and deletion."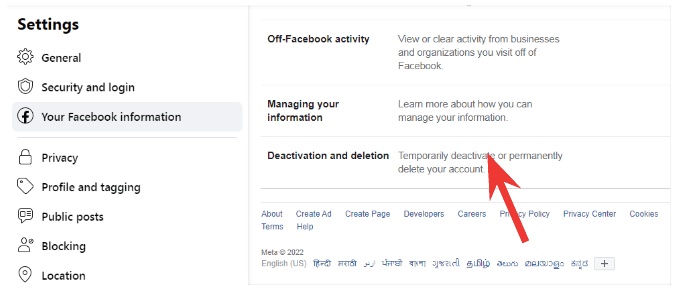 On the new screen, you will get two options – "Deactivate account" or "Delete account."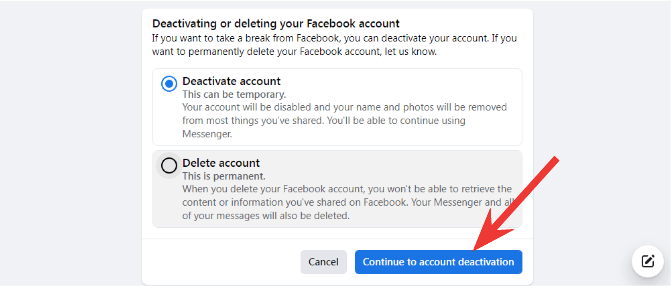 Choose the former option and then hit the "Continue to account deactivation" option.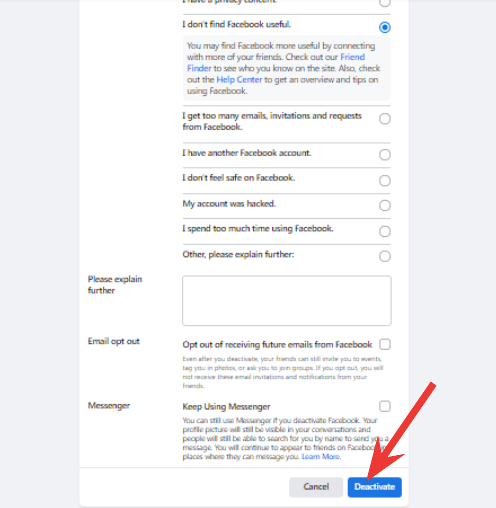 On the next screen, you will have to select the relevant reason for deactivating the account. You can additionally choose to "opt out of receiving future emails from Facebook" and "Keep Using Messenger."

Finally, hit the "Deactivate" button.
Recover deleted Facebook account: Did it work?
So, now whenever you want to recover a deactivated or deleted Facebook account, you can refer to this guide to get the working steps quickly. However, you must be quick to act. You have also learnt the difference between deactivating a Facebook account and deleting it.
So, as a precaution, you must remember that you can choose to deactivate your FB account to have better chances of retrieval and accessibility to your precious data. 
Do let us know your feedback in the comments section and don't forget to subscribe to our blog.
Also Read