You can add a personal touch to your videos and photos using the many available Snapchat filters, stickers, and Bitmojis. Create a Snapchat Story and add the filters and send it to all your friends and family.
A wide variety of lenses are available on Snapchat. Among them are some that are more humorous, romantic, adventurous, musical, and so on. You can easily remove Snapchat filters from your saved photos with a few touches of the finger if you're the kind that values uniqueness.
This post will explain different ways to eliminate Snapchat's filters with no effort.
How To Remove Snapchat Filters From Saved Photo
The Snapchat Magic Eraser is a handy tool that allows you to quickly and easily fix any problem. Following these easy steps, you can easily remove Snapchat filters from your saved photos when using Magic Eraser:
Step 1: Pick a photo with a Snapchat filter and something you don't want
Step 2: After selecting, hit the scissors button, then the eraser.
Step 3: You can then use a paintbrush to cover up the area of the filter or object you want to get rid of in the picture.
Step 4: After you brush an area, Snapchat will instantly alter it, so it blends in perfectly with the rest of the photo.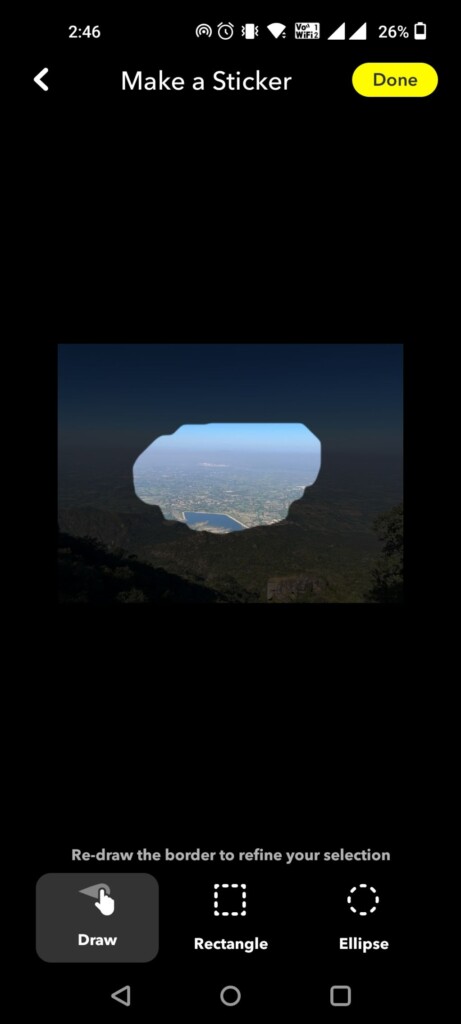 Step 5: Alternatively, you may apply more filters to your photo by swiping left or right.
This article provides a comprehensive guide for removing Snapchat effects from images and explains the process in depth. Either bring your snaps up to date or start with a new one.
How to get rid of Snapchat filters from pictures taken in the app?
Need to know how to edit Snapchat pictures you've saved? Snapchat photos can easily be restored to their unaltered state by disabling the app's face filter and removing Snapchat filters from your saved photos feature. To do so, follow the easy instructions below:
Step 1: To begin, open your saved snaps in Snapchat.
Step 2: Select an image by pressing and holding on to it.
Step 3: Select "Edit Photo" to adjust and eliminate the effect.
Step 4: Several photo-editing options should now be visible on your mobile device. Restoring an image to its original state is a breeze with their help.
This is the process for erasing a Snapchat filter from an uploaded photo. But try this next technique if you want to get rid of stickers.
How to Take Snapchat Stickers Off Pictures
Stickers for your snaps are an important accessory. It may not be feasible to re-frame an old sticker just because you're tired of looking at it.
But did you know that stickers may be edited out of Snapchat photos? What a thrilling thought, right? But you don't see how to accomplish it. Then, have no fear; here are the measures to do.
Step 1: Launch the app and navigate to the Memories tab.
Step 2: Select the image from which you wish to detach the sticker by tapping on it.
Step 3: Then tap the menu icon (three dots) at the top of your screen.
Step 4: The Edit Snap option will then be available for selection.
Step 5: To get rid of an unwanted sticker, grab it and yank it toward the garbage can.
Step 6: To remove Snapchat filters from your saved photos and all stickers from the image, return to step 5.
Step 7: Do not leave without first saving the image by pressing the Done button.
Step 8: Finally, choose "Save as Copy" to save the image.
The Snapchat stickers will disappear once you do this. A variety of different filters and stickers are also available. You can use the same process if you want to get rid of emojis from Snapchat photos.
FAQs
How can I make my Snapchat photo last longer?
Yes, the infinity feature will allow your profile photo to be up for longer.
How to get rid of a Snapchat filter from a picture you've saved?
Snapchat filters may remove Snapchat filters from your saved photos. To see previously stored images, go to that part of the app. To remove a filter from a picture, just long-tap it. The filter may be easily removed by editing the picture afterward. Similar results may be achieved using the Snapchat Magic Eraser app.
How do you get rid of a Snapchat filter?
Snapchat's facial filters can be easily eliminated. You may do this with the aid of several filter removal tools found online. You may also quickly disable the filter effects by entering the image's settings or options.
How do I get rid of the lens on Snapchat?
Snapchat's camera roll is where you'll go to remove any applied filters or lenses. To alter a picture, just long-press it and choose Edit Image from the menu that appears. Now you may utilize the available editing tools to eliminate the filter.
Also Read
How to Fix Snapchat Not Loading Snaps
How to Find Someone on Snapchat without Username & Number