When we regularly operate a PC it starts running slower at some point in time and this can be due to the excess of unnecessary programs, junk files, and malware viruses. To avoid such errors we should have efficient PC repair software which can optimize system performance and health. 
The market is full of optimization software but the problem rises when it comes to choosing the best software which can provide adequate tools. Restoro is one of the best options which can fulfill your needs. We are here with the Restoro review so that you can better understand the software and knows all its features, pros, cons, and specifications. 
Restoro Detailed Review
Restoro is a reliable Windows PC repair tool that can detect system errors and fix issues to boost its performance and enhance its longevity. The software can scan your PC deeply and detect unwanted, harmful, and broken files, and destroy them.
Basically, Restoro is a malware removal and PC repair tool specifically designed for Windows PC. It fixes the Windows registry, scans and fixes spyware malware, and optimizes your system.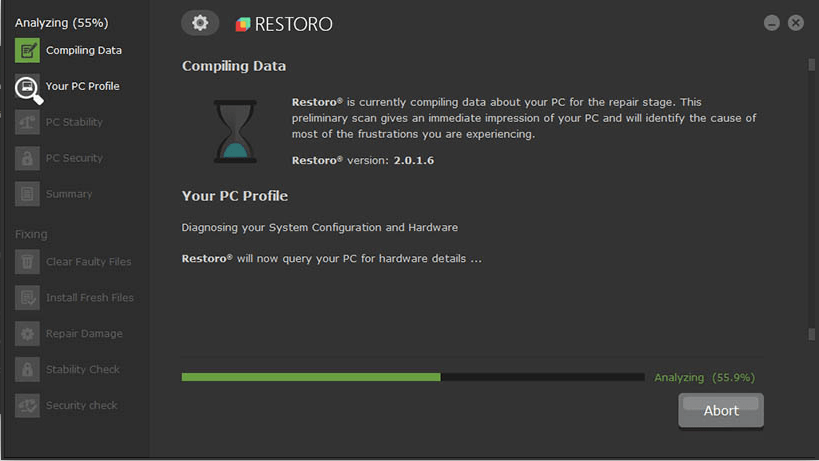 The software also replaces damaged OS files without reinstalling the entire operating system. It fixes all the common system issues which are affecting its performance and making it weaker. This tool also helps in fixing Blue Screen of Death errors. It has a built-in malware removal engine that can remove computer threats and repair virus damage. 
Is Restoro Safe? 
One of the most common questions arises in everyone's mind is that Is Restoro safe? Then the answer is yes, it is completely safe and secure. The software is secured by Microsoft Security itself, BitDefender, and various other leading Antivirus company. So, you can blindly trust it as the software is legitimate.
Now, we have discussed the software in brief let's know more about its features one by one. 
Features
Restoro is a great PC repair and optimization software that mainly focuses on scanning for viruses and malware and removing them.
The main function of the software is to fix registry errors, replace damaged DLL files, fix damaged files due to viruses or malware, etc. Let's read each feature in brief. 
It automatically diagnosis system issues 
Restoro has the capability of automatically diagnosing system issues and providing you with the best ways to fix them. It offers you three suggestions: Remove, replace, or repair the files. 
Search for Malware and Spyware
The software scans for viruses and removes them and if any damage occurred due to the virus it repairs the damage. It uses the Avira scanning engine to scan and remove Spyware like adware, etc., and malware like rootkits, worms, trojans, etc. 
Replace or Restore DLL Files 
DLL files are essential in your PC and they can be corrupted or deleted due to various reasons like memory crashes, software problems, and registry errors. Restoro has a huge database of updated DLL files so if the DLL files are damaged then you can replace the files using this software. 
The software scans and accumulates all the unwanted and junk files which are consuming a lot of precious storage space and removes them. 
The software will provide you with crucial information such as Hardware details and the system's operating temperature. It will also detect the programs and files which are frequently crashing and fix the issue. 
Specifications 
Operating System –

Windows 11, 10, 8.1, 8, 7, Vista, and XP

RAM –

512 MB

Processor –

Intel Pentium 800 MHz or higher 

Hard Drive Disk Space –

10 MB free space 

Internet Connection Required –

Yes 
Pros and Cons
| | |
| --- | --- |
| Pros | Cons |
| It replaces damaged, corrupted, and faulty system files  | Quite expensive  |
| Boost system performance  | It doesn't offer a live chat option  |
| Detect hardware-related problems  | Works on only Windows PC |
| Eliminates spyware and malware  | |
| Works flawlessly on old PCs | |
Technical Support
Moreover, it offers 24/7 customer support so whenever you have any query you can contact the team. It is free to scan your PC for issues but to fix those errors you need to get the license key.
You can purchase the license key by paying $39.95 for one year. If you have any problem with the software or it doesn't satisfy your needs then you can ask for a money-back guarantee within 60 days of purchase. 
How to Use Restoro?
1. First, you need to download and install Restoro by going to its official website.
2. When you properly install the Restoro, launch it.
3. Run a deep scan and it will accumulate all the flaws.
4. The Restoro scan will check for Hardware issues, PC stability, and PC security.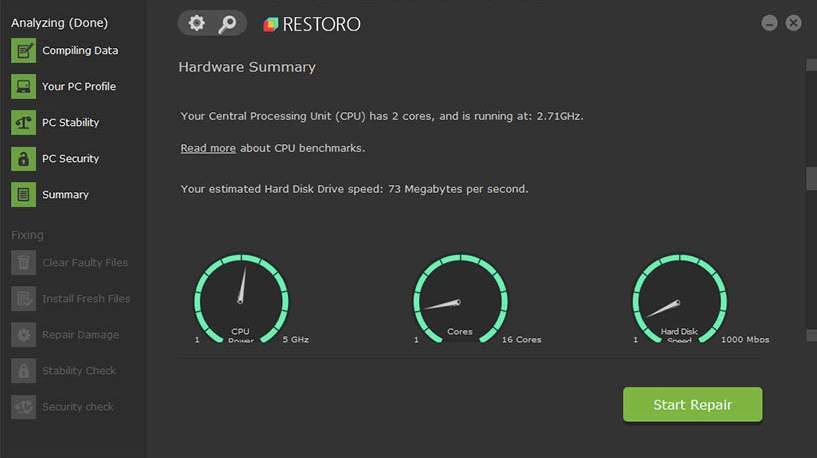 5. It will fix the viruses and malware and if any damage happens due to the malware it will fix it.
6. It also will optimize your PC and improve its speed. You can fix the errors in one go. 
All its features are clearly mentioned on the dashboard so that you can easily navigate to each one. It has a user-friendly interface which makes it suitable even for beginners. 
Conclusion 
In the above Restoro review, we have covered all the important aspects related to the software and described them in detail so that you can understand it well. The software offers a great set of features and apart from one or two limitations, it is a complete package.
So, out of various other PC repair and optimization software, I suggest you choose Restoro PC repair tool. I hope the review article can solve all your doubts related to the software.
FAQs
Is Restoro free?
Yes, Restoro is a free pc optimization software that removes malware and viruses from Windows PC. It can scan the system for the issues for free but to fix the issues you need to purchase the license key. 
How much does Restoro cost?
The Restore one license key costs $39.95 to resolve the system issues. But the cost can vary at the time of purchasing due to the discount offers available at that time. It offers two other plans: 
One-time repair license – $28.95

3- license with unlimited use for a single year – $56.95 
Is Restoro safe and worth the money?
Yes, Restoro is completely safe and doesn't contain any virus. Also, it is not bundled with any additional program while installing it in your system. The software is secured by Microsoft Security and other lightweight antivirus programs. It is worth the money as it offers various advanced features and optimizes your PC thoroughly. 
Can I use Restoro for free?
Yes, you can use Restoro for free. It provides a free service to scan for system errors. But the only drawback is that you can fix the issues only if you purchase the license key. 
What is better than Restoro?
Restoro is a great PC optimization and repair tool but sometimes many users don't find it worthwhile. For them, CCleaner would be the best choice. It not only optimizes your PC performance but also updates system drivers. 
Also Read