Through a defragging tool, you can prevent too much fragmentation of your storage device. With a defragging application, you can prevent complete data loss as it is easier to retrieve a defragmented disk. Smart Defrag is a disk defrag software that helps in defragmenting the hard drive. In this blog, we have tried and tested several features of this tool and written all the outcomes.
Note: This review is of Smart Defrag latest version V 8.3.0 have New Defrag Engine, which was released recently. Please let us know if there's any new version.
What is Smart Defrag?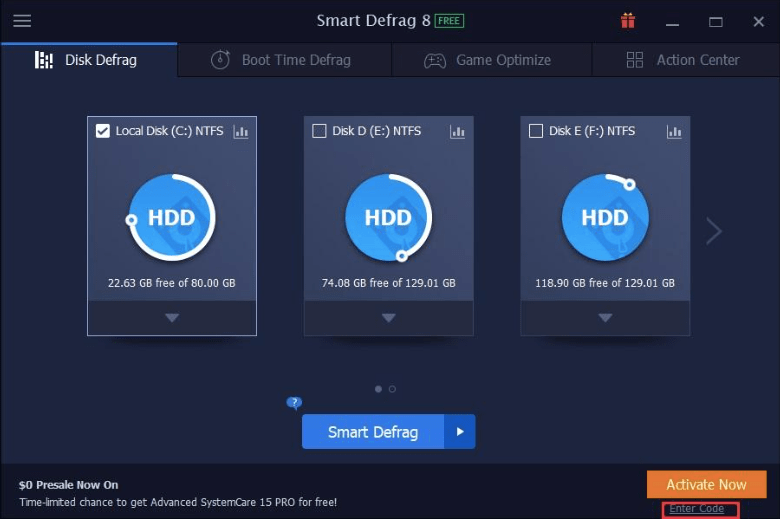 A disk defragging tool is as essential as a disk cleaner especially if you possess an HDD (hard disk drive) instead of an SSD (solid-state drive). IObit Smart Defrag is a wonderful asset for those who wish to use a defragmenter tool. It is made by the same team that makes other stunning products like the Driver Booster, IObit Uninstaller, and even PC Cleaning tools like Advanced SystemCare.
Smart Defrag Review
Read all about its wonderful features from this Smart Defrag review.
Features
A list of useful features is described below.

Disk defragmentation is possible by choosing the drive you wish to defrag and then clicking on the Start Defrag tab. Once you press the defrag tab it will just take a few seconds to complete the defragmentation process.
Click on the game optimize header to defragment your system while playing the game. Usually, optimizing the games is one of the best ways to play uninterruptedly. It suits gamers best as games need maximum optimization and a disk fragging application is a wonderful addition besides a disk cleaner.
To start the process, you will need to go ahead in the following way.
Once you see a black window with a + symbol include your preferred game to make your experience better.
Click on the + sign and incorporate your game location from the pop-up window that appears automatically.
Once you narrow down the game, click on the tab Open and then click on the Optimise tab. 

Now sooner IObit will start defragmenting and optimizing your game.
With the help of boot time defragmentation, you will be able to pursue your goals more automatically. Click on the next header and you will get to see the page below right in front of you.
To do boot time defragmentation, here is what you need to do.
Click on the Configure tab and choose the best tweaking option as your convenience.

From the five options choose as many as you can and the process of defragmentation will start according to the options you choose.

All you need to do is choose the OK tab to start the configuration.
Often when there are too many options coming your way, you can get confused. With the help of the IObit defragmenter, you will get a few good suggestions. Using these suggestions, you will be able to decide better as the IObit defragmenter will narrow down your options considerably increasing your visibility and giving you a better judgment option.
Scheduled defragmentation
You can schedule defragmentation regularly to make your system's life better and more optimized.
Regular people can do better as the interface is extremely friendly and easy to use. If you are a new user, you will find this process easy and that is what people love using it for.
Ensure data security and stability
Are you wondering if IObit Smart Defrag is safe? You must know that your computer's data security will never be compromised when you are using the IObit defragmentation application. Even the stability of your data will be more pronounced with the help of this application.
It protects the drive's stability from being damaged and broken.

It will reduce the usage time.

It will help enhance the life of your device.
Automatic, efficient, and quick defragmentation process
It is not a junky process but clean, quick defragmentation is what it's set to achieve. With the IObit defragmentation tool, you can make things easier as the entire process will be automatic. 
Table of Specification
A quick look at the specification table would help you determine if your system meets the necessary requirements.
| | |
| --- | --- |
| Parameters | System Requirements |
| OS | Windows 11/10/8.1/8/7/Vista/XP |
| Developer | IObit |
| Version | V 8.0.0 |
| Processor | 1 GHz |
| Disk Space | 200 MB |
| File Size | 14.0 MB |
| Free Version | Yes |
| Premium Version Price | $19.99 per year for 3 PCs |
Smart Defrag Pros & Cons
The merits and demerits of the iObit Smart Defrag are enlisted below:
| | |
| --- | --- |
| Pros | Cons |
| Supports a free version. | The advanced features are not available in the free version. |
| Modern user interface. | |
| Multiple modes and controls. | |
| Optimizes PC performance. | |
| | |
How to use IObit Smart Defrag?
This Smart Defrag review details the outline of the way you can use IObit Smart Defrag. This is what you will have to do.
After you have

downloaded

and installed IObit Smart Defrag, you will have to choose a disk drive from the primary window.
Choose a defrag mode to start with and unless you know what you must go with, choose the Smart Optimize option.
You might have to wait till the defragging is complete.

When you are not sure about the time it may take to complete the defragmentation process or if it's taking longer than usual choose the option, to shut down after optimization.

When it's done, click on the HTML report that saves up in your default web browser for more information.
Conclusion
If you read this Smart Defrag review, you will know how to use it and why. There are many interesting reasons why a smart defrag can make your life better as a gamer or a frequent computer user. 
Frequently Asked Questions
Is Smart Defrag good?
Yes, Smart Defrag 8 is an excellent tool to defrag your system's HDD and boost its performance.
Is Smart Defrag free?
Yes, a free version of Smart Defrag 8 can be downloaded from the website. if you are wondering is IObit Smart Defrag safe, then the answer is yes, it is absolutely safe and genuine to use.
Should I defrag SSD?
No, according to experts, there is no need or point of defragging an SSD as it neither improves performance.
 What does Smart Defrag do?
Smart Defrag helps to defrag an HDD and optimize the PC and SSDs' performance.
How long does a defrag take?
Depending on the amount of defragmentation needed, it might take anything between some minutes to several hours for the entire process to complete.
What happens when you defrag your computer?
Upon defragmentation, the data becomes organized in the HDD that had initially split into fragments. Thus, it makes the HDD function optimally again.
Does Smart Defrag work with SSD?
Yes, Smart Defrag offers an SSD trim tool that can optimize its performance effectively.
Also Read