Solid State Drives are replacing the Hard Disk Drives on computers and laptops nowadays. The reason being SSDs utilize electrical circuits and come without physical moving parts. Thereby, they offer faster write and read speed, consume lesser energy, and prevent overheating. Apart from this, they are also lightweight and more durable.
However, with use over a prolonged period of time, they too are prone to damage. Hence it would be a wise thing to monitor their health and performance with the help of SSD Health Check Software. 
So, here are the seven best SSD Health Check Software that can do the job for you efficiently. Before diving deeper into understanding the features of these nifty tools, let's quickly gain a hold on what these tools are and why they should be used.
What is SSD Health Check Software
SSD diagnostic tools are enabled with attributes that assess the current health status of your PC's SSD. They are developed with S.M.A.R.T (Self-Monitoring, Analysis, and Report Technology) features. Thereby, they can give you a picture of the performance ability of the SSD.
So, the SSD test software can scan and note down the temperature of the SSD, evaluate its read and write speeds, and also, simultaneously optimize it. Thus, it can maximize the performance and the speed of the Solid-State Drive and also, encrypt it, and do a lot more.
7 SSD Tools to Check SSD Health In Windows PC
Below is a list of the seven best SSD Health Check Software that can help you diagnose your SSDs status in your Windows or Mac system.
1. Crystal Disk Info
Crystal Disk Info is a well-known tool in the category of SSD testing software. It can diagnose the SSDs health and also help to obtain a detailed report about the solid-state drive. Being an open-source tool, it is available for free. It is accessible by various operating systems that a PC brand supports.
Its incredible features are:
Offers S.M.A.R.T Technology with a graphing tool.

This tool is compatible with all kinds of storage drives.

Extends support to Intel/AMD RAID, NVMe, and external drives like USB drives.

Enabled with an alarm ringing facility to notify users about temperature rise.
2. MiniTool Partition Wizard
Want to check SSD health? Download MiniTool Partition Wizard for your PC to address SSD health issues and optimize it effectively. This tool is an enhanced data recovery software and the disk partition tool. It is compatible with Windows 11/10/8.1/8/7/Vista.
Its incredible features are:
Creates/deletes/format/ resize/ wipe disk/ merge/split hard drive partitions.

Quickly converts file systems from FAT to NTFS.

The disk analyze feature takes a stock of the disk health.

Supports HDD, SSD, SSHD, external hard drive, USB flash drive, SD Card, Hardware RAID, and even dynamic disks.
3. Smartmontools
Smartmontools is available on Linux, macOS X, Windows, and FreeBSD platforms. If you are looking for a solid-state drive diagnostic tool, then this is quite apt for monitoring your PC's SSD status and health.
Its incredible features are:
It is free and open-source SSD health check software.

It utilizes S.M.A.R.T systems that are in-built into various modern ATA/SATA, SCSI/SAS, and NVMe disks.

Smartmontools comprises two utility programs and they are "SmartCtl" and "Smartd."
4. Crystal Disk Mark
Built for various versions of Windows operating systems, this tool is available in multiple languages and supports numerous themes. It is compatible with various drives. This simple disk benchmark tool offers useful features to take note of the SSD's health.
Its incredible features are:
It offers various measurement modes (Peak/Real World/Demo).

It is capable of measuring Sequential and Random performance.

Measures random 512KB, 4KB, reads/writes speed.
5. Intel Memory and Storage (MAS)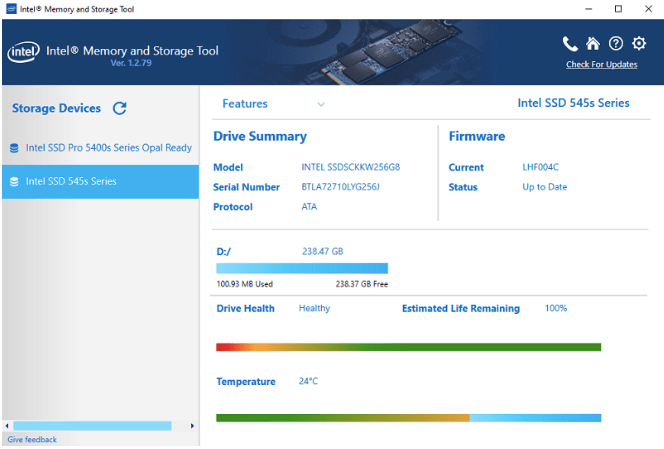 Intel Memory and Storage is a free tool offered by Intel to measure and maintain the overall performance of your Intel SSD drives. It offers basic information about their drives and is enabled to perform firmware updates.
Its incredible features are:
Offers in-built features like Performance Booster, Intel SSD Optimizer, and more.

Can perform Secure Erase processes.

Furnishes diagnostic scan reports.

Compatible preferably with SSD.
6. SSD Life
SSD Life lets you take control of your worn-out SSDs conveniently. It is compatible with a wide range of SSDs brands like Kingston, MacBook Air, and Kingston. Here are some of its outstanding features.
Its incredible features are:
SSD Life analyzes your solid-state drive to determine the lifetime of the SSD with the help of a special algorithm.

It displays the complete information about the SSD.

Offers a 15-day trial period.

Showcases SMART features in the tool's window.
7. Toshiba SSD Utility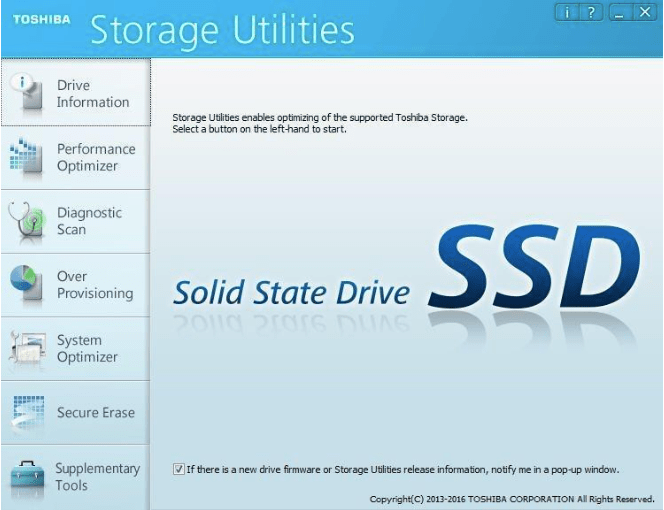 Toshiba SSD Utility has a clean and organized dashboard and is a lightweight, user-friendly application. This SSD monitoring software offers plenty of features and tools to clean, track, and organize the data stored in the SSD. 
Its incredible features are:
Compatible with popular versions of Windows.

Updates firmware.

Offers the SSDs status in real-time.

It can also optimize the SSD to prevent a breakdown for a prolonged duration.
8. Samsung Magician
Samsung Magician is one of the best disk managers if you are using a Samsung SSD. It allows you to customize your system, monitor drive health, and boost its performance. This tool offers three main features; Drive management, data management, and drive information. It has instinctive features and offers a wide range of customization features. 
Its Incredible features are:
It diagnoses and optimizes your PC

It performs a diagnostic scan test to immediately boost your driver's functionality 

It provides real-time information about your SSD

It supports both internal and portable Samsung SSDs
9. Hard Disk Sentinel 
Hard Disk Sentinel can deal with SSD issues by finding them and repairing the SSD issues. It can work on multiple OS like Windows, Linux, and DOS Operating systems. The SSD monitoring tool runs in the background of your PC and checks the SSD health condition automatically. 
Its Incredible Features are: 
It shows you SSD health conditions 

It allows you to test the hard disk's transfer speed in real time

It quickly finds the error

It scans internal and external SSD connected with USB or e-SATA
Conclusion On SSD Health Check Software
The above article is all about the best SSD health check software. We have tried our best to explain to you every feature and aspect related to each SSD health check. Now, you have known well about each software so choose the one as per your preference and enjoy its features to boost your system performance. 
FAQs
How do I check the health of my SSD?
You can utilize numerous SSD Health Check tools to evaluate the health of your Windows or Mac system's SSD. Refer to the above article to familiarize yourself with the seven popular tools in this niche.
How do I test if my SSD is failing?
You could install an SSD test software to check why your SSD is failing to perform. 
How can I test my SSD speed and health?
You can test the SSDs speed and health with various popular apps such as the MiniTool Partition Wizard, Smartmontools, and SSD Lite. Intel too offers it's own tool in this category for Windows users and it is called Intel Memory and Storage.
Also Read