Are you looking for the best STEP file viewer software for Windows? If yes then you have come to the right platform. STEP files are specially used to create 3D designs and to view them you need to have a special software named STEP file viewer. It is a software specially developed for professional designers and CAD designers to import and run STEP files. 
The market is full of STEP file viewer software but most of them are expensive and everyone can't purchase them. We have gathered 9 best free step file viewer tools that you can easily use on your device. So, without any delay let's get started.
9 Best Free STEP File Viewer Software for Windows
1. GOM Inspect
GOM Inspect is the most promising free STEP file viewer for Windows PC. The software may not be loaded with advanced features but can easily run on low-hardware PCs. You can download the software from its official website. Using this software you can easily view the STEP files. It offers different options like 3D measuring view, standard view, ISO standard view, 3D view elements, and many others.
This STEP file viewer is loaded with various construction options which enable you to create lines, rectangles, points, cones, cylinders, etc. It offers various options to edit the STEP files and you can also create a new project from the scratch.
2. FreeCAD
Next, in the list comes FreeCAD which is a freeware used to view STEP files and STP files. It offers various viewing options like front view, top view, right view, rear view, and many others. The software lets you edit the STEP files and also saves them in different formats. 
This step file viewer offers different draw style options which makes you see the STEP files like it is, like a flat line, wireframe, shaded view and points view. It also offers multiple workbenches which you can switch as per your preferences.
3. Geomagic Verify Viewer
Geomagic Verify Viewer is another reliable STEP File Viewer for Windows. It is available for free and you can use it to view STEP files and STP files. This tool offers different viewing options like rotate, flips, zoom, change viewpoint, and many others. It also allows you to apply colors to the STEP files to modify their look.
You can also turn on/off the visibility of different elements. One thing which makes it interesting is it allows you to open the most popular 3D scanner formats. The interface is quite straightforward which makes it easy to navigate the features. 
4. VariCAD
VariCAD is another feature-rich free STEP file viewer software. The Software allows you to view and convert STEP files. It also supports the batch convert feature and lets you convert STEP files to IGS, DWG, VeriCAD, etc. The software has a feature to offer patch information and edge information on the design.
It consists of a solid calculation feature that enables you to calculate the volume, mass, center of gravity, inertia moment, and surface area of the 3D models. 
5. STL View
STL View is a lightweight STEP file viewer tool. All the features are easily accessible and you can use them without any trouble. The software is compatible with both Android devices and PC. It offers various viewing directions which you can easily apply to the objects. You can also change the object's color to make it as you desire.
6. Open 3D Model Viewer
Open 3D Model Viewer is a tool that you should definitely try to view STEP files and STP files without any trouble. It is open-source software that is useful for game programmers, 3D designers, and 3D printing enthusiasts.
The software allows you to edit the STEP files as per your requirements. It is free to use and also enables you to determine the factor of safe on any object on the basis of its material and environment.
7. EnSuite-View
EnSuite-View is a reliable STEP file viewer which allows you to view STP files. It offers a wide range of viewing options like the front, back, left, right, isometric, shaded without edges, wireframe, hidden line removed, and many others.
You can also use this software to calculate volume, weight, length, and radius, manage metadata, apply material and create annotations. Using this tool you will be able to view almost all the CAD formats.
8. gCAD3D
The list of best STEP file viewers is incomplete without gCAD3D. It is a freeware that offers you various view options such as viewport, top, front, side, axo, etc. It has a feature to hide and view certain elements.
The software gets to know the dimension of the product by allowing you to view STEP files and STP files with and without measurements. The STEP files can be exported as CAD, STEP, STL, TESS, JPG, and many other formats. 
9. STP Viewer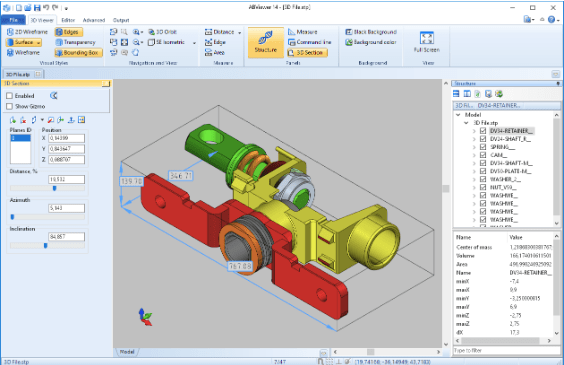 The last name in the list is STP Viewer. This is free software that lets you perform various actions like performing dynamic zooming, dynamic rotation, global planning, and many others.
You can also apply colors to the diagram and can also set the opacity of the color. You can also apply various viewing directions such as top view, bottom view, left view, and right view.   
FAQs
Is there a viewer for STEP files?
Yes, there is much STEP file viewer software available that you can use to view STEP and STP files. They will also let you see 2D and 3D designs in more than 50 file formats. In the above article, we have listed the best STEP file viewer that is suitable for you.
How do I read a STEP file?
By following the below-given steps you can read a STEP file. 
Firstly, get the STEP file on your system or device. 

Double-click or right-click on the file to open the file. 

If the STEP file viewer is installed on your PC, the file will open with the associated STEP reading software. 
Is STP viewer completely free?
Yes, STP viewer is completely free you can use it to view STEP files and STP files. It includes various editing tools and also lets you apply colors to the objects. 
How do I view a 3D STEP file?
You can view a 3D STEP file by using the STEP file viewer. These are the tools specially designed to view STEP files containing 3D and 2D objects. The tools I have mentioned above are great ways to view 3D STEP files. 
What is the best STEP file Viewer?
In the above article, we have listed the most prominent STEP file viewer which offers you great features and is easy to use. You can choose any of the above-mentioned software and use it to view the STEP files and if you wish to you can also edit the files. 
Also Read
9 Best DXF Viewer For Windows PC
10 Best Log Viewer for Windows PC
Top 10 Sites & Apps like Pinterest