Are you looking for a Visipics review that will help with different features and pros – cons? VisiPics can identify and delete all duplicate image files from your system In this blog post, we have detailed reviewed Visipics, so that you can decide for yourself.
Ever since smartphones and DSLR cameras became popular and easily accessible, photography has become quite a common craze for everyone across the globe. Everyone starting from professional photographers to amateurs have tons of photos lying on their smartphones or computers. But there is a huge drawback of clicking so many snaps and that is multitudes of duplicate image files and videos hogging the precious storage space in all our devices.
Note: This review is of Visipics latest version 1.31, which was released long time back. Please let us know if there's any new version.
Sure enough, it is annoying to deal with them manually all the time. So, what's the ultimate fix then? Well, VisiPics is one magnificent tool that is the answer to this potential problem.  So, let's get familiar with this tool, its extensive features, and how to use it in this VisiPics review.
VisiPics Review
VisiPics is more than what you think a duplicate photo finder tool would be. This tool can find similar as well as identical photos automatically on your system's hard drive with the help of five image comparison filters. 
What is VisiPics
It is a lightweight and free program that can be downloaded easily from the link here or any other trusted source. The tool comes with a simple and user-friendly interface and is quite swift in its performance. It has been tested on a 15 GB archive full of images and has been found to be able to pull results in considerably less amount of time.
It supports a myriad of image formats. VisiPics is enabled to identify identical images on a wide range of parameters including different resolutions, different file formats, and even similar images with various edits. The tool after scanning pulls results for a preview side-by-side. The praiseworthy feature of this app is that it can delete pictures automatically after scanning to save you from manually selecting images for deletion, thanks to its Smart Auto-Select feature.
Commendable Features of VisiPics
Let us walk you through the incredible features of VisiPics in detail below.
1. Supports common image file formats
VisiPics utilizes ImageMagick libraries to load images. Besides this, the tool supports a plethora of all major image file formats including PNG, JPEG, GIF, BMP, PCX, TIFF, TGA, and even the RAW image file format. This is an extreme blessing for the users as they can have all types of photos deleted from their system without worrying about the file format of images.
2. Simple interface
The tool's interface is quite neat and minimal with easy-to-use Start / Stop / Pause buttons. It also shows a timer to show the amount of time elapsed during scanning. It also features Move, Rename, and Delete options along with Un-Select buttons. Thus, the tool is simple enough to use. 
3. Deep scan feature
VisiPics is designed to run deep scans to dig the hard drive to return with exact duplicates and similar images. The tool is even enabled to find identical images from hidden files and folders.
4. Smart filters
VisiPics is enabled with customizable filters such as Strict Mode, Basic Mode, and Loose Mode. The Strict Mode retrieves identical results while the other modes compare a greater extent of differences. You can also have the freedom to choose the folders that you wish the tool to scan.
5. Algorithm-based matching criteria
The algorithms are designed in a way to identify images as identical or similar images even if they have different resolutions, sizes, edits, file formats, etc.
6. Unignore & Un-Select features
This feature comes in handy when you wish to exclude certain folders from scanning or when you want to exclude images from deletion.
7. Preview feature
The preview feature lets you view the images that have been retrieved as duplicates of similar images by the tool. This helps to unselect pictures that you don't want to be removed.
8. Smart auto-mark feature
This tool automatically marks duplicate pictures for deletion after scanning, so you don't have to manually select the photos for the purpose of deletion.
9. Plenty of tutorials
The Help section of the app offers plenty of video tutorials which is immensely beneficial for novices.
Add tables for specification 
Following is the table of technical specifications to know VisiPics at a glance. The software and hardware requirements provided below would help you gain a better idea about the tool when you are planning to download and install it on your system.
| | |
| --- | --- |
| Parameter | Minimum System Requirements |
| Publisher | Guillaume Fouet |
| Latest Version | Version 1.31 |
| Operating System | 32 bit of Windows 7, Vista, XP, 2003, 2000, Linux |
| Processor | 2 GHz Dual-Core Pentium Class Processor |
| RAM | 512 MB, 1 GB (Vista) |
| File Size | 2.10 MB |
| File Name | VisiPics-1-31.exe |
| Language Support | English, Arabic, Simplified & Traditional Chinese, Korean, Turkish, German, Italian, Spanish, Greek, French, Dutch, and Czech |
| Price | Free |
Benefits & drawbacks of VisiPics
It is obvious that any tool would be having its upsides and downsides. So, let us explore the pros and cons of VisiPics in this review.
| | |
| --- | --- |
| Pros | Cons |
| User-friendly interface | Previewing duplicates might show a challenge sometimes. |
| Availability of preview | Prevents the selection of individual files. |
| Auto-selection capability | |
| A lot of search filters | |
| Offers an option to exclude folders from scanning. | |
| Supports most popular image formats. | |
| Enabled with Exact and Similar match feature. | |
How to Use VisiPics
Now that you are already aware of the features, pros & cons, and other relevant details about VisiPics, here is a brief description of how you can use this duplicate photo finder software like a pro.
Launch the tool on your computer and choose the folders that you want the tool to scan.

After this, you can also click on the "Auto-Select" option to allow the tool to automatically select duplicate images.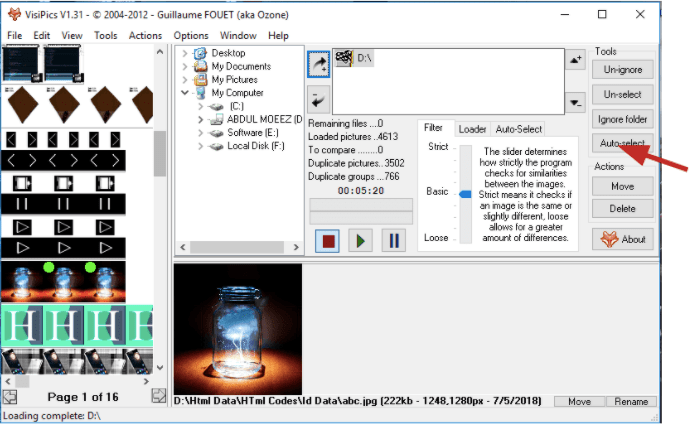 Now hit the Start button and wait for the scanning process to finish.

Once the scanning is done, you can preview the duplicate images on the left panel of the tool's interface. These images will be auto-selected by the tool for removal.

Ultimately, you can click the "Delete" button to allow the tool to remove the duplicates.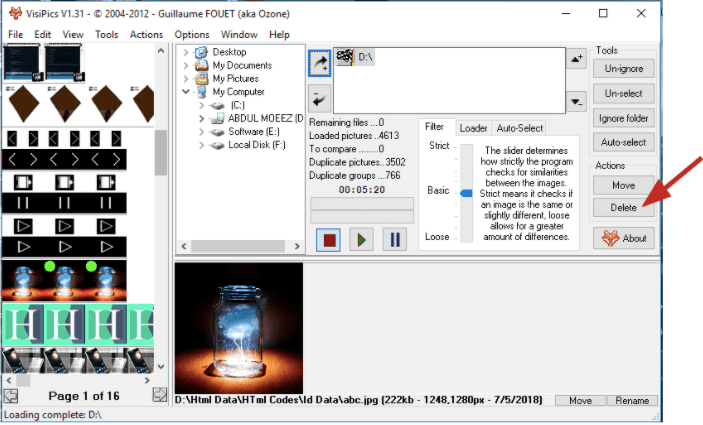 Once you press the "Delete" button, the tool will throw an automatic prompt to confirm your decision. So, you have to once again hit the "OK" button to remove the duplicates from your system.
Conclusion On VisiPics Review
So, we hope that by now you have a fair idea about what is VisiPics and how it can help you tremendously when it comes to creating valuable storage space in your computer. It can automatically identify all the similar and even duplicate pictures and remove them from the system.
The best part about this app is that it's available totally free of cost and is also lightweight with a simple user interface. What could anyone ask for after this when it comes to laying hands on the best duplicate photo cleaner tools?
FAQs
Is VisiPics safe?
Yes, the tool, in general, is absolutely safe and genuine and is available completely free of cost too; however, you have to download the VisiPics software from trusted and popular sources to prevent malware attacks.
How much does VisiPics cost?
Well, much to your amusement VisiPics is a freeware. You don't have to spend any bucks to download and use this duplicate photo finder software. 
Also Read