People like to hear songs and music on their mobile with perfect sound quality, but, for various reasons, people can only get better sound quality in some of the songs and music. So, the best way to improve their songs and other sounds is to use the best volume booster apps for iPhones & iPads or even for all other phones. These kinds of sound-boosting applications will help people to get better features that help to get a perfect sound experience.
Most online iPhone volume booster apps will have unique features that help people get better benefits. So, people who need a better app for their iOS devices should choose the best application that provides all the necessary features.
The list of 10 Best Free Volume Booster apps for iPhone & iPad is helpful for people to get better options as per their needs on their mobiles. 
10 Best Volume Booster Apps For iPhone & iPad
All the apps available in this list will help users get more benefits, and it also helps them improve the volume of the music and songs as per their needs. We have listed these apps according to their features, user interface, and all other abilities that make them the best among all the applications available. 
1. Equalizer Fx: bass booster App
Equalizer Fx is the best iPhone Volume booster apps that help people boost volume and convert their mobile into a portable speaker. This app's robust base booster and 7-band equalizer settings make it more attractive and practical. This app provides easy access to various options like google drive, Dropbox, or even from iCloud. 
Some of the features of Equalizer Fx are 
7- band equalizer settings

Custom EQ presents generation

Multiple Dj music transitions

15+ EQ presets like Rock, Country, and Acoustic. 
2. Volume Booster – Equalizer Fx
This Volume Booster application for iPhone provides access to iOS 13.0 or even lesser versions. So, people with all levels of iOS can use this application. This app has the unique feature of pushing the mobile volume more excellently than the default sound level. It will help people to enjoy a better sound quality on their mobile. This Sound booster app can also amplify the volume in headphones and earphones.
Some of the features of Volume Booster – Equalizer Fx are:
It supports multiple music files

10- band music equalizer with EQ settings

Distortion-free music volume boosting.

Simple and effective user interface
3. Equalizer & Bass Booster
This Equalizer and bass booster application will be the best option for iOS 11.2 and other lower-level operating systems. So, people who have devices with those OS levels can consider this application. People can use this application to tune their music fine, and they can also use this app to clear the frequencies. If you are a Windows user then you can check the volume booster for Windows 11
Some of the features of Equalizer and Bass Booster are:
Reduce or amplify bass and sound with simple steps

10-band EQ and 16 built-in presets

Cloud storage access and library access to import music.
4. Bass Booster 3D + Volume boost
This application is an all-in-one option with volume-boosting and a music player. So, people using iPhones can consider this application, which can increase the sound to 10 times the average sound value in the mobile. It also helps people to access all the iCloud files and iTunes library. 
Some of the features of Bass Booster 3D+ are:
3D surround sound system with crystal clear audio

Deep bass booster and powerful volume booster

Offline music play mode
5. Equalizer + Music and Podcasts
Equalizer + Music and Podcasts is another free volume booster application for iOS devices. This app provides several unique features, including volume boosting. This app provides direct access to download and modify music and audio files from Apple Music and Spotify. 
Some of the features of Equalizer+ Music amp & Podcast are:
Best bass boosting and powerful sound amplifiers

20 customizable equalizer presets

Create a unique own music collection
6. Max Volume Booster
Max Volume Booster is another sound booster app for iPhone & iPad for people using this application for the first time and has several attractive features. This app helps to improve the music volume on iPhone, and it also helps to increase the device volume to several levels. The unique design of this application is for bass boosting. 
Some of the features of Max volume booster are:
Helps to increase the music volume up to 1000%

Enhance the sound of audio and video files 

Intuitive UI with compelling easy-to-use features
7. Bass Booster Volume Power Amp
This app is the best option for people who need to improve the volume and simultaneously filter sounds. So, people can access all songs and audio files from their iTunes library and increase the sound of the files according to their needs. These features make this app the best free volume booster for iPhone and other similar mobile phones.
Some of the features of Bass Booster Volume Power Amp are:
High-power bass booster and sound amplifier

Volume pitch and music frequency modification

Effective interface with intuitive design
8. Boom: Bass booster & Equalizer
Boom is a music player app with an inbuilt volume boosting feature that helps users increase the device volume and the sound of various media files. The pre-amp settings and sliders in this application will allow people to get better benefits from this application. This app has several unique custom EQ presets that are more effective. 
Some of the features of Boom are:
29 Custom EQ presets

3D surround sound effects

Advanced bass and volume booster

Simple User Interface
9. Bass booster & EQ Amplifier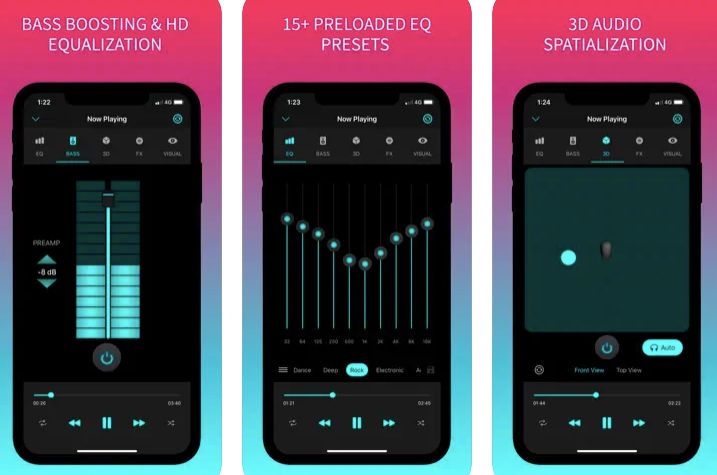 It is a perfect music equalizer application with a better bass-boosting performance. The 10-band equalizer settings available in this application will help people get better benefits. It also helps to improve the sound of the application with notable changes in the frequency of the sound. 
Some of the features of Bass Booster & EQ Amplifier are:
The outstanding player controls like repeat and shuffle

3D audio Spatializer with positioning

15+ EQ presets with several custom presets.
10. Bass booster Volume booster EQ
Bass booster volume booster EQ is one of the best music players and volume boosters with various features and several valuable functions. People can import songs and audio tracks from multiple options and change their audio quality. So, people who need the best volume booster apps for iPhones can choose this application.
Some of the features of Bass Booster Volume Boost EQ are:
Effective volume boosters

10-band EQ with 20 + presets

Direct iTunes library access.

 
Conclusion
All these are some details people need to know about the features available with the top free volume-boosting application for iPhones. Similarly, these details will help people choose the best option according to their needs. This article contains more information about all the existing mobile applications. 
Also Read