Are you an Instagram lover? Do you love posting your pictures every time you sip from that Starbucks cup? Well, Instagram rocks the social media trends due to the amazing picture content of their followers.
But what if you cannot do certain things on Instagram for some time? Have you ever faced the error that "we limit how often you do certain things on Instagram"?
Have you ever faced the issue that you cannot proceed with your Instagram activity any longer?
Well, this might be the reason for the error that won't let you access or stay active on your Instagram account for the next 48 hours.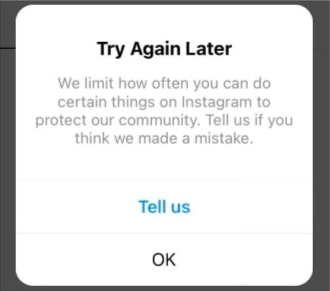 If you want to know about this error in detail and how to fix them, then you need to hook up with this article till the end.
What is We Limit How Often Instagram Error
Sometimes Instagram restricts you from performing some activities on its social media platform, or it prevents you from accessing the application properly.
You might have thought that the user interface is having some issues at times or issue with the application that is preventing you from doing so. This problem of "We Limit How Often Instagram error" might be arrise due to some restricted activities on Instagram!
Why is Instagram telling me to try again later we limit how often?
If you think that you are Instagram account has been banned due to some issues, then you were wrong in this case. Because if you are banned from the platform, you will be notified properly that you cannot use this account any longer.
But when Instagram limits your activities for a certain period of time, it means that the account is not banned.
It just means that you have unknowingly violated some of its limitation rules.
How do you Remove limits on Instagram?
1. Contacting the Instagram customer service
Report the issue and get in touch with Instagram's customer support. Try getting in touch with the Instagram customer service team if you are unable to solve the problem. It is the quickest way to identify the reason for the error message.
Since you cannot see the issue, Instagram may have experienced a bug or mistake.
In that scenario, don't be hesitant to get in touch with Instagram help, as you did nothing wrong.
Here's how to get in touch with Instagram and report a problem:
1. On your screen's upper right corner, tap the three lines icon.
2. Select "Settings" and then click on "Help"
3. Select "Report a problem" and give a brief description of the situation.
2. Make use of an Instagram automation tool.
Checking to see if you've broken any of Instagram's limitation guidelines is the first step in resolving the limitation issue.
It is difficult to determine how many Likes & Comments you posted, direct messages you sent, and other actions you took in the past.
1. Utilizing an Instagram automation tool like Socialpilot will help you resolve this issue.
2. Please remember that utilizing an automation tool will not increase your limitation number or shield you from it.
3. Instead, it aids with Instagram account management, including maintaining tabs on your following, likes, and comments.
To avoid Instagram bans, it's essential to be fully aware of your Instagram activities.
2. Changing your account password
If you see this issue repeatedly popping off, then it might be the result of your account being hacked.
The only solution is to set a new password that will prevent the hackers from accessing your account any further.
1. You must tap the three-line icon in the top right corner of the screen to accomplish this.
2. Now you have to go to the settings options and click "security."
3. After that, you will get the option of a password.
4. Now click that icon and change your password and create a new one.
5. Once you log out, you need to log in and check if it's working properly.
3. Removing the Past Stories
If you think that it is because of any content that you have posted in the past, then try to remove it.
Also, if you have liked more than 1000 posts or you have followed and unfollowed 300 people per day, you have unknowingly violated the rules. Here are some community guidelines you must follow.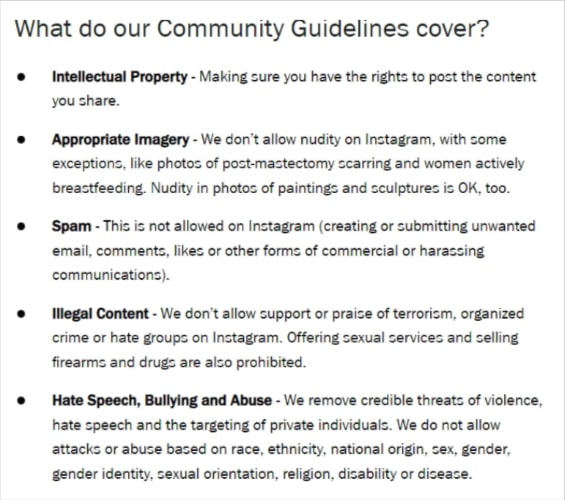 So you have to wait for 24 hours to access your account.
4. Create a backup account
This is the easiest and most convenient solution that you can try out.
It will be better for you if you can handle two separate accounts to deal with the blocking of one of your accounts by Instagram.
So what can't you do now?
1. The first thing that you cannot do if you see the "we limit how often you do certain things on Instagram" message appearing on your screen is you cannot access your Instagram account for the next 48 years.
2. If you are not fortunate enough, then you might have to wait for a week to use the account again.
3. Also, if you find out that your account has been blocked, that means you cannot access your account permanently.
4. There is another possibility that sometimes Instagram doesn't let you perform an activity in terms of posting content unless and until the users follow your account. The content that you will post on the Instagram account will not even appear on the user's feed as well.
So what to do now?
The first important thing that you can do is take a leap of faith.
Also, if you find out that your account is already caught in these issues, you should perceive it as a warning and stay careful while you use the Instagram account the next time.
You will not make the same mistake under any circumstance further. Do not repeat the same mistakes, as they can permanently take your Instagram account down forever.
FAQs Answered!
Why does Instagram keep limiting my account?
The maximum activity allowed by the platform may change based on your account's age, previous infractions of Instagram's terms of service, improper use of third-party tools or bots, your past behavior, and other factors.
How long do Instagram restrictions last?
Normally, it can persist for up to 24 hours. If you violate some of Instagram's terms of service, you might receive it. Sometimes it might take 48 hours or one week.
How do I remove restrictions on Instagram?
To do this, select "settings" and select Privacy. Click on Restricted accounts under Connections. Check out the list of the accounts you have blocked. To unrestrict, someone, tap the Unrestrict button next to their username.
Finding The Right Solutions!
The only way to avoid "we limit how often you do certain things on Instagram" issues is to stay familiar with the ever-changing Instagram rules and regulations. Also, keep these tips in your mind and try to violate any rules and regulations of Instagram.
Also Read
How to Delete Multiple Photos on Instagram
10 Best Free Instagram Followers Apps For Android & iOS
How To Delete Duplicate Instagram Photos
How to Link Your Instagram Account to Facebook Profile or Page