Everyone appreciates a tidy environment where to do tasks, whether at home, at the workplace, or when engaging in a hobby such as woodworking. You probably spend between six and eight hours a day in front of your Windows PC, whether for business or personal use.
It doesn't matter whether you're relaxing with loved ones while watching TV or getting work done on the home computer; one thing is certain: the desktop will grow messy.
However, desktop modification tools are still useful if you merely have a more involved method of interacting with your computer. Because of this, you should invest in the premier Windows 10/11 customization software tool available.
Top 9 Windows 10/11 Customization Software
1. Winaero Tweaker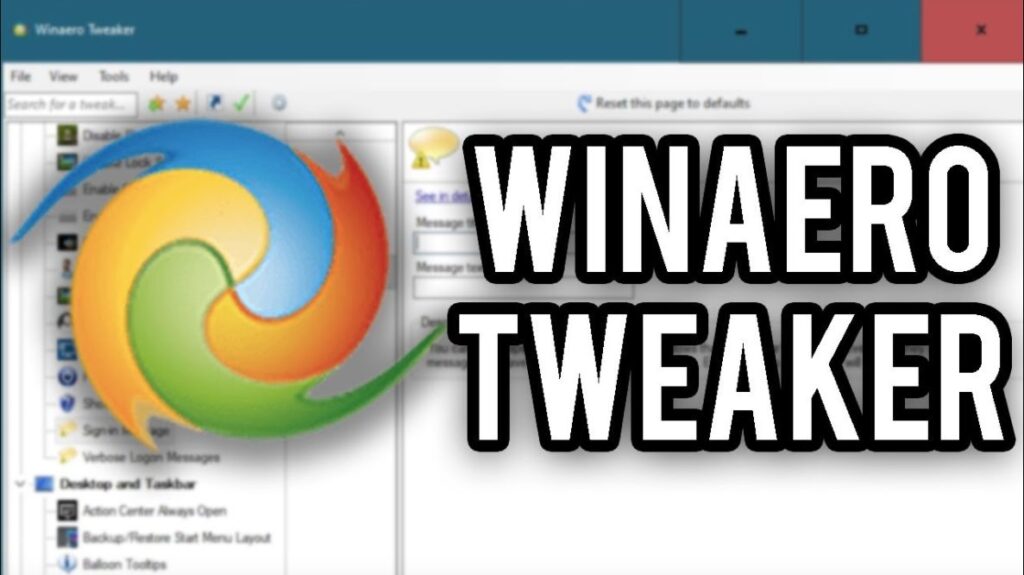 This free program is a Windows interface modification solution that may be used on any version of Windows. Winaero's enhanced context menu and taskbar editing capabilities add welcome personalization to Windows' preinstalled programs and functions.
You should know that this program does not contain any telemetry that monitors your actions or collects any personal information while running in the background of your computer and is available at no cost. It also has a plethora of Windows-specific customization options.
In particular, you may create a shutdown Windows dialogue, start programs as Administrator without prompting, and access the Control Panel system folder with the click of a button thanks to shortcut tools.
2. Desktop.com
Desktop.com guarantees full support for various activities and is the best Windows 10/11 customization software available.
Using this dependable service ensures you have access to powerful organizational features and may save all your PC-based programmes, chats, documents, and files in one convenient location.
The chat feature is ideal for in-depth discussions with your team after brief informational or video conference calls. This is the best tools to customize the desktop schedule if you have a pressing requirement for job organization. Quickly and easily manage thousands of files and tasks and access any online app.
3. MyFolders
In Windows 10, you may create a new folder by right-clicking the mouse and selecting the appropriate option. But what if you need quick access to your files? Instead of clicking through many levels of directories in File Explorer, you may right-click with this Windows 10/11 customization software and get to the folder you want in two or three clicks flat.
Simply right-clicking your desktop, moving the mouse pointer over the MyFolders option, and selecting the desired action will give you access to your custom folders. MyFolders will be an absolute godsend if you constantly move files to and from a USB flash drive.
Application is dead easy. Choose the files you want to copy or transfer, right-click, and choose MyFolders from the menu. From there, select Copy to, and then go to the location you specified. In addition, in terms of preparation. Add the desired directories to the tool's settings.
4. Launchy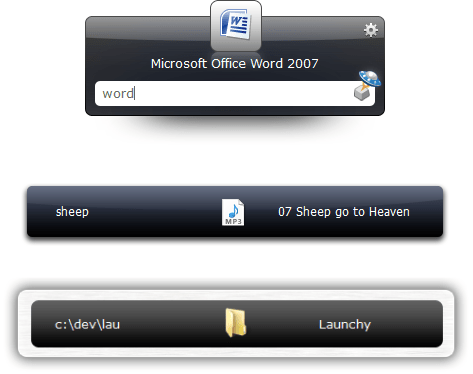 Another tool that may be used to organize your Windows 10 customization tool for desktop so that you can quickly access frequently used files, folders, and applications are Launchy.
Simply hitting the Alt + Space keys on your keyboard will activate Launchy. The search box will provide results when you enter the name of a file, directory, or application. 
Upon successful installation, this tool may begin saving you time without requiring extra configuration.
5. Multiplicity Pro
An excellent tool, Multiplicity Pro enables you to manage many computers with only one set of input devices. Suppose you need to manage several computers simultaneously, but moving between them one at a time is too time-consuming. In that case, this tool may let you manage two or more computers simultaneously.
Additionally, all it takes to transfer data across these computers is a simple drag-and-drop in the appropriate window. Additional protection is provided by AES-256 encryption of all data sent between computers.
The Windows 11/10 customization apps can be installed and run smoothly on all Windows version and require either a 32-bit or 64-bit operating system. However, the program must be installed on each machine you want to manage remotely before you can begin remote work.
6. Fences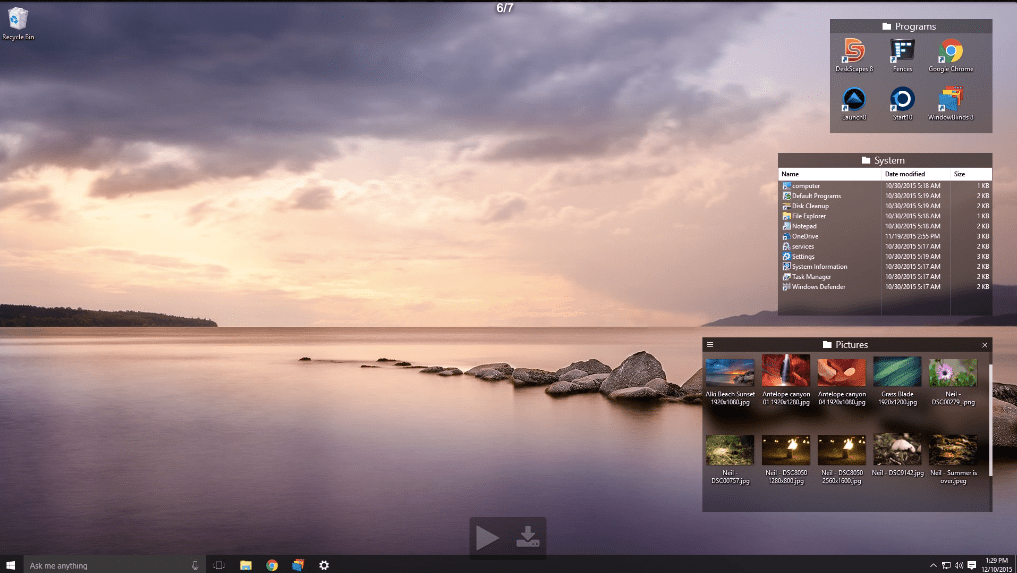 Fences is a useful tool to customize the desktop if you wish to organize your PC's programs and files into more manageable categories. Having distinct folders on your desktops, each with its own unique set of icons, is possible, as seen in the above picture.
Having a lot of software installed on a single computer might make it difficult to keep track of everything, so this may be helpful. Windows Start menu is fantastic, but it may be cumbersome to organize frequently used files and programs into folders there.
This fantastic Windows 10/11 customization software will help you maintain a clean and organized desktop environment. Therefore, shortcuts and icons may be automatically placed in resizable coloured sections on your desktop, commonly known as fences.
7. WindowBlinds
One of the most innovative ways to make your desktop your own is using Windowblinds, which allows you to alter the appearance of the Start menu and the taskbar.
You may alter the Windows 11/10 customization apps of your desktop by using this program to experiment with different desktop themes, window frames, and other settings.
Your desktop may be customized in many ways, from the visual effects you add to the skin you choose from among the millions available. Alternatively, you may diversify your WindowBlinds installation by installing other skins from the gallery.
To be more precise, you will make extensive changes to your computer's desktop. Our themes' typefaces may be altered, and we also provide various color options, skins, and custom explorer backgrounds to choose from.
8. RocketDock
There is a taskbar in Windows 10 where you may pin your most frequently used files, applications, and programs, but it takes up too much room. However, RocketDock offers a dock that can be moved to any of the four corners of your screen, complete with quick access to your most frequently used programs.
Even though you may have used it in the Windows XP era, the popular application launcher/dock that stands at the top of the screen by default is fully compatible with Windows 10.
Inspired by the start bar in Mac OS X, this utility compiles all of your frequently-used shortcuts into a single location. Some of the program's default settings are modifiable after installation is complete. This dock is also skinnable, making it look whatever you want.
9. NTLite
NTLite is a robust Windows customization tool to customize the desktop that allows for in-place modification and automatic installation of patches, drivers, and programs.
You may manage images, implement an editing mode, integrate drivers, and more with this simple solution. However, with a few clicks and the program's assistance, you may easily alter the software's settings or the Explorer user interface.
Additionally, Windows components may be pre-configured or toggled on/off before deployment. In addition, you may customize the Control Panel to include the Windows 11/10 customization apps and options of your choice.
The Windows interface may be updated and translated into several languages with the help of the language and update integration.
FAQs
Ques 1: How do I make windows more customizable?
Ans 1: – The current Windows 10 operating system is not only aesthetically pleasing but also offers a wide variety of personalization options. While some of these changes are just cosmetic, others may significantly alter Windows' performance.
Ques 2: What is the best desktop customization tool?
Ans 2: – Fences is a useful tool to customize the desktop if you wish to organize your PC's programs and files into more manageable categories. Having distinct folders on your desktops, each with its own unique set of icons, is possible, as seen in the above picture.
Ques 3: Is there a Tweak UI for Windows 10?
Ans 3: – Tweak UI, available as freeware, is unquestionably a programme best suited to advanced users who are familiar with the inner workings of Windows XP. We strongly advise against using the programme arbitrarily if you are not that person.
Ques 4: How do you customize your computer software?
Ans 4: – Navigate to Appearance > Themes > Settings. Change the background, accent color, mouse cursor, and audio settings to create a new custom theme for Windows 10. After customizing Windows 10 to your liking, you may save the resulting theme.
Also Read
11 Best File Copy Software For Windows 11, 10 PC
10 Best Bass Boosters for Windows 11, 10 PC
10 Best MIDI Editor Software for Windows 11, 10, 8 & 7 PC
10 Best Spreadsheet Software for Windows PC
10 Best Bluetooth Software for Windows 11, 10 PC
10 Best Free Mouse Mover Software For Windows