Imagine this scenario: You're trying to send a message to your friend, but instead of receiving the "Successful Delivery" message, you see the error "You have been blocked from originating messages". Confused, right? Well, you try to resend the message, but the same error appears! 
You start to wonder why you keep receiving these pop-ups. Has your friend blocked you from sending messages or is there a problem with your device? If you find yourself scratching your head and wondering what to do next, keep reading; we'll help you!  
"You Have Been Blocked From Originating Messages" Error – Why Does This Happen?
Getting this error message indicates the recipient has blocked you from sending text messages to them. The reason behind this action could be related to potential spamming, harassment or simply their preference to not keep in touch with you. 
If you are encountering the same problem, the quickest fix is to restart your device. Alternatively, you can switch off your phone and re-insert the SIM card to resolve the issue. If that doesn't work, try other possible workarounds shared below: 
How To Fix You Have Been Blocked from Originating Messages Issue?
Try these hacks to bypass this problem: 
METHOD 1 = Contact The Recipient Through Different Mediums
You can attempt to get in touch with them through an alternative communication method such as via email or social media channel where you are blocked. Additionally, you can contact the recipient's service provider to get further assistance in resolving the issue. 
METHOD 2 = Verify Your Message Settings
Incorrect settings can disrupt the functionality of your text messaging system. To address the 'You Have Been Blocked from Originating Messages' error, simply review the messaging-related configurations in your phone's settings. This includes checking settings for messaging apps, message centre numbers, or other related parameters.
Make sure you keep a check on unknown third-party applications as well. As these apps could potentially interfere with your phone's messaging functionality & alter the message settings, create conflicts, or cause other issues that lead to error messages.
METHOD 3 = Restart Your Messaging App
Sometimes, a simple trick to restart your messaging app can also fix these kinds of error messages. This action will help users clear the temp files and resolve conflicts that might be preventing the app from functioning properly. It's like giving your Messaging App a fresh start! 
METHOD 4 = Reset Network & Text Settings
This process erases any potential misconfigurations or incorrect settings that might be causing the error. Depending on your smartphone, the location of settings may vary. However, you can search for settings with similar names in your device's settings menu. You can navigate to the Settings menu and find "Messaging" or "Network" sections to revert all the messaging-related settings back to their original, factory-set configurations.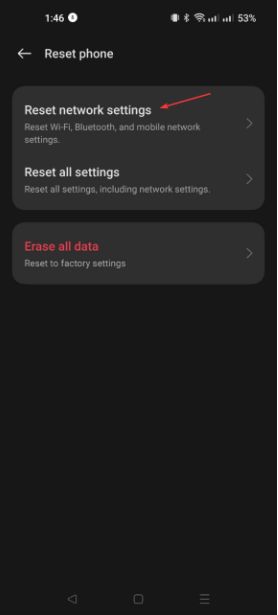 If you don't find appropriate options in the device settings, you can also do the following: 
STEP 1 = Launch the Messages app on your device. 
STEP 2 = Navigate to the Settings icon and tap on the same. 
STEP 3 = Find and tap on the "Reset all settings to factory values". 
STEP 4 = Now, simply restart your device! 
Samsung device owners can also try clicking on the default option in their Messages app to fix the problem. 
METHOD 5 = Update Your Phone
Additionally, several users have suggested that updating their operating system to the latest OS version has helped you fix the "You have been blocked from originating messages" error. Navigate to the Settings menu > About Phone > Check for Updates. Download the latest version if there are available any! 
How To Avoid Getting Blocked In The First Place?
To prevent such situations in future, it's important to maintain respectful messaging practices. Do not send text messages that are often perceived as spam or harassment. Additionally, sending a barrage of messages should be avoided. The recipient should not feel overwhelmed, as it may not only strain the relationship but also result in the recipient blocking your messages to maintain their privacy and peace.
Bottom Line
Being blocked from originating messages can be frustrating and confusing at times. However, by following the tips and tricks you can easily bypass the You Have Been Blocked from Originating Messages issue. If you know of any other solutions to get rid of this problem, do share them with us in the comments below! 
Commonly Asked Questions:
Q1: Can I still receive messages if I have been blocked from originating messages? 
Yes, you can still receive messages from the person who has blocked you. It may appear in the "Blocked Messages" section within the messaging app! 
Q2: Can I unblock myself if someone has blocked me? 
No, only the person who has blocked you can unblock you. You may request him/her to undo their action!