Yourphone.exe process windows 10 : – Phone.exe is used to connect your phone with windows 10. By using this application you can receive notifications right on the desktop. This file is developed by Swan Technologies. It is an important part of window 10 but sometimes it causes problems. 
What is YourPhone.exe's process in Windows 10
This file is located in a subfolder of "C\Program Files". The size of YourPhone.exe is usually 39216 bytes. Your phone.exe file is available in the windows store and there is no information about the author of the file in C drive of Window 10.  You can use this application to link many files or application with your Microsoft account.
This application is widely used in PC but it is not completely developed and does not work as it should. If you don't want to use this application, then you must uninstall this file from your system.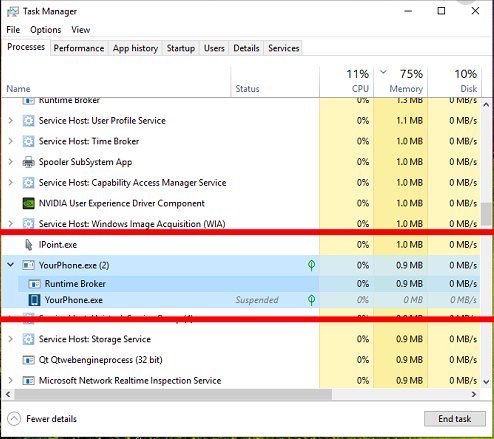 In this article we will discuss how to disable the YourPhone.exe to prevent it from working: 
Follow these steps to disable the YourPhone.exe from your computer to restrict its working in the background of the computer.
Step 1– To disable this application opens the application settings and then click on the privacy option. After clicking on the Privacy option click on Background Applications.
Step 2– search for "YourPhone" application and click on this option and then select an advanced option from the system.
Step 3– Now, click on the disable options in your system.
How to uninstall or delete the YourPhone.exe from Windows 10
If you want to uninstall this file, follow these steps: 
Step 1– Search for the Powershell option in your system and open it.
Step 2– Now, you have to paste or type the command which is: Get- AppxPackage Microsoft.your phone- All user/Remove- Appx package on your computer.
Step 3– your application will be deleted when you press the Enter key. 
This command is usually used to uninstall the YourPhone.exe file from your system of Windows 10. After deleting this file is no longer function or appear in the task manager the next time you restart it. The Power shell in Windows 10 is used to uninstall other applications such as Mail, Calculator, Facebook, and so on.
YourPhone.exe by using GPU
GPU stands for Graphical Processing Unit which is used to circulate rapidly and alter memory to accelerate the image in a frame buffer for output in a display device. The YourPhone.exe which us running in the background also using in the GPU system of windows 10. You can find the path of this file in C:\ Program Files\ WindowsApps\Microsoft.YourPhone_1.0.20094.0_x64_8wekyb3bbwe\YourPhone.exe.
Your phone.exe application error
sometimes these executable files can destroy your system. So you should check whether this file on your system is virus-free or not. The path for a virus containing Yourphone.exe is C:\Program Files\Swan technologies\CO\Session Remote Diagnostics\PHONE.EXE. 
 Microsoft's Process Explorer is another tool to find bad processes in your system. You have to activate the Check Legends and then go to view option and select columns and add verified signer in one of the columns which you select.
So finally the yourphone.exe application error has been solved. You can comment below your queries. We will try to solve it