As soon as it's done, you can hit the Download button and your favorite YouTube video/audio file will be saved on your device. Keep reading and get your hands on the top Chrome extensions to download YouTube videos and enjoy watching your favorite content without interruptions.
7 Best Youtube Video Downloader Chrome Extensions
On Google Web Store, you will find a wide collection of video downloader Chrome extensions that works great with YouTube, Facebook, Vimeo, Twitter, Instagram, Tumblr and other websites. 
1. Video Downloader PLUS
One of the best free video downloader Chrome extensions in the market is Video Downloader PLUS. It allows users to save their favorite videos from popular websites like YouTube, Facebook, Dailymotion, Vimeo and more. It easily detects and saves any media type (.3gp, .mp4, .wmv, .flv, .swf, .mp3…) Besides this, it has to offer following features: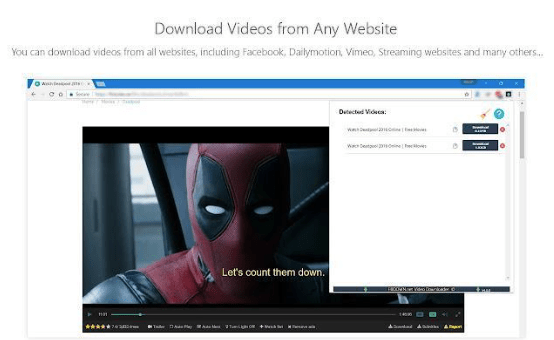 Highlights of Video Downloader PLUS: 
Supports downloading multiple videos at the same time. 

Easily record video streams as per your preferences. 

Free of ads and no limits for downloading videos. 
2. Flash Video Downloader 
You probably saw this coming, right? Flash Video Downloader is a convenient Google Chrome plugin that allows users to download most popular media formats and flash videos in a couple of clicks.
No special skills are required to get started with this video downloader for YouTube and other popular streaming sites. 
Highlights of Flash Video Downloader: 
Make sure to refresh the webpage & let it detect the video for quick downloading. 

Available in more than 50+ languages.

Supports downloading videos in up to 1080p quality (on whichever website is supported). 
3. Video Downloader professional 
Downloaded and used by more than 3000,000+ users worldwide, Video Downloader professional works brilliantly to download videos and audio files from popular websites & platforms. The best part of using this chrome extension is, you can download multiple videos at once without any manual intervention. 
Highlights of using Video Downloader professional: 
Choose between different resolutions if the specific website supports it. 

Play videos via Google Chromecast on your TV OR VIA Google Home. 

Add videos easily to a video list & have quick access to your favorite content. 
4. Pro Video Downloader 
Here comes another decent Google Chrome online video downloader that makes it easy for users to download any type of videos or music files in a couple of clicks. The Chrome plugin works with tons of popular websites and also shows the file size and quality. Keep reading to know all the major features and benefits offered by Skyload's video downloader plugin: 
Highlights of Pro Video Downloader: 
Has its own built-in video player. 

Capable of supporting multipart and all kinds of things. 

Easy to setup and use. Perfect extension for newbies to download videos. 
5. Wise Video Downloader 
Wise Video Downloader is a reliable chrome extension to use for downloading your favorite videos from different streaming and video sharing websites.
It supports almost all popular file formats and allows users to save videos in HD quality. This video downloader chrome add-on can be used in more than 50 languages. 
Highlights of Wise Video Downloader: 
You can download the 4K videos as well.

supports downloading multiple videos at once. 

Integrated with a download engine that works at a lightning speed to download your favorite videos. 
6. Universal Video Downloader 
Universal Video Downloader is another powerful extension for Chrome that allows users to download popular video formats like videos, audio files and flash files in no time.
It supports YouTube and other popular social networking and video hosting websites. Try this free video downloader Chrome extension and do share your experience in the comments section below! 
Highlights of Universal Video Downloader: 
Supports popular file formats like MP4, FLV, WEBM, SWF and other formats.

Fast, easy-to-use & lightweight chrome extension to download YouTube videos. 

Available in more than 30+ languages. 
7. Atomic Video Downloader 
Before concluding our listicle on Best Video Downloader Chrome Extension (2022), we recommend using Atomic Video Downloader. It's a lightweight and ultra-fast video downloader that allows users to download and save videos from YouTube and other popular websites in a jiffy. It works well on desktop PC, Mac and any other system that supports Chrome browser. 
Highlights of Atomic Video Downloader: 
Supports popular video file formats – FLV, MP4, MOV, WEBM etc. 

Anyone can download unlimited videos in no time. 

Runs offline and receives constant updates to enhance user-experience. 
Bottom Line: Best Free Video Downloader Chrome Extension For Youtube
After researching the Google Web Store for more than 5 hours and testing more than 15 Video Downloader Chrome Extensions, we've concluded these 7 Best Choices mentioned above. After testing dozens of them, we found not all of the Chrome plugins live up to the hype.
They do not allow downloading videos from YouTube, Google and other copyrighted content. But the above seven ones work brilliantly to get the job done in a couple of clicks. We hope you found them useful and they work without any hiccups! 
Frequently Asked Questions: 
Q1. What are video downloaders for Chrome?
Video Downloaders are professional utilities that allow users to download and save videos playing on different websites, directly on the device. 
Q2. Does Chrome have a video downloader extension?
Yes! The market has a couple of great options when it comes to choosing the best video downloaders for Google Chrome. Some great options include: Video Downloader PLUS & Flash Video Downloader. 
Q3. Which are the Best Video Downloader Extensions for Chrome?
Our personal preference for the best video downloader chrome extension is Video Downloader PLUS. It supports downloading multiple videos at the same time, helps in easily recording video streams as per your preferences & comes without any ads and unlimited downloads. 
Q4. How do I download a video from a website?
Using the Chrome extensions to download videos from websites is pretty simple & straightforward. For demonstration purposes, we are using Free video downloader – media search tool: 
Add the Chrome plugin & enable the same. 

Navigate to your favorite website or video streaming/sharing platform. 

The extension's icon will turn blue if it detects videos that can be downloaded. 

Save the desired video files in preferred format on your PC or other devices. 
Q5. How do I download a video from a protected website?
We recommend taking help of a reliable online video downloader website like – Y2mate or KeepVid to easily download your favourite video content from private websites without any hiccups. 
Do you know any other popular Google Chrome Extension that allows users to download videos from YouTube that we haven't included in this list? If yes, do drop your recommendations in the comments section below. We'll review the same and if found useful, we'll update our listicle!
Also Read