Want to watch your favorite YouTube videos offline on your iPhone or iPad? Look no further! In this guide, we've got you covered with the best YouTube video downloaders for iOS devices.  Whether you're after user-friendly interfaces, high-quality downloads, or even the ability to grab those epic 4K videos, we've got the best tools to download the videos. So, get ready to take control of your YouTube experience and dive into our guide to find the perfect downloader for your iOS device.
The YouTube downloader for iPhone & iPad gives users every tool required to save their favorite content offline with ease. Several iPhone video downloader apps are available in the market, but it could be hard to choose with so many options available.
That's why this article provides vital details about the 12 best YouTube video downloader apps for iOS devices.
12 Best YouTube Downloader Apps for iPhone & iPad
1. 4K Video Downloader
The 4K Video Downloader isn't an iOS-only app, but the service offers several great features to save YouTube videos on iPhone. Users of this app get to download YouTube videos in 4K, 1080p, 720p, and other high-quality resolutions. 
Major 4K Video Downloader Features
Users can download subtitles in one-click

Supports downloads in 3D

Allows users to apply preferences for all downloads in the setup menu

Supports downloads of playlists and channel content
2. YouTube Premium
YouTube Premium offers much more than Save to Watch Later, allowing subscribers save content for offline viewing. You can download videos offline with YouTube Premium for between $12 and $16 per month. Users can take advantage of this downloader to save any video they want until the subscription expires. If you are a Windows user you can check this YouTube video downloader for Windows 11
Major YouTube Premium Features
Supports one-click downloads to your local storage 

Compatible with iPhone and macOS

Allows users to save subtitles in one click

Provides conversion options to save videos in 3+ resolutions
3. Snaptube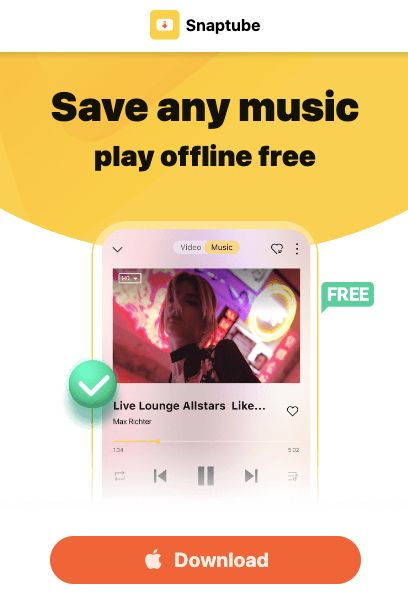 Snaptube is a top-rated YouTube downloader that supports offline video downloads from many other platforms too. The app provides users with a floating player and controls if they want to watch videos while you save others offline. 
Major Snaptube Features
Quick search bar to query YouTube's database for videos

Features a night mode so users can download videos without hurting their eyes

Has a quick audio converter if you want an .mp3 version of a YouTube video

Comes with a floating player to view videos before or during downloads
4. FoxFm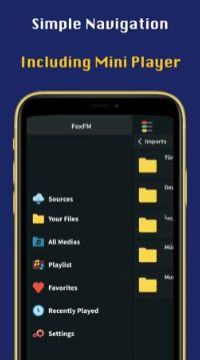 FoxFm is a versatile media management app that allows users to save videos and other content directly from YouTube and other platforms. The app also features a converter, extractor, video player, and many other handy tools to save and manage content. 
Major FoxFm Features
Video-audio conversion allows you to save .mp3 format of any YouTube video

Supports 7+ file types

Password protection tool allows users to protect videos for private viewing

Comes with a file-sharing tool to send videos and other content via email, Wi-Fi, Bluetooth, etc. 
5. Y2Mate
Y2mate is your best bet if you need a free YouTube video downloader for iPhone that converts content into different formats. The free video downloader also works on many other devices and saves videos compatible with Windows, Mac, Android, and Linux devices. 
Major Y2Mate Features
Comes with a video to mp3 converter

Allows users to save .mp4 videos directly from YouTube in 5+ different resolutions

Supports one-tap downloads

Comes with a query bar to search YouTube videos
6. Documents by Readdle
Documents by Readdle is one of the most overlooked offline video downloaders, but it offers several handy features you need to save YouTube videos. The app also comes with a web browser that allows users to save media without navigating to Chrome, Firefox, or any other browsing app.
Major Documents Features
Has an offline video downloader to save YouTube videos and content from other platforms

Comes with a private browser to save and view content

Supports content sharing so users can save and send files to nearby devices 

Comes with a hovering player to watch and save offline or online videos
7. Video Downloader and Video Cast
The Video Downloader and Video Cast by Vo Thi Van support several useful features you need to save YouTube videos to watch later. It is also one of the most popular apps for casting videos directly from platforms like YouTube to your iPhone. 
Major Video Downloader and Video Cast Features
Downloads videos in HD format

Comes with a casting function so users can save movies on smart TVs

Allows users to play videos and audio directly from YouTube

Has a video-audio converter
8. iDownloader
iDownloader is a versatile downloader that allows you to save content from YouTube. It also supports onsite downloads of audio, documents, and videos from other platforms. 
Major iDownloader Features
Allows 50+ video downloads from YouTube and different platforms at the same time

Comes with a built-in video viewer and file manager

Supports one-tap downloads

Offers video downloads in HD quality
9. Video Saver PRO+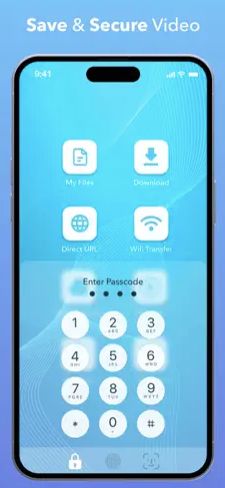 Video Saver PRO+ is an all-in-one tool that provides tools to help users save and organize files directly from YouTube. It is not an entirely free YouTube video downloader for iPhone, but its $3 could be well worth it if you have several videos to save.
Major Video Saver PRO+ Features
Saves YouTube videos using direct links

Supports cloud saving of YouTube videos to preserve local storage space

Has a Wi-Fi transfer tool that allows users to transfer videos via a wireless network

Unlimited saving of YouTube videos in different formats (only on Video Saver PRO+)
10. Documents: File Manager & Web
Documents is a versatile app that serves as a file manager and web browser, enabling you to download videos from YouTube and other websites.
Major Documents Features
Integrated web browser for seamless browsing and downloading of YouTube videos.
Built-in downloader to save YouTube videos directly to your iPhone or iPad.
Background playback support for listening to audio from videos even when the app is minimized.
User-friendly interface with robust file management capabilities.
11. Total Files
Total Files is a powerful file manager app that also functions as a YouTube downloader, allowing you to browse, search, and download YouTube videos to your device.
Major Total Files Features
Clean and intuitive interface for easy navigation and management of downloaded files.
Background audio playback to enjoy the audio from YouTube videos while using other apps.
File management features like creating folders, organizing files, and transferring them to other devices.
Seamless integration with cloud storage services for convenient access to your downloaded videos.
12. Cloud Video Player Pro
Cloud Video Player Pro is a feature-rich app that serves as a YouTube downloader and offers integration with cloud storage services like Dropbox and Google Drive.
Major Cloud Video Player Pro Features
Download YouTube videos and save them to your iPhone or iPad for offline viewing.
Integration with cloud storage accounts for storing and accessing downloaded videos.
Support for various video formats, allowing you to play MP4, MKV, AVI, and more.
Customization options for organizing your video library, creating playlists, and enhancing the playback experience.
FAQs On Best YouTube Downloader for iPhone or iPad
Q: How do I download a YouTube video to my iPhone?
A: To download a YouTube video to your iPhone, you can use various third-party apps available on the App Store. The listed apps typically provide a built-in browser that allows you to search for and download videos directly.
Q: Can I download 4K videos from YouTube on iPhone?
A: Yes, it is possible to download 4K videos from YouTube on your iPhone. It is recommended to choose a YouTube downloader that explicitly mentions support for 4K videos to ensure you can download high-resolution content.
Q: Can you download YouTube videos to your iPhone?
Yes you can easily download youtube videos. 
What is the best YouTube video downloader for iPhone?
4K Video Downloader is currently the best YouTube video downloader for iPhone users. The app comes with several handy features and its offline videos are compatible with Android, Mac, Linux, and Windows devices.
Conclusion
Having a reliable YouTube downloader for your iPhone or iPad can greatly enhance your online experience by allowing you to download and watch your favorite videos offline. We have explored some of the best YouTube downloaders available for iOS devices, each offering unique features and functionalities.
Also Read